Behind the scenes at the Hawaii Wheel of Fortune set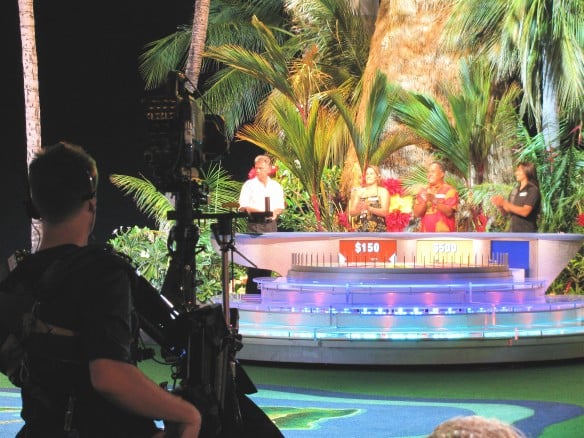 When I heard Wheel of Fortune was coming to Hawaii to film 20 episodes on the Big Island, I couldn't wait to take the next flight from Honolulu to Waikoloa.
After watching America's No. 1 game show being filmed at the Hilton Waikoloa, I have a greater appreciation for the show, especially the hard work that goes into taping each episode.
"When you mention Wheel of Fortune, you think of the two of us," says Pat Sajak, "and yet in a weird way, we do less work than anybody. Viewers don't know exactly how many people worked really hard on the set."
Pat's right. Co-hosts and HAWAII Magazine readers, Pat Sajak and Vanna White, may be the only familiar faces to viewers, but there are many more people who you don't get to see—cameramen, stylists and designers, production managers, heavy equipment operators, publicists, stage crew and security personnel.
To construct the Wheel of Fortune set on a lawn at the Hilton Waikoloa Village took 1.8 million pounds of equipment, shipped to Hawaii in 57 trailers and containers. Some of that equipment was parked right outside my hotel room.
Here's a look behind the scenes at the Wheel of Fortune set in Hawaii. Click on the slideshow screen for larger photos.
[Note: Click here for the schedule of Hawaii shows airing in November 2008 and February 2009. You can even win a free trip to Hawaii by solving the bonus round. Click here for more info.]