Best Loco Moco on Hawaiʻi Island
See how your favorite loco moco from the Big Island stacks up in our 2020 Readers' Choice Awards.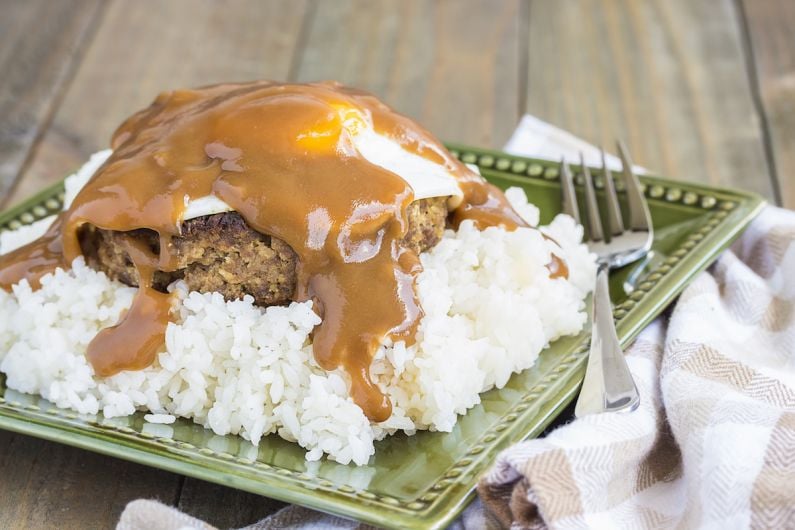 Vote now in our 2021 Readers' Choice Awards! Tell us which beaches, hiking trails, lūʻau, hotels, food trucks and surf spots are your favorites! The results will be printed in our March/April 2021 issue!
People may argue about who's got the best loco moco. But one thing is rarely disputed: the origin of the humble dish. The loco moco—hamburger patties stacked on a bed of white rice, smothered in brown gravy and topped with an egg—was introduced in the late 1940s at the long-gone Lincoln Grill in Hilo. Everyone has a favorite on the Big Island, but here's how our readers ranked the classic version of loco moco—on the island where it was invented!—in our 2020 Readers' Choice Awards.
1. Café 100, Hilo
Café 100, an old-school drive-in that opened in 1949, has long called itself the "home of the loco moco." It certainly is the home of the MOST loco mocos, with more than a dozen varieties on its menu, including ones with stew, ʻahi, chili and bacon. 969 Kilauea Ave., (808) 935-8683, cafe100.com.
SEE ALSO: Where To Eat a Loco Moco in Hilo, the Town that Invented It
2. Ken's House of Pancakes, Hilo
View this post on Instagram
At this 24-hour diner in Hilo, you can get your loco moco fix any time. The patties here have a great, broiler-charred taste with crisped edges. In addition to the traditional loco moco, you can get the Pocho Moco, which adds three Portuguese sausages, or the Sumo Moco, with a whooping six scoops of rice and three eggs. (And yes, the pancakes are great, too.) 1730 Kamehameha Ave, Hilo, (808) 935-8711, kenshouseofpancakes.com
3. Big Island Grill, Kailua-Kona
At this popular Kailua-Kona spot, you can get your loco moco with more than just hamburger patties. Opt for roast pork, fried shrimp and chicken katsu. 75-5702 Kuakini Highway, Kailua-Kona, (808) 326-1153
4. Hawaiian Style Café, Waimea and Hilo
Guy Kaoo, a veteran in the restaurant industry, took over the already-popular Hawaiian Style Café, in 2005 and overhauled the menu. What he didn't touch: the restaurant's local comfort-food offerings and huge portions. But he did expand the loco mocos. The Big Mok adds Spam, Portuguese sausage and link sausage to the traditional hamburger-rice-egg-gravy combo; the Da Tita Mok swaps white rice for fried rice and adds a chicken cutlet. Seriously. Waimea and Hilo, hawaiianstylecafe.us
5. Pine Tree Café, Kailua-Kona
It's hard to leave Ellison Onizuka Kona International Airport at Keāhole and drive past Pine Tree Café without stopping. It's serves only two loco mocos—small and large—with a dark, rich gravy, 8-ounce patties and a generous amount of white rice. It's simple—but sometimes simple is best. 73-4040 Hulikoa Dr, Kailua-Kona, (808) 327-1234, pinetreecafehi.com
Want to make your own loco moco at home? Check out this HAWAIʻI in the Kitchen video by the Fairmont Orchid.