"Best of Hawaii" 2009: Our favorite Hawaii restaurants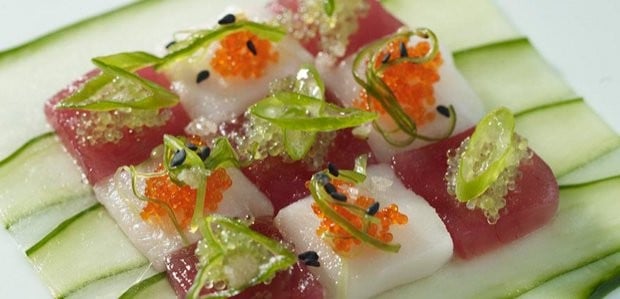 Over the last few weeks, we've been sharing a few of our favorite "favorites" lists from our annual HAWAII Magazine "Best of Hawaii" issue here on HawaiiMagazine.com.
Our favorite Hawaii road trips? You saw 'em here.
Our favorite Hawaii places to shop? Right here.
Our favorite Hawaii snacks? We had your between-meal treats covered here.
You'll find more of our Hawaii favorites in our Sept./Oct. 2009 "Best of Hawaii" issue—still on sale at bookstores and newsstands nationwide, or available instantly online here in a digital edition. As always, the issue is loaded with tips and advice for finding the best of just about everything in the Islands, all of it courtesy of our always-up-for-getting-out-of-the-office editorial staff and knowledgeable HAWAII Magazine reader ohana.
On the following pages, you'll find another one of our favorite categories from the 2009 "Best of Hawaii" issue: HAWAII Magazine's Favorite Places to Eat.
We've picked out a trio of restaurants HAWAII Magazine editor John Heckathorn dug most this year, and collected a whole page of restaurant picks from HAWAII readers for Oahu, Maui, Kauai and Big Island of Hawaii travelers.
We hope you brought an appetite…
Editorial Staff Pick:

Lahaina Grill
Not only have we always had great meals at Lahaina Grill, everyone we've ever sent there raves about the experience. Just steps off the main drag of Lahaina, in the historic Lahaina Inn, this sparkling bistro is run with Swiss precision, but the menu's all new American: Kona lobster cakes, seared ahi foie gras, kalua duck, steak Jolene with a potato-wrapped prawn, triple berry pie a la mode.
127 Lahainaluna Road, Lahaina, Maui, (808) 667-5117, (800) 360-2606, www.lahainagrill.com
Pictured: The Cake Walk appetizer. Photo by Kent Hwang/Lahaina Grill
Editorial Staff Pick:
Hilo Bay Café
Don't let the location next to a Wal-Mart throw you off. This chic, but casual shopping center restaurant is the best place to dine on the east side of the Big Island. Comfort food—spinach salad with bacon and apples, grilled locally-raised New York steak with Gorgonzola potatoes, crab-crusted mahimahi and slow-cooked baby back ribs. Reasonable wine list, great fresh-ingredient cocktails.
Waiakea Shopping Center, 315 Makaala St., Hilo, Big Island, (808) 935-4939, www.hilobaycafe.com
Pictured: Pan-roasted Kulana rib-eye steak. Photo by Vicky Vierra/Hilo Bay Cafe
Editorial Staff Pick:
Hiroshi Eurasion Tapas
Although he's not as well-known nationally as Alan Wong or Roy Yamaguchi, Hiroshi Fukui is one of Hawaii's best regarded chefs. His creative food is neither East nor West; it's Hawaii regional, with local ingredients. His onaga with tatsoi and bacon is not to be missed, or his Big Island baby abalone. Order small plates and share. Sommelier Chuck Furuya will expertly match the flavors you've chosen to a wine.
Restaurant Row, 500 Ala Moana Blvd. Honolulu, Oahu, (808) 533-4476, www.hiroshihawaii.com
Pictured: Panko-crusted ahi. Photo by Tony Tang/Hiroshi Eurasion Tapas
HAWAII Magazine readers' picks:

Oahu
• Duke's Restaurant Outrigger Waikiki
2535 Kalakaua Ave., Honolulu, (808) 922-2260, www.dukeswaikiki.com
• Alan Wong's Restaurant
1857 S. King St., Honolulu, (808) 949-2526, www.alanwongs.com
• Roy's Restaurant
6600 Kalanianaole Highway, Honolulu, (808) 396-7697; 226 Lewers St., Honolulu, (808) 923-7697; 92-1220 Aliinui Drive, Ko Olina Resort, (808) 676-7697; www.roysrestaurant.com

Maui
• Mama's Fish House
799 Poho Place, Paia, (808) 579-8488, www.mamasfishhouse.com
• Kimo's Restaurant
845 Front St., Lahaina, (808) 661-4811, www.kimosmaui.com
• Haliimaile General Store
900 Haliimaile Road, Haliimaile, (808) 572-2666, www.bevgannonrestaurants.com

Kauai
• Red Salt
Koa Kea Hotel & Resort, 2251 Poipu Road, Koloa, (808) 828-8888, www.koakea.com
• Duke's Kauai Restaurant
Kauai Marriott, 3610 Rice St., Lihue, (808) 246-9599, www.dukeskauai.com
• Gaylord's Kilohana
3-2087 Kaumualii Highway, Lihue, (808) 245-9593, www.gaylordskauai.com

Big Island of Hawaii
• Merriman's Restaurant
Opelo Plaza, Highway 19, Waimea, (808) 885-6822, www.merrimanshawaii.com
• Kona Brewing Co. Kailua-Kona Pub & Brewery
75-5629 Kuakini Highway, Kailua-Kona, (808) 334-2739, www.konabrewingco.com
• Ken's House of Pancakes
730 Kamehameha Ave., Hilo, (808) 935-8711, www.kenshouseofpancakes-hilohi.com