Big Fish, Big Deal off Kailua-Kona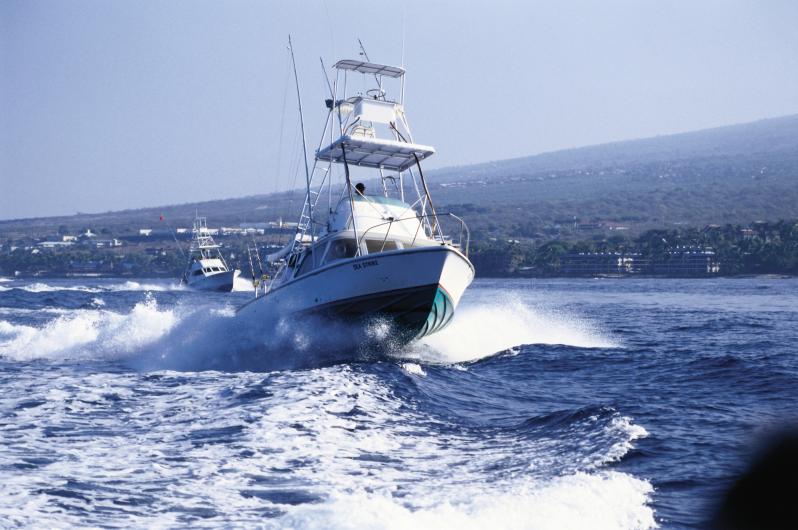 On July 28, a 1,368 lb. Pacific blue marlin was caught in the waters off Kailua-Kona. Catching a "grander"—the name for a fish weighing over a thousand pounds—is the holy grail of international deep-sea sport fishing. Reeled in by Kona resident Guy Kitaoka, last week's 14.5 foot catch well exceeded that threshold and was reportedly the largest fish caught in the area in 23 years.
Hawaii's waters are home to three species of commonly fished "billfish"—sailfish, marlin and swordfish—so-called for their elongated and rigid snouts. Fishing for these jumbo beasts are a popular sport in Hawaii, one of the few places in the world where sharp drop-offs mean the pelagic (deep ocean) fish are accessible by a relatively short boat ride from land.
Things are looking promising for sport fishermen off Hawaii Island—including competitors in the 56th Hawaiian International Billfish Tournament (HIBT) last weekend (Sat., Aug. 8)—according to local news reports, three granders have already been caught in Kona waters, and one off Hilo this year.
The HIBT annual event brings competing teams from countries as far away as China, Papua New Guinea, Kenya and South Africa to hunt for the biggest fish. Though a grander has only been caught twice during the tournament window—in 1986 and 1993—the recent catches leave competitors hopeful. Last year's largest tournament fish was a 664.8-pound Pacific blue marlin caught by Ji Xinhua of the China Sea Wolf Club.
The HIBT fishing window began on Monday and runs through the rest of this week. Thirty-one crews will leave the dock in 33-54 ft. boats each morning, returning at 4:30 p.m. to weigh-in their catch. Points are amassed throughout the week for qualified species of billfish weighing over 300 lbs., as well as for some tagged and release fish and over-100 lb. ahi tuna. No prize money is awarded in the tournament, just bragging rights and a prestigious suite of trophies.
In addition to fishing for sport, some HIBT teams and anglers will pony up the tax-deductible $4,500 needed to sponsor a satellite tag and contribute to scientific studies on the migratory patterns of their big fish prey. The tagged fish in the concurrent 7th annual Great Marlin Race found to swim the farthest in 240 days wins its sponsor a free entry into next year's HIBT. In previous years, Kona-tagged fish have swum an impressive 2,600 nautical miles.
Visitors to the area can watch this week's weigh-ins and visit the competition's daily retail boutique of local crafts and fishing paraphernalia. They also have the opportunity to meet Miss Billfish 2015, as she poses with catch during daily weigh-ins.