Celebrated Hawaii Chef Sheldon Simeon Opens Lineage Restaurant on Maui
The "Top Chef" celebrates the food from his childhood with this new restaurant.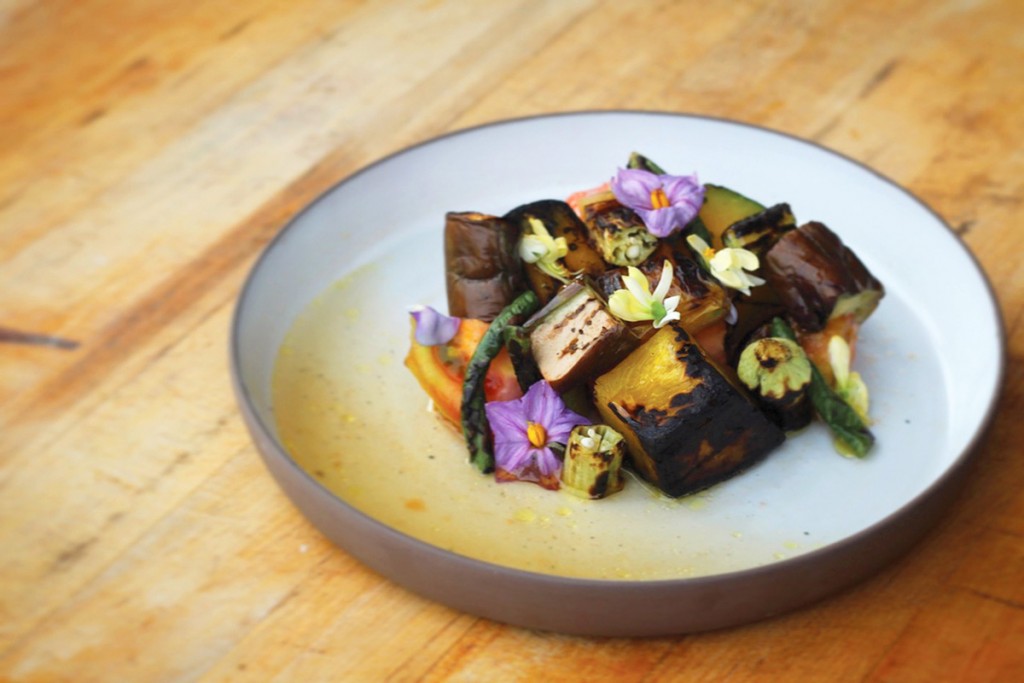 The food arrived all at once, the table's surface crowded like at a local family's potluck—never exactly an exercise in restraint nor refinement. For though this was a preview dinner for Lineage, Sheldon Simeon's new restaurant to open in October 2018 at The Shops at Wailea, the chef wants to do away with pretty-but-useless garnishes, fancy-for-the-sake-of-Instagram dishes and a tedious progression of courses. He wants you to eat at his restaurant as if you were at his home. So there was the requisite bowl of poke, plus ulu (breadfruit) and salty shavings of dried aku (skipjack tuna), garlicky fried noodles, Big Island smoked meat paired with sweet guava jelly, and cold ginger chicken with a ginger scallion sauce and pungent pops of fermented black bean. Food that anyone who grew up in Hawaii would clearly recognize, with just enough contemporary touches to keep it in the now.
Of the menu at Lineage, Simeon says, "It's celebrating old-school, celebrating the style that we eat in our homes, at our celebrations where there's a lot of food on the table. I'm confident that we can do food that we grew up eating, it doesn't have to be modern or fancy."
Simeon wasn't always so assured. The first time he was on "Top Chef" in 2012 (he also competed in 2016), he made it to the final three contestants, but was eliminated when he forsook his Filipino and family roots in his cooking in favor of avant-garde techniques and pairings. Since then, he's opened Tin Roof—a takeout counter in Kahului serving stick-to-the-ribs island fare in the form of pork belly and mochiko chicken—and its popularity only helped buoyed his confidence that people wanted to eat the food of his past.
So for the menu at Lineage, he delved into memories, both personal and collective. He unearthed a shoyu mayonnaise dip for vegetables ("I never knew what ranch dressing was growing up, only this," he says), and his dad's pork guisantes, a Filipino stew of pork and peas, the number one requested dish at his family's gatherings. He recalled the "flying saucer," a staple at Maui county fairs, a round, grill-pressed sandwich filled with cheese, tomato sauce and ground beef, that he's trying to perfect for the restaurant. He even listened to old Hawaiian music for cues. "Ka Uluwehi O Ke Kai" taught him of the abundance and diversity of limu (seaweed) once available in Hawaiian waters, and "Na Ono O Ka Aina" the different varieties of kalo (taro) cultivated in the Islands. In researching old culinary traditions in Hawaii, he came across "roof lemon," jars of salted lemons left out on sunny roofs to preserve.
In addition to the family-style of eating, diners will be greeted by pupu (appetizer) carts upon arriving, the idea being you don't have to wait for a server to come around and put in an order before finding something to snack on, the same way "when I go to auntie and uncle's house, before you even say 'hello,' they say 'go eat,'" Simeon says. The pupu carts, a riff on dim sum trolleys (by way of State Bird Provisions restaurant in San Francisco), are built by Simeon's father, a former welder by trade, and might be laden with boiled peanuts scented with five spice, or a kimchee cream cheese dip served with Ritz crackers.
Boiled peanuts, kimchee, taro, seaweed: "Ultimately, it's the food that's surrounding us," says Simeon. "Lineage is basically celebrating my parents and the people that came before us, the lineage of Hawaii, all the different cultures that have an influence on our culinary land—all of which influences the way I cook."
Lineage
The Shops at Wailea, 3750 Wailea Alanui Dr.
Open seven days a week for dinner from 5 to 11 p.m.
(808) 879-8800
lineagemaui.com