Cocktail recipe: Three Dots and a Dash from Waikiki's Splash Bar
Ready to feel victorious and try your hand at making this tropical cocktail?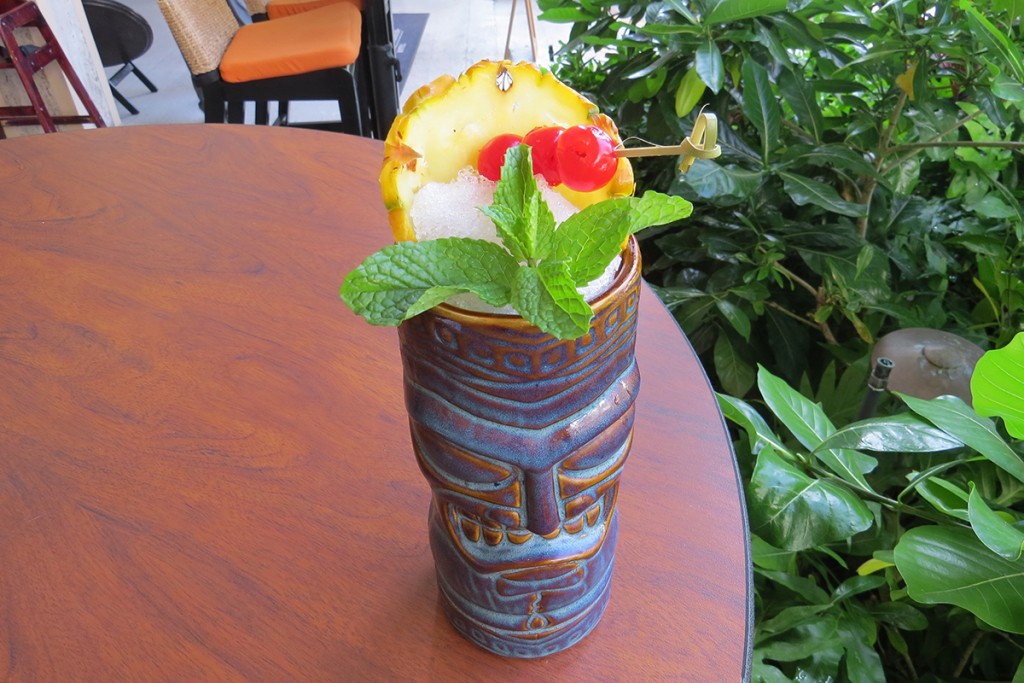 Ahhh. Lounging poolside while sipping a tropical cocktail. That's pretty much the quintessential vacation moment of bliss, and it's been true for generations of relaxation-seekers. At the Sheraton Princess Kaiulani, for example, one of the Starwood Hotel & Resorts in Hawaii, drinks have been flowing since the hotel originally opened, back on King Kamehameha Day, June 11, in 1955.
While many styles have changed in the ensuing 60-plus years—few are yearning for a return of floral rubber swim caps, I bet—cocktail aficionados are grateful that tiki drinks are still in fashion in Hawaii. If anything, these drinks are more popular than ever, but today's mixologists are taking classic recipes and giving them their own spin. To wit, there's an alluring rum concoction called Three Dots and a Dash.
According to Jesse Suderman, Splash Bar Manager at the Sheraton Princess Kaiulani, "Three Dots and a Dash is a cocktail made popular in the 1940s and was created by Donn Beach, of Don the Beachcomber." Donn Beach, born Ernest Raymond Beaumont Gantt, was a Southern California transplant who moved to Honolulu and a key figure in the tiki-bar craze that swept over midcentury culture faster than a lava flow drink goes down. Gantt/Beach, it's important to note, was also a World War II veteran.
As Suderman explains, "Three dots and a dash is Morse code for the letter V. In the 1940s, the V stood for victory and was often referred to when talking about the victory in World War II. The garnish is the key to the name of this drink as it features a single pick through three cherries (three dots) and a pineapple (dash). The inspiration to add this cocktail to our new Splash Bar menu was to pay homage to Donn Beach, who opened up his famed restaurant, Don The Beachcomber, right next door [to the Sheraton Princess Kaiulani] at the original International Market Place in Waikiki."
Ready to feel victorious and try your hand at making a Three Dots and a Dash? Here's the recipe from Suderman.
3 Dots and a Dash Recipe:
½ ounce fresh lime juice
1 ounce fresh orange juice
½ ounce honey syrup (see below)
¼ ounce BG Reynolds Velvet Falernum
¼ ounce St. Elizabeth Allspice Dram
1 ½ ounces Leblon Cachaca
½ ounce Appleton Estate Reserve aged Jamaican Rum
1 dash Angostura bitters
For honey syrup:
1 1/2 cups honey
1 1/2 cups water
Garnish:
3 maraschino cherries, for serving
1 pineapple chunk, for serving
If, on the other hand, you'd rather just head to the Splash Bar and have a bartender whip up a drink, you'll be happy to hear that happy hour lingers daily from 11 a.m. to 6 p.m., and there's live entertainment every night from 8:30 to 10 p.m. A casual American and local menu is also offered, with lunch from 11 a.m. to 5:30 p.m. and dinner from 5:30 to 9:30 p.m.
With the right cocktails and atmosphere, you don't have to be Donn Beach to know you'll feel .-. . .-.. .- -..- . -..
That's Morse code for "Relaxed."
---
The Sheraton Princess Kaiulani is located at 120 Kaiulani Ave., Honolulu, Oahu. For more information, call (808) 922-5811 or visit princesskaiulani.com. The direct reservations line is (808) 921-4630 or call toll-free at (800) 325-3535.