Doris Duke bedroom suite at Oahu Shangri La estate finally open to the public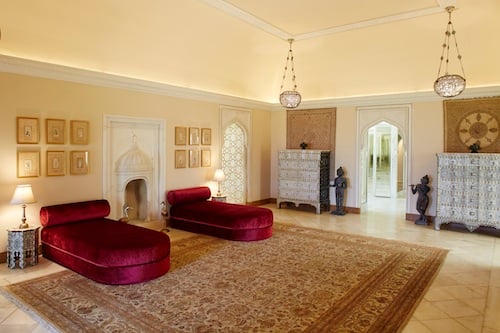 An ornate, long-shuttered suite within tobacco heiress and philanthropist Doris Duke's Islamic-inspired Oahu estate, Shangri La, finally opened to visitors this weekend.
The newly opened Mughal Suite, a lavish Islamic-themed boudoir befitting "the richest girl in the world"—a nickname given Duke by the media and public of her era—is a cornerstone of the opulent and sprawling oceanside museum at the foot of Diamond Head crater. Duke's seasonal residence until her death in 1993, the manor has been managed by the Honolulu Museum of Art as the Shangri La Center for Islamic Arts and Culture since 2002. But up until this weekend, the Mughal Suite had been an off-limits mystery to visitors, and the corridor leading to the rooms cordoned off from tours of the estate.
So coveted, in fact, was a peek at Duke's private bed- and bathroom-suite to some, HAWAII Magazine sister publication HONOLULU Magazine included it in a 2010 feature listing the "Top 10 Places You Can't Go in Hawaii."
Shangri La's first tours to include the Mughal Suite began this past weekend, and the rooms will be included in all tours of the museum going forward. Special hour-long "Spotlight Tours" focusing on the Mughal Suite will be offered two Saturdays a month through December beginning Sat. Oct. 18.
The Mughal Suite restoration project took more than two years and involved dozens of specialized workers, ensuring that details and décor of the adjoining rooms mimicked their original 1939 appearance. Many original pieces and details remain. The suite's white marble bathroom features brightly colored semi-precious stone flowers inlaid in a style reminiscent of both 1930s America and the Mughal Empire. The Mughal Suite is the only space on the estate to feature Duke's Islamic art collections from the Indian subcontinent and Southeast Asia. The rest of Shangri La showcases work from other countries such as Morocco, Iran and Syria.
The Mughal Suite was actually the impetus for the house that now surrounds it. Construction of the suite was already underway elsewhere when Doris Duke first visited Hawaii, shortly after a honeymoon trip to India with businessman and politician James Cromwell in 1935.
Of the Mughal Suite, Duke once said, "Precisely at the time I fell in love with Hawaii and I decided I could never live anywhere else, a Mughal-inspired bedroom and bathroom planned for another house was being completed for me in India so there was nothing to do but have it shipped to Hawaii and build a house around it."

The Mughal Suite's white marble bathroom. Photo by Tim Street-Porter.
The estate's creation marked the beginning of Duke's life-long collecting of Indian Mughal and Islamic art, which fills the museum today.
Public exhibits within the suite explain the rooms' architecture and history, while photos and short video clips tell the story of Duke's original trip to India. The Mughal Suite also houses displays of Duke's ruby and emerald Indian jewelry, as well as gold, diamond and ivory figures and decorative objects.
A number of Honolulu events—including original dance and music performances, film, visual art displays, dinners and lectures—will celebrate the completion of the Mughal Suite's restoration and opening. Events are ongoing and will continue through July 2015. A full events calendar is available here.
Visits to Shangri La are by advance reservation only. All guided tours begin at the Honolulu Museum of Art—six miles away at 900 S. Beretania St.—and include 15-minute van transport to the estate. Public tour times of Shangri La are scheduled Wednesdays through Saturdays, at 9 a.m., 10:30 a.m. and 1:30 p.m.
Information about Mughal Suite-specific spotlight tours—offered two Saturdays a month from October through December at 9 a.m., 10:30 a.m., 12:00 p.m. and 1:45 p.m.—can be found on the Honolulu Museum of Art's website. The museum begins accepting reservations for the Mughal Suite Spotlight Tours one week in advance of entry date.

The Jali Pavilion on the roof of Shangri La above the Mughal Suite. Photo by Linny Morris via the Doris Duke Foundation for Islamic Art.
To learn more about Shangri La and the Mughal Suite, visit shangrilahawaii.org or honolulumuseum.org.
Shangri La Tours and Mughal Suite Spotlight Tours
Visit the Honolulu Museum of Art's website, or call (808) 535-1875.