Duke Kahanamoku Challenge in Waikiki features canoe, stand-up paddleboard races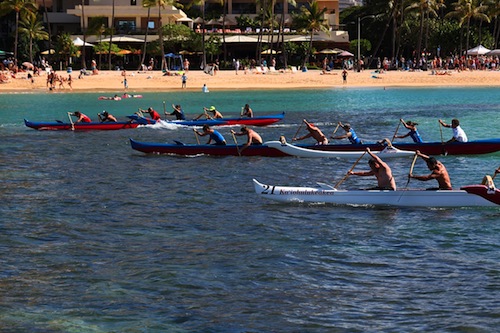 The 28th annual Duke Kahanamoku Challenge, a mix of Hawaii heritage and Waikiki fun, will get under way at 9 a.m. Sun., Feb. 24 with a touch of tradition: a double-hulled canoe procession, an oli (chant) and kahiko (ancient hula) presentation.
The shoreline fun starts at 10 a.m., with open-ocean canoe races, and stand-up paddleboard races staged in Duke's Lagoon. On the beach, there will be ulu maika (sand bowling), konane (Hawaiian checkers) and other traditional makahiki games.
During makahiki season, early Hawaiians honored Lono, their god of peace, prosperity, and fertility. Festivities would start with the first sighting of Makalii, the constellation Pleiades, as it rises above the horizon at sunset. And the season would continue while Pleiades was visible in the night sky, often from October through much of February. During makahiki, tributes were made, battles halted, and sporting competitions staged.
At the Duke Kahanamoku Challenge, there's no charge to play makahiki games, watch the races, or catch performances by Hawaii musicians and a hula halau (group). The event also will feature handmade Hawaiian arts and crafts. The entertainment lineup ranges from the Royal Hawaiian Band to Waipuna, an award-winning duo (Na Hoku Hanohano awards).
Also, each year, the challenge honors water sports legends of Hawaii. This year's honorees — Ralph Goto, Edie Van Geison and Aunty Rosie Lum — perpetuated the legacy of native Hawaiian canoeing and water safety in the community.
Funds raised from the Duke Kahanamoku Challenge — sponsored by Hilton Hawaiian Village Waikiki Beach Resort and Hilton Grand Vacations — will go to the nonprofit Waikiki Community Center, which operated multigenerational programs and provides assistance to area families and individuals in need. For more information about the Waikiki Community Center, click here.
Click here for more information about the Duke Kahanamoku Challenge.