Eat to your Heart's Content at the Prince Waikīkī's Upscale Buffet Experience
There's going to a buffet, then there's going to Indulge, A Signature Grazing Experience.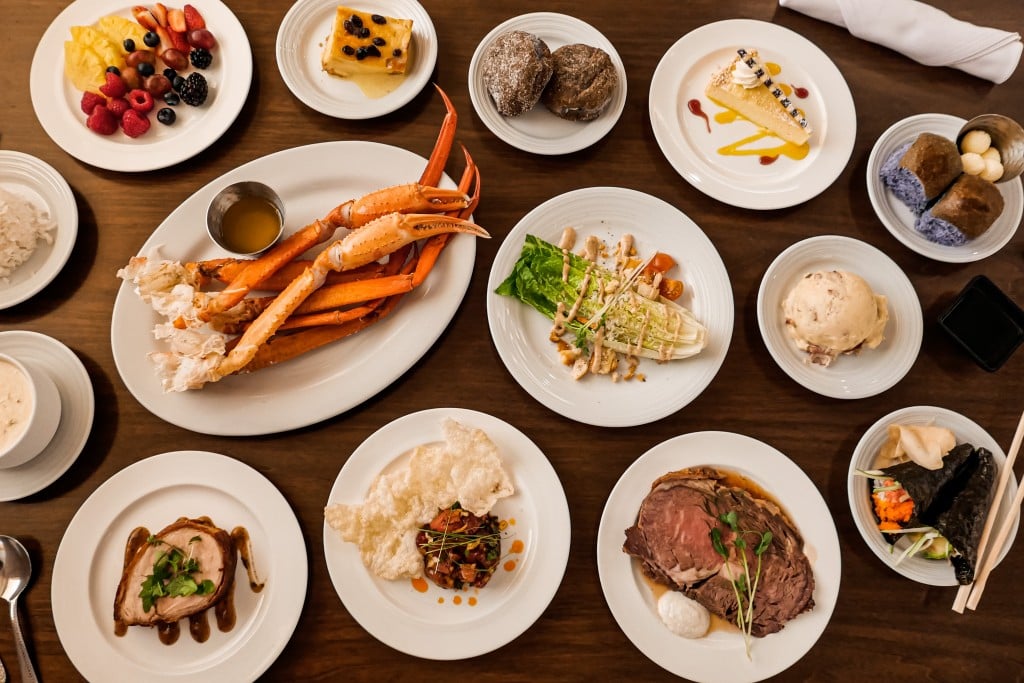 What's there not to love about hitting a hotel buffet?
An endless array of mouthwatering entrees and appetizers that seemingly never run out. Being able to eat until you're packed to the brim—or until you think you've got your money's worth. Sampling every scrumptious option until you've found your favorites, then going back for more. But, if you're looking for a more refined dining experience, one that still holds all of the qualities of an all-you-can-eat buffet, look no further than Indulge, A Signature Grazing Experience, located in the Prince Waikīkī's signature eatery, 100 Sails Restaurant & Bar.
On the outside, looking in, Indulge may appear to be your average hotel buffet. But it is so much more than that. Diners will be greeted, checked in and seated at a table by friendly restaurant staff upon arrival, and will able to fill their plate in two tantalizing ways. A menu of the nights' entrees includes two categories, "Served Courses,"—which are prepped in the back and will be delivered to your table like a traditional sit-down eating experience—as well as the "Action Stations."
The "Served Courses" selection truly raises the bar on what can be offered at a buffet. The clam chowder and house-made taro rolls taste good enough to be served as an appetizer at 100 Sails, and the steamed snow crab legs—served with clarified butter or garlic calamansi butter—are a succulent addition to the buffet experience. Sides of rice, mashed potatoes, taro rolls and a veggie platter can also be ordered from this menu, and wait times are not long.
As good as the clam chowder is, you'll want to save your appetite for the "Action Stations." Located mere feet away from the tables, a blessing as the night goes on and your waistband expands, are a handful of chefs behind three countertops, all of which are protected by plexiglass barriers. Here is where the real action happens … hence the name. Want some slow-roasted prime rib? Ask the chef behind the counter and he'll slice you off a piece, right then and there. Eyeing out that fresh poke, garnished with local veggies, chili peppers and house-made rice crackers? Same process, ask and you shall receive. From temaki sushi rolls to porchetta, bone marrow to Caesar salads, there's enough variety in plates to satisfy any appetite. And although it's not a self-service buffet, the folks behind the counter are fast and friendly, portioning out every plate with the perfect amount of food. Don't worry, you can always ask for more.
Now we have to talk about the dessert counter, which is truly dangerous—in a good way. Whatever the pastry chefs behind the counter do to make the Prince Bread Pudding is something magic. The texture, the flavor, the crème anglaise. Perfect. Aside from the bread pudding, the pastry chef's special will change based on availability, however the taro malasadas filled with chocolate, coconut or pastry cream are almost worth the price of admission on its own right.
No, Indulge is not a buffet, in the classical sense. It's something better. There's a sense of refinement here you won't come to find at many other buffets, and the entrees and appetizers at your disposal are truly ʻono (delicious). And that bread pudding. Delish.
$72 per person. The signature grazing experience is currently available on Friday and Saturday evenings from 5 p.m. to 9:30 p.m, reservations can be made here or call (808) 944-4494.