This Wailea Resort Underwent a Stunning Transformation
Sporting a fresh appearance, Fairmont Kea Lani's renovated suites and villas offer a tranquil and secluded escape—just in time for a mid-winter getaway.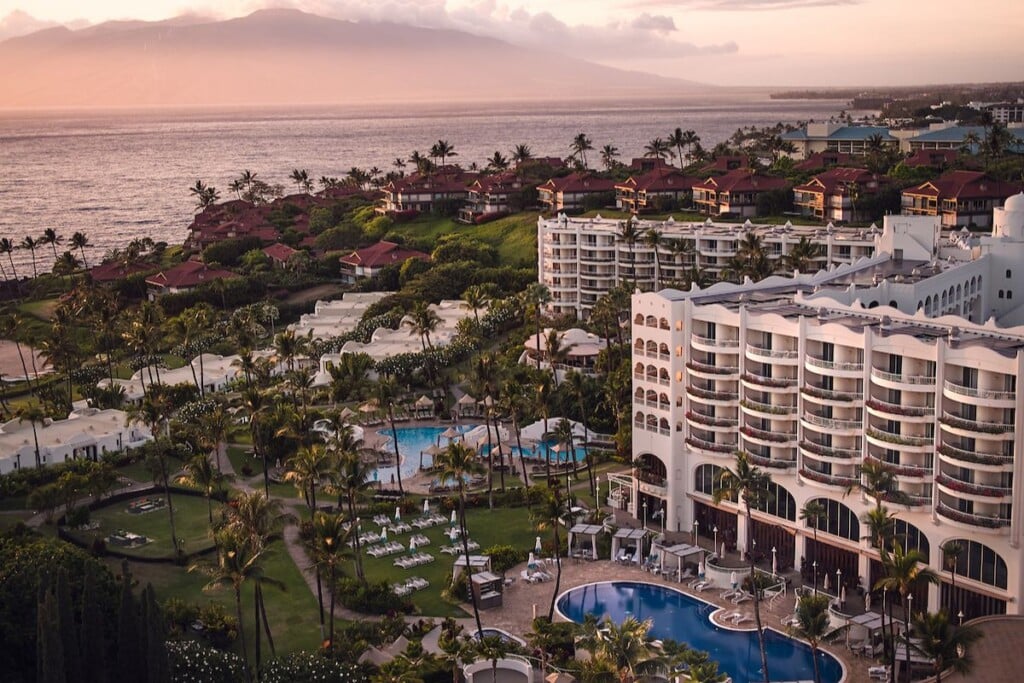 For the last three years, travel sites have been buzzing with the latest updates on ever-evolving mandates, vaccine requirements and lists of countries that are open to visitors and those that are closed. But in between the articles about Covid-19 precautions and travel restrictions, a noticeable trend emerged: Resorts around the country were undergoing multimillion-dollar renovations. And that trend, industry insiders say, has made the comeback of travel to the Islands even more exciting.
Even the 22-acre Fairmont Kea Lani on the Valley Isle, already a standout among other local resorts, underwent an impressive transformation.
The oceanfront resort has long drawn travelers seeking a serene and secluded getaway. It's the only luxury resort of its kind in Hawaiʻi, exclusively offering spacious suites and elegant two-story villas.
In March 2022, Fairmont Kea Lani commenced the first phase of its two-part multifaceted project. The property's 413 one-bedroom suites and 37 villas were renovated and thoughtfully designed to reflect the history of the area.
Fairmont Kea Lani is located in the ahupuaʻa known as Palauea, an area once revered for its bountiful fishing and fertile soil, good for growing uala, or sweet potato. Details throughout the suites and villas pay homage to the stories and history of the land. Guests will notice exquisite light fixtures in the rooms that resemble hīnaʻi, a basket-style fish trap used by ancient Hawaiians, and the natural color palette brings the tranquility of the sea into every suite. Cyan blues, pops of pink along with traditional art marry Hawaiian elements with a contemporary style, helping to make interiors feel modern yet warm and comfortable.
"We were inspired by the natural hues and textures of Maui, specifically the native foliage, sunny shorelines, and magnificence of the ocean," says Michael Pye, Fairmont general manager and regional vice president of Fairmont Hawaiʻi. "For our guests, we hope to facilitate a connection to the land by bringing elements of the outside, in."
The expansive one-bedroom suites offer guests either 860 or 1,100 square feet of comfortable space. And each has its own private lānai with exquisite views, and a massive bathroom with a walk-in stone shower and a luxurious soaking tub you will not want to leave. If you're looking for a dreamy home away from home, this might be it.
But for those searching for even more spacious accommodations, Fairmont Kea Lani's two- and three-bedroom villas are equipped with full kitchens featuring granite countertops, stainless steel appliances and washers and dryers. The villas are mere steps from the golden sands of Polo Beach, and they each have their own private plunge pools too.
The transformation was timed with the new year and all suites and villas are ready for guests.
The second phase of the renovation project will transform Fairmont Kea Lani's lobby: An interactive Hawaiian Cultural Center will be added, as well as a new food and beverage outlet, all paired with the resort's stellar ocean views. Phase two is set to begin in the summer of 2023 and is expected to be completed before the holidays.
Fairmont Kea Lani managers say that longtime guests and new ones too will be delighted with the resort's updated look. They say the natural hues and textures make the rooms feel tranquil and calming and elegantly capture the spirit and history of the area. "Fairmont Kea Lani's suites and villas were designed to accentuate the natural beauty of the islands and perpetuate the rich culture of Hawai'i, while providing thoughtful amenities and luxurious comforts to our guests," Pye says.
Returning guests can rest easy knowing that Kō Restaurant, the resort's beloved eatery, remains just a short walk away from any suite or villa, and diners can still enjoy their favorite lavender honey crisp shrimp and searing hot ʻahi on a rock.
But Kō Restaurant has also welcomed fresh updates. Aris Aurelio was recently appointed executive chef of the restaurant; he's worked in Fairmont Kea Lani kitchens since 1994 and mentored under Tylun Pang, the former executive chef there. The dishes at Kō are reflective of Aris' upbringing in the Philippines and on Maui. The menu is inspired by his family recipes and his staff's, exemplifying the spirit behind Kō. Translating to sugar in ʻōlelo Hawaiʻi, Kō is an ode to the unique, multicultural cuisine that rose from it.
Guests should certainly bookmark Sunday brunch at Kō, resort managers say. They say the culinary team there has created an exciting brunch experience that spotlights the flavors of Hawai'i, China, Portugal, the Korean Peninsula and Japan.
With all of that—refreshed accommodations, Sunday brunch at Kō, an adults-only pool, the beaches of Wailea—resort managers say they're hoping you'll make your getaway soon to Fairmont Kea Lani.