Four Seasons Manele Bay on Lanai escapes brushfire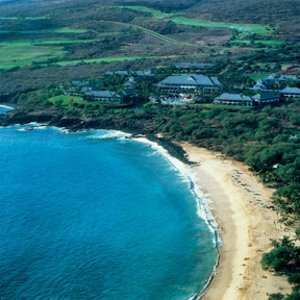 Things got scary for a while yesterday on the usually peaceful island of Lanai. A brushfire broke out near the Palawai Basin—a large expanse of pasture land once home to the island's long gone pineapple industry. Strong winds quickly fanned the flames across the island's dry, barren fields and down Manele Bay Road.
Standing in the fire's path was the Four Seasons Resort Lanai at Manele Bay. The fire raged roughly a mile from the resort when approximately 600 guests and staff were evacuated onto boats in nearby Manele Bay Harbor.
But not to worry. As of yesterday evening, conditions were deemed safe enough to allow everyone to return to the resort—even as firefighters worked well into the night fighting the flames.
The brushfire never threatened the island's main residential center, Lanai City, or its other Four Seasons property, the Lodge at Koele.
According to a statement released by the Four Seasons Manele Bay, the evacuation was a precautionary measure.
"The good news is everyone is back safe and it's business as usual," said Michelle Edwards, public relations manager of Four Seasons Resorts Lanai.
Even better news: There were no reports of injuries or structural damage anywhere on Lanai. However, fire officials are encouraging people to exercise caution when traveling the island. Conditions remain windy and the fire is not yet considered completely contained.