Future Farmers of America, Hawaii style
A renewed interest in agriculture revives FFA programs statewide.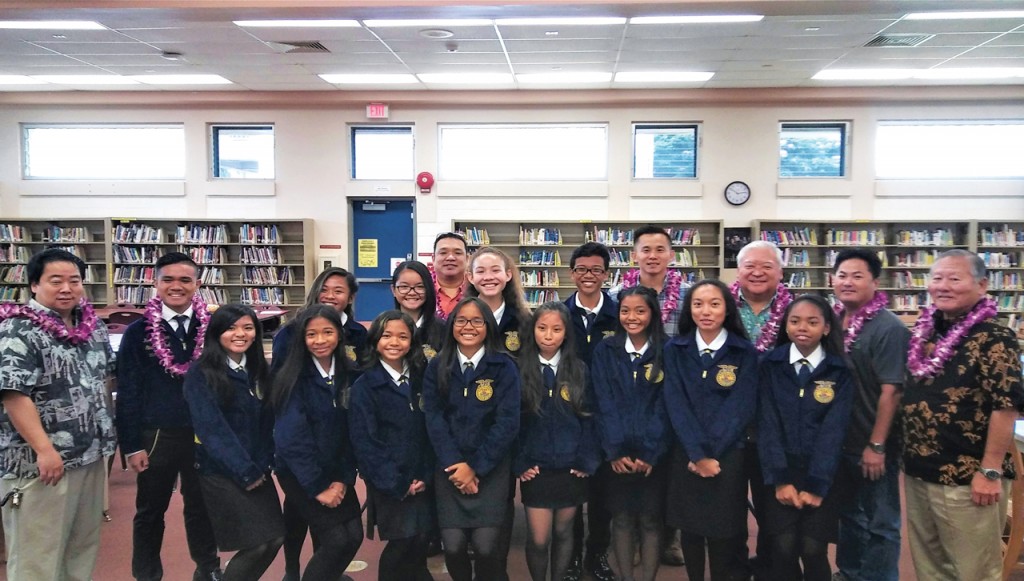 Hawaii Island's Konawena High School is bustling with more than just teachers, students, coaches, and parent volunteers. There's also a donkey named Grey; a moody, unnamed pony; Wilbur the potbellied pig; a handful of rabbits; and a sometimes free-roaming gaggle of turkeys, chickens, and ducks. They all live in a plot tucked behind the school's aging agriculture building, and are part of a working farm that serves as a practical experience for student coursework and the extracurricular Future Farmers of America (FFA) program, both supervised by teacher Tina Alcain.
"My favorite thing about school is being with the animals," says Gynel Oliveira, an 11th grader and president of the schools' recently reinstated FFA chapter. "We have a nice set-up. It's good to have this area to come to, to get in touch with your nature side."
While it may seem unusual for a high school to have a fully-fledged animal farm dependent on student and teacher care, 18 of Hawaii's 41 high schools currently have agriculture programs and participate in FFA, and all have space set aside for some type of farm. Waipahu High School on Oahu, for example, teaches agricultural skills through aquaponics, and Lahainaluna on Maui, the state's longest-running high school ag program, has a greenhouse and three acres of native fruit trees and cover crops—all maintained by students.
"At one point, nearly all Hawaii high schools had agriculture programs," says Alcain. But, over the past 30 years, nearly a third of those remaining have ended, the product of a perfect storm of budget cuts, un-replaced retiring teachers, and a gradual decline in interest in agricultural careers.
Fortunately, there's been a slow shift in the last five years and Hawaii's agricultural renaissance has had a trickle-down effect. Student membership in FFA statewide has more than doubled from 128 students to more than 350 since 2012, and a handful of formerly shuttered chapters—including Konawena High School—have rejoined and are slowly building membership. Mike Barros, the Hawaii Department of Education's Educational Specialist for Career and Technical Education, says things are continuing to look up. "There seems to be more of an up-swell in interest in [agriculture and] sustainability," he says. "With the closing of pineapple and sugar cane plantations—a lot of farmable land is becoming available … and added to that is a state-wide interest in having a more secure food source."
Still, FFA programs have historically been a harder sell for schools than just instituting an agriculture or natural resources curriculum because they require a motivated teacher willing to volunteer precious afterschool and weekend time. Alcain at Konawena admits she is at school most days, year-round, making sure the animals are fed. While it means she rarely takes a vacation, she says the extra time spent running the school's FFA program has been absolutely worth it.
Not only does that extra exposure to agricultural learning make better young farmers, FFA programs—which also include career development and life skills components that many don't get elsewhere—make well-rounded students. Alongside agricultural demonstrations and plant identification quizzes, yearly FFA competitive events also include mock job interviews, as well as parliamentary procedure sessions, and several public speaking events. With chapters spread throughout the state, competitions also give students the chance to travel to other parts of their home Island, across the state, and even to the Mainland.
In 2017, Oliveira was one of just a handful of Hawaii FFA students to travel to Washington DC for a leadership conference. It was the first time she had left the state. "I loved hearing all the different accents and learning about the different things they grow," said Oliveira. "I learned important leadership skills that I try to share with our new members."
Oliveira doesn't know exactly what she wants to do when she graduates, but would love to one-day run an animal farm like her family's in Kau. "My mom, dad, aunties and uncles were all in FFA. Membership in FFA is a bit of a family tradition."