Get a taste of tropics-inspired honey wine at Nani Moon Meadery
Sip at Kauai's very own mead, concocted using local fruits, flavors and Hawaiian honey.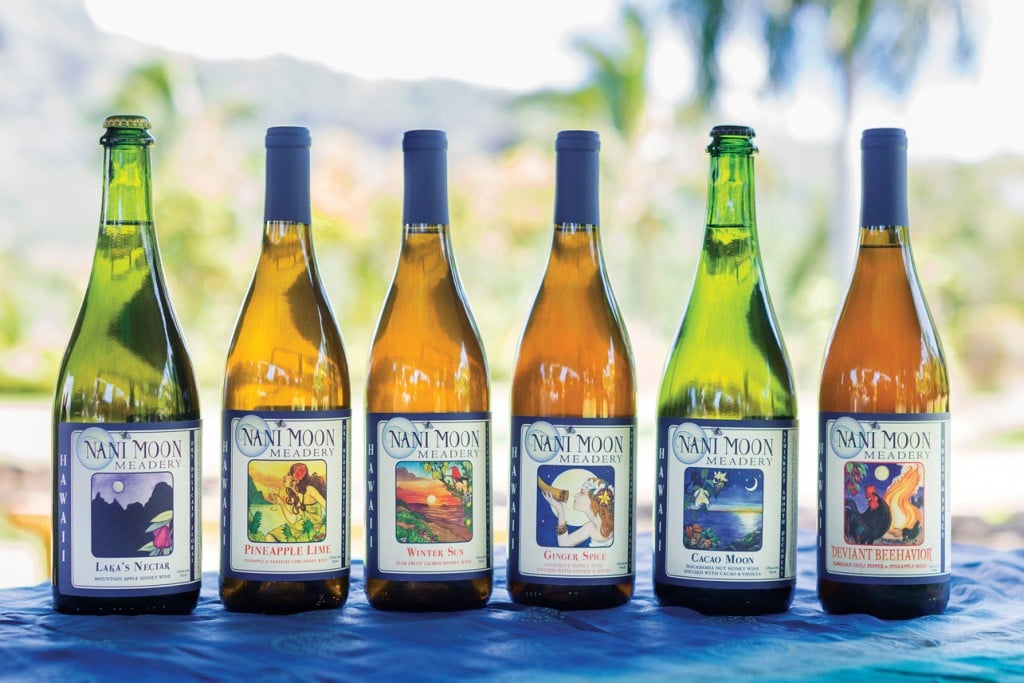 To experience one of Kauai's most unexpected local libations, one doesn't go to a bucolic winery or a bustling brewpub. Instead, you go to a nondescript strip mall hidden just off two-lane Kuhio Highway, which cuts through Kapaa town.
It's an unlikely location for a meadery, but Nani Moon Mead owner Stephanie Krieger makes it work. With dreamy drapery, glittering mosaics and wafts of toasted spices, Krieger has transformed the former flooring and window showroom into a production facility, tasting room and event space for her tropics-inspired honey wine.
Armed with a background in marine science and biology, Krieger approaches her business with a keen eye toward sustainability. But when she first arrived on Kauai in 1997, she had only a general idea of how to do that. Inspiration struck three years later, while on a hike in Kauai's Kokee State Park.
Says Krieger, "I saw all these bees up in the ohia lehua trees. It just clicked that that's an economic resource—honey."
Bees not only produce honey, but they are also responsible for pollinating most of our food crops. Plus, bees are abundant in Hawaii. Why not use their honey, and support local farming in the process?
Honey was only part of the equation for Krieger, who wanted to create more than just a raw ingredient. The idea to produce mead arrived a few weeks later when she remembered a high school friend who made mead. "It sounded a helluva lot more interesting than being a beekeeper," Krieger says, laughing.
Mead, a millennia-old beverage made by combining honey with water and yeast and allowing it to ferment, is rife with mythology and romanticism. Produced and enjoyed by a multitude of cultures, its origins are believed to predate recorded history. The honeymoon is named after the Irish tradition of newlyweds enjoying mead during the month following their wedding.
Krieger embarked on an eight-year quest to learn how to make mead and incorporate tropical fruits into the mix. A good foundation of wine knowledge, along with plenty of trial and error, were her guides as she refined her technique and developed her own recipes. After 500 gallons' worth of test batches, Krieger opened her production facility in 2009.
Now, Nani Moon offers six varieties of mead, each made from local honey and fruits. Although she's experimented with many fruits, Krieger prefers those that are abundant yet have limited demand: guava, starfruit, mountain apple and lilikoi (passion fruit).
"You can get [them] for a reasonable price, and you're really helping the farmer out because they don't have that many outlets to sell their product," she explains. The fruits also lend themselves to mead production especially well.
Perhaps you're wondering: "Isn't mead syrupy sweet?" The answer is, well, yes … sometimes.
As Krieger points out, "Look at how many different kinds of grape wine there are—sweet ones, tart ones, dry ones, smooth ones. That range can be applied to mead as well."
Nani Moon's meads are proof, exhibiting a diverse array of styles and tastes. There's Pineapple Lime Sunset, light and crisp with a slight vegetal note. On the other end of the spectrum is Ginger Spice, with a full body and an assertive punch of ginger. While both have the sweet flavor of honey, both are bone dry. The Cacao Moon is the only "sticky," a slightly sweet version boasting locally grown cocoa nibs and vanilla beans.
All are available for tasting and purchase at Nani Moon's Kapa'a production facility, where you can also see mead in various stages of fermentation. The best part of a visit, though, is chatting with Krieger as she pours. One minute she's sharing how to make a white sangria with one of her wines, the next she's describing the sophisticated plant taxonomies of early Hawaiians.
More than a decade after her honey-inspired pursuit began, Krieger still enjoys tinkering in her kitchen "lab," an activity that plays into her science background.
"It's fun to work with all this stuff, and to experiment."
Nani Moon Mead
4-939 D Kuhio Hwy., Kapaa, (808) 823-0486, nanimoonmead.com.