Get Something Sweet for Your Sweet at This Chocolate Boutique on Oahu
Since 2010, Choco lea in Manoa has been handcrafting chocolate truffles using high-quality local ingredients. And now it's offering tours!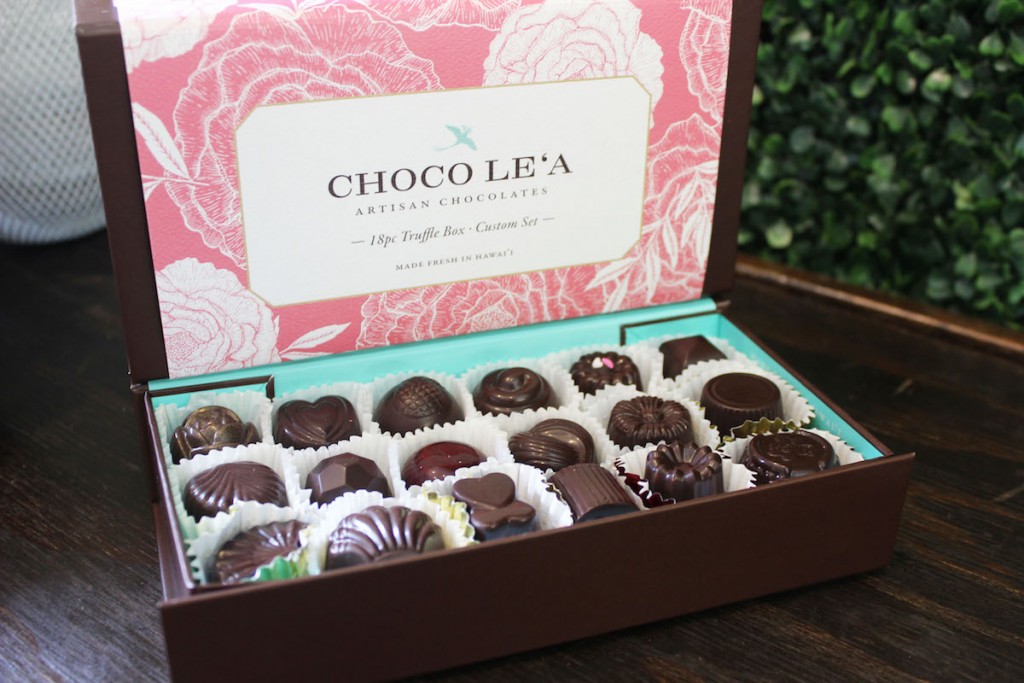 Chocolate just may be the perfect gift—and not just for Valentine's Day.
And if you're going to buy chocolate in Hawaii, you should find a chocolatier that sources locally. (Yes, we grow cacao trees in the Islands!)
Choco lea, a charming chocolate boutique—with a white picket fence!—in lush Manoa Valley, crafts artisanal chocolates using a special blend of European and locally grown chocolate. On any given day, it sells about 20 different kinds of truffles, filled with everything from lilikoi to lychee. The shop even makes special liqueur-filled truffles with Dom Perignon Champagne, mai tai, Kahlua, Guinness beer and Japanese sake.
On holidays—like today, Valentine's Day—Choco lea offers seasonal chocolate treats, including special truffle flavors: orange marmalade, merlot, mimosa, sangria, lilikoi-habanero, strawberry-Nutella and housemade marshmallow. But, in the shop and online, you can also buy its popular chocolate-covered Oreos, chocolate-dipped dried mangoes, solid chocolate bites and whole macadamia nuts blanketed in either dark or milk chocolate.
View this post on Instagram
Starting this month, Choco lea is launching something called a Sneak Peek Session, a 25-minute behind-the-scene tour where you learn about how this small business got started, peek into its commercial kitchen to see how the truffles are made, and talk story with owner Erin Kanno Uehara.
The tour starts in the back room, where the former kitchen used to be when Uehara first moved into this spot in Manoa in 2012. (It now doubles as a packing room and lunch area.) She explains how she got involved in this company, originally started by her uncle Colins Kawai, two years before. (She actually met him at a wedding expo and discovered he was her uncle. Long story. You gotta do the tour.) As she describes the company, its mission, even its logo—a koae ula (red-tailed tropicbird) holding a cacao branch in its beak—we sip on iced coffee from nearby Morning Glass Coffee + Café that's been specially picked to pair with Choco lea's chocolates (which we're also sampling).
"I want to give you a good taste of what we use in our products," Uehara says.
Then we walk over to the shop's commercial kitchen—it's in the next building—where we watch chocolatiers make the gourmet chocolate truffles. They are filling some of the very detailed molds the shop uses for its truffles with chocolate, then tapping the trays to get out the excess chocolate. Everything is done by hand, and making a single flavor can be a two- to three-day process.
But the laborious process is worth it, at least for us. We get to sample a few new flavors—orange marmalade truffles and chocolate-dipped Red Vines—before we return to the shop.
And shop some more, of course.
$19.99 per person, maximum four people per tour, reservations required, 2909 Lowrey Ave., Manoa, Oahu, (808) 371-2234, chocolea.com