GoFarm Hawaii is cultivating a new generation of farmers
The GoFarm Hawaii program turns fledgling amateur farmers into adepts in less than a year.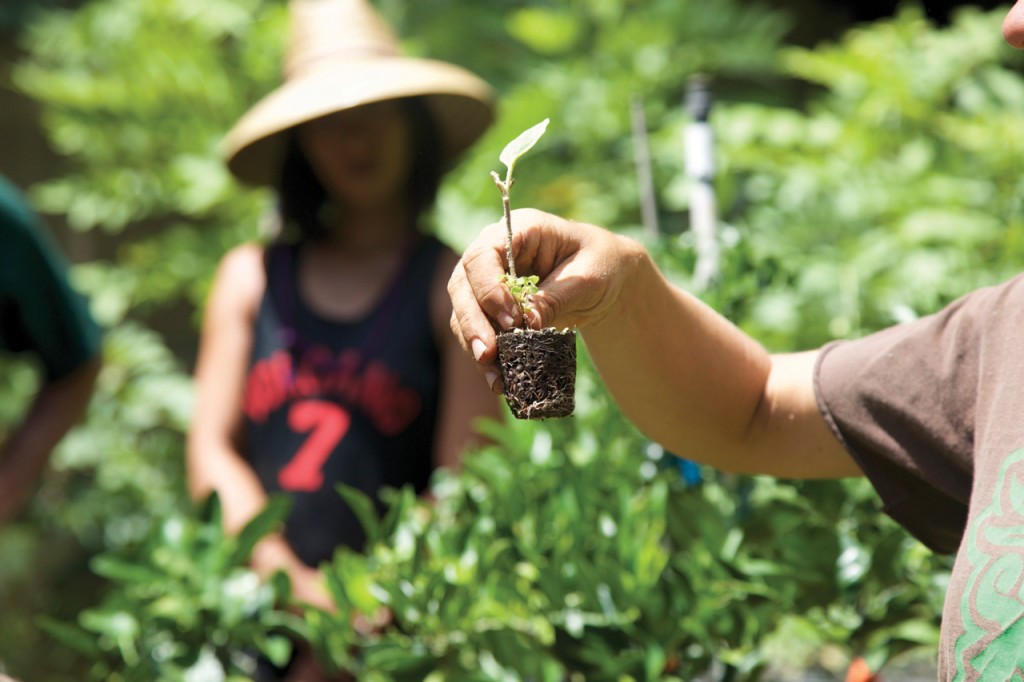 Five years ago, Rob Barreca was a computer developer in the Bay Area without the slightest idea of how to farm, much less own one.
Today, his five-acre, certified-organic farm in Waialua, Counter Culture, is two years old and thriving. Barreca attributes his success to GoFarm Hawaii, a program developed in partnership between the University of Hawaii's community colleges and College of Tropical Agriculture and Human Resources and funded in part by state and federal grants. The curriculum is designed to provide all the skills, confidence, and experience necessary for students to start and run their own commercial farm, from marketing to how to use a tractor.
Launched in 2012, GoFarm operates in phases. Early phases are designed to ease unsure inquisitors in with a few days of information about the industry and scope of work. Students who are ready to take the plunge can apply for two higher level phases, which are first four months, then six. They tackle all the ins and outs of farming, and then running a farm, from pest control to variety trials to weed maintenance, as well as essential business skills. Students manage their own 8-acre farm, even producing a mini CSA. At the end, they can apply to the three-year ag incubator, which offers land plots with access to water, a wash station, tractors, as well as field and business consultation. Plot fees vary depending on acreage; a quarter-acre plot is $50 a month.
So far, 24 cohorts have gone through the program on five sites across the state–Waimanalo, Waialua, Kapaa, Honokaa and Kahului. It's turned men and women looking to make a career change like Barreca—former bakers, jewelers, chemists, construction workers (to name only a few); millennials to baby boomers—into farmers.
"It really focused me and gave me a framework," explains Barreca, who says it's barely an exaggeration to state that the GoFarm program taught him everything. "Otherwise I'd be totally flailing."
For him, the human connections he gained from the program were most invaluable. As a farmer, he still reaches out to instructors and fellow students in the network with questions and roadblocks he encounters: What varieties of cabbage will work best in his soil? How can he connect with buyers and distributors for his products?
That includes farmers and fellow students like Noe Neumann, who joined the program to help her take her family's land into a full-fledged citrus farm. Or, current incubator participants Rose Matthews, a horticulture grad looking for the functional skills to complement her academic knowledge, and Priscilla Carbajal, whose first impulse was about producing fresh food for her family.
With a growing web of GoFarm grads dealing with similar day-to-day issues, there are more and more experienced farmers to turn to when an obstacle comes up in the difficult everyday of agriculture. And, despite the ever-adjusting courses and thorough curriculum at GoFarm, "It is still difficult," says Barreca of running a farm. "You gotta want it."
If anything, him and his fellow grads only want more of what GoFarm already offers: more time with the incubator plots, more lessons scaling up production techniques, more connections with students after graduation, more business and grant-writing skills to make the transition from student to farm-owning entrepreneur more viable.
"Honestly, as a new farmer, it's scary," admits Barreca, but with the GoFarm experience under their belts, the grads feel confident and as equipped to face the odds as they can be. The rest is up to them to act and adapt. "It's like: 'OK, calm down. Here's your framework, you have the basics, you have a support network,'" says Barreca. "'You can do this.'"
For more information, visit gofarmhawaii.org.