Island Manaia cassava farm is growing "the new Hawaii potato"
The farmers hope to give the resilient starch a place in Hawaii's food future.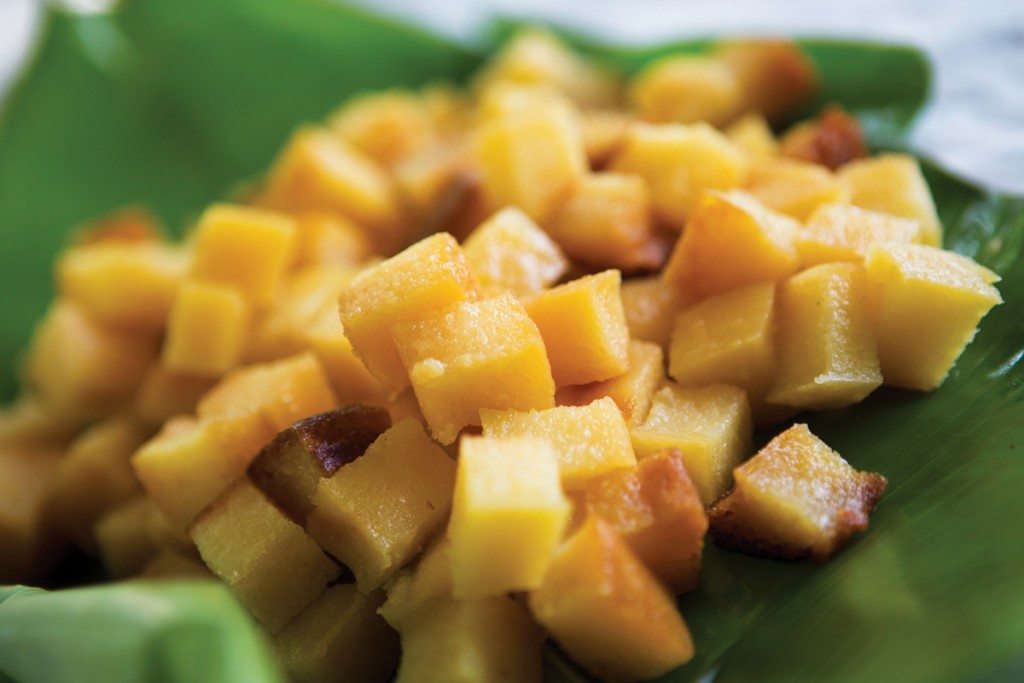 "I'm looking for the cassava farm." "You're in it!" says Alan Hoeft, working along a Hawaii Kai back road. He sweeps his arms in every direction. Hidden in plain sight alongside the usual suspects—papaya, bougainvillea—10 acres of 400 different cassava varieties grow.
Cassava, also known as yuca, is a pest- and drought-resistant starch common throughout the tropics from Africa to Southeast Asia, but is still relatively unknown in Hawaii. Hoeft and his wife Fuafanua hope to change that, on 10 acres of leased land from Kamehameha Schools. The two of them see a future where the remarkably resilient cassava, which can grow in depleted soil, is "the new Hawaii potato," stretching on for acres, just as it does in his homeland.
Hoeft grew up in Tonga, where natural disasters often knocked out the local air strip, forcing his people to rely on the only edible capable of growing in the island's harsh conditions: cassava. Little did he know that the chores his father gave him cultivating and preparing it would later become the secrets of his trade, informing how he trains the plant in such a way that enables him to achieve higher densities and double yields over typical cassava operations.
In Tonga, an island with limited access to electricity, and a crop that spoils within two days if not processed, people get creative with alternative ways to prepare it. For the past seven years, Hoeft has been experimenting with different varieties. Unlike a potato, "one variety cannot do everything," he explains. Hoeft uses a different type for each of his trials: chips, fries, mochi, flour, alcohol, and even a baked dessert likened to a firm marshmallow. Polynesian taste buds are accustomed to cassava's taro-meets-potato flavor, but the Hoefts see these products—especially fries and chips—as the bridge to Western palates.
Unfortunately, translating Hoeft's expertise and enthusiasm into a real business with real results has proved difficult. "Farming," as Hoeft says, "is easy. Funding is hard." Currently, his biggest hurdle is the cost of building a commercial kitchen for his processed goods. Moreover, selling the raw root to a population unfamiliar of its benefits is complicated by the plant's 48-hour shelf life and natural toxicity that has to be cooked out.
In the meantime, the Hoefts spread the word by hosting graduation parties and other special events at the farm that showcase traditional practices and everyday applications of cassava for real Islander families. "We live it," says Hoeft. "We still bake in an imu and cook on a fire. This is not just for tourists." They continue to seek out alternative futures for Island Manaia, seeing opportunities in Hawaii's need for local animal feed and unique ag tourism.
Despite the obstacles, the Hoefts continue to put their faith in cassava's place in Hawaii's food future. In any event, if you're looking for Alan Hoeft, you'll find him in the fields of his invisible farm, doing what he does best: coaxing and growing 10 meticulously cataloged acres marked for future snacks, booze, glue, and animal feed.