"Hamajang" Onaga and Coconut Poke Recipe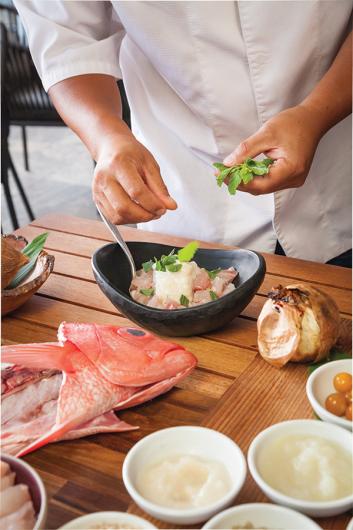 Poke is about more than just ahi. Sure, the default iteration of the popular Hawaii food favorite uses fresh tuna as its main ingredient as opposed to, more, shall we say, exotic poke like raw crab, mussel, clam and kimchee. But for folks who truly love poke, the idea that you can "poke anything" is the very reason for its infinite appeal. (The Hawaiian word poke—pronounced "poh-keh"—refers not to the dish itself, but "the act of slicing, or cutting crosswise into pieces," a preparation method, which most poke recipes require.) If your poke experience thus far is limited to ahi, we're here to help.
We asked executive chef, Isaac Bancaco, of Kaana Kitchen at Andaz Maui at Wailea, Maui to push the poke boundary by sharing his favorite anything-but-ahi poke recipe. Bancaco's first memory of poke is eating fresh-caught kala (unicorn fish) with his Maui fisherman grandfather as a kid. "Nobody eats kala anymore. It's too fishy and tastes like limu (reef seaweed) whether you want that or not. But when you go to grandma and grandpa's house, you don't really get a choice of what you want to eat. It's on the table. You're going to try it."
Introduced young to poke made with reef fishes, whose diet is largely limu, he took quickly to the pungent flavor. "I had the bottom of the barrel first," he says proudly. "Ahi would come later." Bancaco's "Hamajang" onaga (long-tail red snapper) poke recipe is inspired by the Tahitian ceviche dish poisson cru and his favorite Maui-made hot sauce. "A couple of dashes go a long way," he warns, smiling.
"Hamajang" Onaga and Coconut Poke
(By Isaac Bancaco)
2 lbs. onaga (red snapper), boneless, skinless
1 Maui onion
5 cloves garlic
Hawaiian salt, to taste
1 Tbsp coconut oil
1 cup coconut milk
2 oz. Adoboloco brand Hamajang hot sauce
1 Tbsp fish sauce
10 mint leaves, torn
10 Thai basil leaves, torn
3 limes, juice only
Dice onaga into bite-size cubes, cover with plastic wrap and refrigerate.
Roast whole Maui onion, husk on, in the oven for 25 minutes at 350° F. When done, remove from oven, cool to room temperature, then remove outer skin and root end. Purée the onion in a blender.
In a small saucepan, cover garlic cloves with cold water, bring to a boil, then remove and discard water. Repeat this process three times. Blend garlic with a splash of water until texture resembles wet sand.
Remove onaga from the refrigerator and season with Hawaiian salt. Add the onion purée, garlic purée and all other ingredients except for lime juice.
Let mixture sit for five minutes to marinate, then add lime juice. Adding the lime juice last seals in the flavor of the other ingredients before the juice closes the pores of the fish.
Serve with crispy taro chips. Goes best with beer. Serves four locals or 10 Wailea housewives.