Happy Centennial! How to celebrate National Park Week on Hawaii Island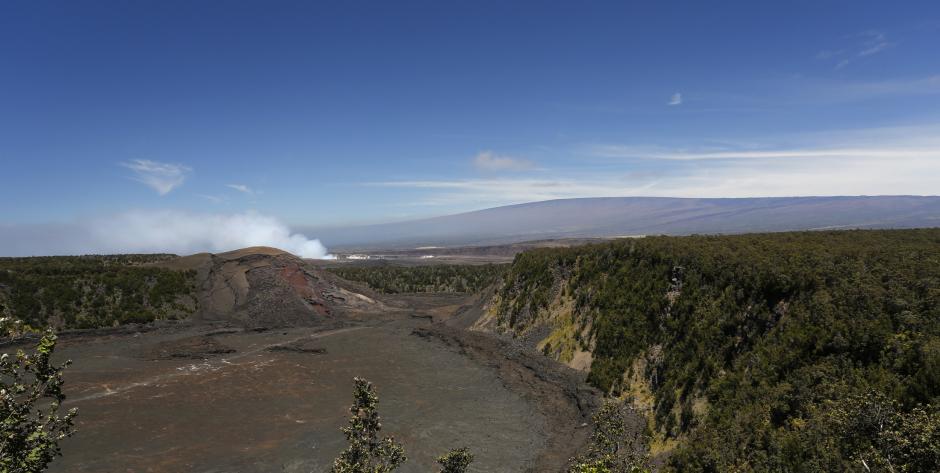 The U.S. National Park system turns 100 this August and some of its earliest acquisitions in Hawaii—Haleakala on Maui and Hawaii Volcanoes on Hawaii Island—are celebrating their centennial anniversaries also. This week (April 16 to 24) is National Park Week, the park system's annual celebration of heritage offering free admission to parks throughout the country.
Admission will be waived for nine days at each of Hawaii's four parks, historical sites and monuments that charge admission. And, in honor of the Park Service's 100th birthday, virtually all of its sites will be celebrating with craft-making, organized activities, hikes and more.
Though Junior Ranger Day (April 16) has already passed, it's always possible to get your Junior Ranger badge by inquiring about the activity book necessary to earn it via each park's visitor's center.
If you're on Hawaii Island this week, there are plenty of ways to celebrate in Hawaii Volcanoes National Park, and the Islands' three other national parks and historical sites. Here's what's on offer:
Because this park was established months before the National Park System was officially formed (and well before Hawaii's statehood), National Park Week in Hawaii Volcanoes National Park—where both the park system and the park turn 100—is extra special. The park encompasses diverse landscapes across two of the world's most active volcanoes: Kilauea, continuously erupting since 1983, and Mauna Loa, the world's most massive volcano.
In addition to waived admission, on Wednesday at the Kilauea Visitor's Center, a group of experienced hula dancers will hold a performance from 6:30 to 8 p.m. And, next Sunday, rangers will lead a one-mile round-trip hike of rainforest-shrouded Ilahi (Sandalwood) Trail. The hike runs from 10 a.m. til noon, begins at the Kilauea Visitor Center lanai. Though high attendance is expected, the first 200 walkers will receive a reusable water bottle and fresh fruit. Also on the hike, Hawaiian cultural practitioners will demonstrate how various traditional plants are used for a healthy lifestyle – including as medicine.
Just south of Captain Cook on the Kona side, this park preserves a historic example of a puuhonua (place of refuge) integral to ancient Hawaiian culture during its kapu (taboo law) system. Like a real life tag game safe haven, kapu-breaking offenders had to sprint to the nearest puuhonua's protected 'City of Refuge' and seek forgiveness from the resident kahuna (priest) or face death. Many are presumed to have died in the process. Today the peaceful site fronting a white sand beach and filled with niu (coconut) palms is among the state's best preserved. It has several lava-rock heiau (temple) ruins and carved wooden tributes to Hawaiian gods.
Throughout the week of April 18-21, a slate of traditional Hawaiian games, activities and crafts will be on offer. Learn to weave lau hala plants or play konane, a board game not unlike checkers. On April 22nd, for Earth Day, learn about recycling and trash disposal in the park and why those processes are so important for the Earth and park wildlife like honu (sea turtles). Park staff will guide visitors in making their own honu craft creation.
Though this park—the site of one of the Island's final traditional heiau constructions, an underwater heiau today guarded by reef sharks and the temple that helped fulfill a priest's prophecy that said King Kamehameha would unite the Hawaiian Islands—doesn't have anything special on offer this week, you can always tour the grounds or watch a video in the Visitor's Center.
This park is always free and if it's not too crowded, park staff are always willing to give brief tours of its most important sites. Self-guided free audio tours are available for visitors with smartphones.
Just north of Kailua-Kona, this former village site set amidst an old lava flow features petroglyphs, rock wall enclosed brackish fishponds and regular sightings of honu (turtles) that haul out to sunbathe here. This always-free park will host cultural demonstrations and craft activities throughout the week.
This Monday from 11 a.m. til 12:30 p.m., ukulele lessons will be held at Hale Hookipa Visitor's Center. On Tuesday the 19th, a geology walk details the history of the parks thousand-year-old lava flows, the two-mile hike starts at 9 a.m., and on Wednesday from 10 a.m. til noon there's a hula class at the Visitor's Center.
If you're looking for a truly unique way to celebrate National Park week on Hawaii Island, try hiking sections of these national park-run trails, which cross 200 unique ahupuaa (Hawaiian land-to-sea districts) and are spread over 175 miles of Big Island terrain.
Though there are no special organized activities for this week, this is probably Hawaii Islands' least known system under the national park umbrella and a good way to beat the crowds while reveling in the Island's history and nature. You can access these trails within each of the four national parks on the Island for free this week, or via the state-run Na Ala Hele trail between Puukohola Heiau National Historic Site south past the resorts in Waikoloa to Anaehoomalu Bay (that's always free).