HAWAIʻI in the Kitchen: Hawaiian-Style Bananas Foster
David Viviano, executive chef at the Fairmont Orchid, puts a local twist on the classic bananas foster dessert.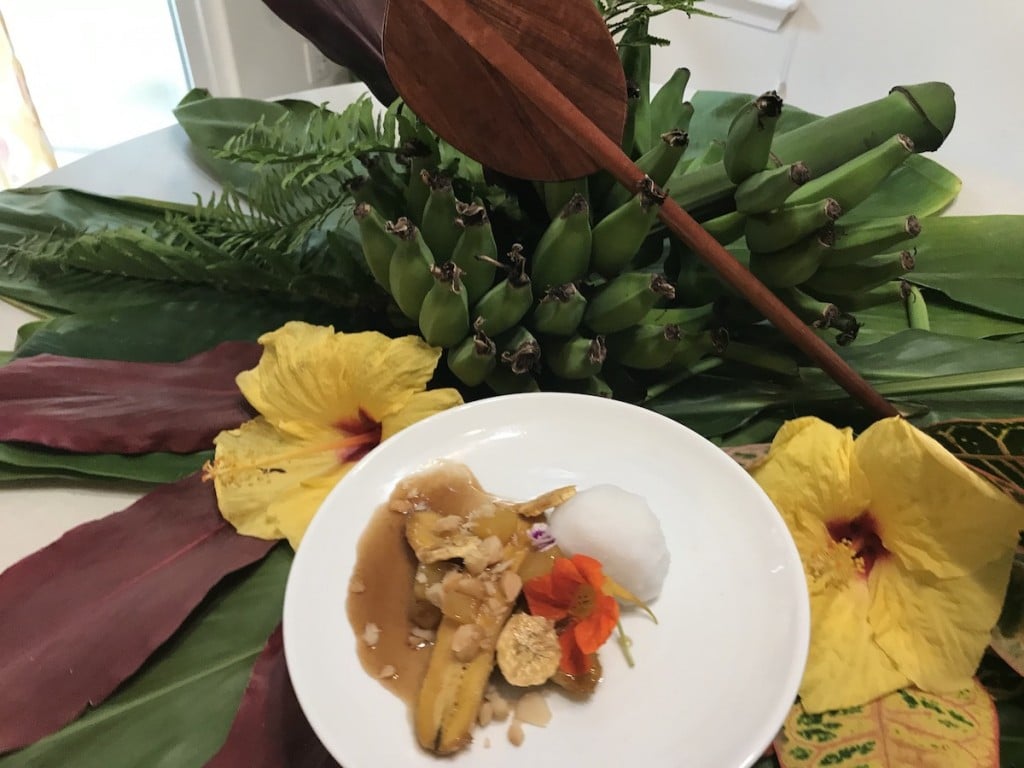 Created in New Orleans in 1951, this classic dessert features ripe bananas sautéed in a rum-infused caramel sauce, then flambéed tableside and served over vanilla ice cream.
Can it get any better?
Well, David Viviano, executive chef at the Fairmont Orchid on Hawaiʻi Island, has reinvented bananas foster with local ingredients.
It's deceptively easy—and even easier to eat.
And though it's rooted in New Orleans, this version will make you feel like you're on vacation in Hawaiʻi.
(To see more videos, follow us on Instagram @hawaiimagazine.)
Here's the recipe:
Hawaiian-Style Bananas Foster
Ingredients:
¼ cup butter
2/3  cup brown sugar
¼ cup rum (dark preferred, but white will work, too)
1 tsp. vanilla extract
½ tsp. ground cinnamon
4 apple bananas, peeled and sliced lengthwise
1 cup pineapple, medium dice
1 pint Tropical Dream coconut sorbet
¼ cup Hāmākua macadamia nuts, chopped
Directions:
In a large saute pan, melt butter on medium heat. Stir in sugar. Add rum and ignite with flame. Once flame has subsided, add vanilla and cinnamon. When mixture begins to bubble add banana and pineapple. Allow to cook for 1 to 2 minutes or until fruit is soft. Scoop sorbet in serving bowls. Top with banana, pineapple and rum sauce. Garnish with macadamia nuts. Indulge!