Hawaii chocolate is the rarest in the world
Hawaii is the only U.S. state whose climate is suitable for growing cacao, the main ingredient in chocolate.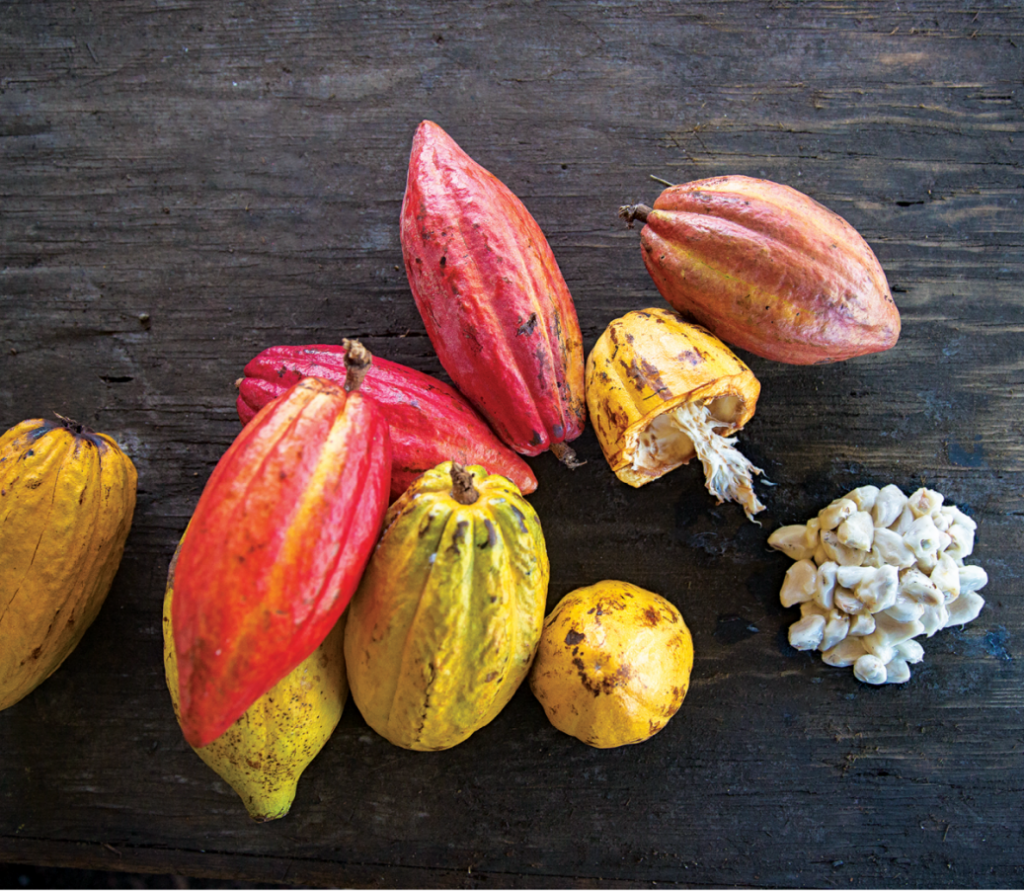 Hawaii is the only U.S. state whose climate is suitable for growing cacao, the main ingredient in chocolate. Yet, more than 180 years since the plant was first documented here, the Islands' bean-to-bar chocolate industry is still in its infancy. That's about to change.
To the uninitiated, a cacao plant is not what you might expect. The ripe pods, about the size of a human hand, are not the rich brown of finished chocolate—they hang limply from the trunk and branches of the small, leafy shrub in a cornucopia of reds, oranges, greens and yellows.
The precious seeds used to make chocolate and held in each pod's core are not brown either—they're reddish, covered in a gooey white film and taste more like a sweet and slimy lima bean than chocolate.
Cacao's geographic range extends from about 20 degrees latitude north of the equator to around 20 degrees south, where it grows in faraway places such as Brazil, Ecuador, Indonesia, Cameroon and Nigeria. Since Hawaii is the only U.S. state that falls close to this chocolatey zone, it's also the only one that could create a bean-to-bar chocolate industry. And, so it has. Or, at least, it's trying.
On a sunny morning in the Original Hawaiian Chocolate Factory's shaded cacao groves on the slopes of Hualalai on Hawaii Island, owner Bob Cooper waves his hands at his 1,350 trees in a very Willy Wonka-like manner. "The harvest is like an Easter egg hunt," he says, pointing toward a tangerine-colored pod, ripe for picking. "You're looking for the brightly colored ones."
In the long history of chocolate, Hawaii's industry is a relative newborn. The Original Hawaiian Chocolate Factory, considered the vanguard of chocolate making in the region, only started processing the beans from its on-site cacao orchard in 1999, creating what it claims is the state's first single-origin chocolate in 2000.
According to H.C. "Skip" Bittenbender, Hawaii chocolate-industry expert and researcher at the University of Hawaii at Manoa's College of Tropical Agriculture and Human Resources, this is actually the third attempt at establishing a cacao industry in Hawaii.
The first documented cacao plant in the Islands grew in the gardens of the agricultural advisor to King David Kalakaua in the 1830s, but it took 80 years before Hawaii farmers grew cacao seriously. Then, World War I hampered the global trade routes, demand for cacao was high and prices soared. After the war, though, trade routes reopened, prices dropped and local interest waned.
A second revival came in the 1980s, when Hershey partnered with a small-time cacao farmer from Hilo who wanted to help bring Hawaii-grown chocolate to mainland masses. Poor management and controversy plagued the enterprise and production halted some time around 1992.
When Cooper and his wife, Pam, arrived on Hawaii Island in 1997 and took over an orchard contracted to sell beans under the old Hershey partnership, they knew little more about chocolate than that they were fans. "At first, we had no intention of getting into chocolate," he says. They hired an international consultant who convinced them it would be worthwhile and taught them everything they needed to know about growing cacao and the chocolate production process. It was a labor of love: The Original Hawaiian Chocolate Factory did not make money for eight years. Now, the Coopers' small commercial-scale enterprise sells its plumeria-shaped chocolates in 65 retail locations around the state, and ships worldwide.
The Coopers have proven there is demand enough to support a modern industry in Hawaii-grown and –produced chocolate, and a perfect storm of other factors—including the farm-to-table and craft-food movements and innovations in small-batch production machinery—is ensuring this go-around will be the one that sticks.
"The industry is definitely growing," Bittenbender says. His recent survey of cacao growers statewide indicates there are likely fewer than 150 acres planted in harvestable cacao, but, in 10 years, there could be more than 10 times that number.
Young confectionary entrepreneurs like Dylan Butterbaugh, who founded Manoa Chocolate on Oahu in 2010, have discovered the industry can't expand fast enough. "I wanted to have a hand in shaping the industry while it is in its infancy," he says. "The goal is [for Manoa Chocolate] to be only Hawaii grown, but there is just not enough supply," he says. To meet demand, he also sources dry beans from other parts of the world. "We are very low on our Hawaii-grown cacao at the moment," he says. "We have enough to make one more batch of chocolate, about 400 bars, and that's pretty much all for now."
Though the burgeoning industry may have a ready-made market in local chocolatiers, Hawaii chocolate still faces many challenges, including the three to five years it takes to grow a tree that will produce harvestable pods. "That's a lot of waiting," says Bittenbender. "Even though Hawaii can grow cacao, we also have some disadvantages: The cost of land, the cost of labor, the fact that our weather conditions are not conducive to fermenting cacao in wintertime." To make the industry a viable and profitable one, he says, "We've found out that we have to do things just a little bit differently than other parts of the world."
Bittenbender's research group and statewide industry groups like the Hawaii Cacao and Chocolate Association (HCCA) are helping make it a little easier by supporting and marketing the growing industry smartly.
"We have this unbelievable niche market, and we have all the best genetics," says HCCA vice president Tony Lydgate, who also owns cacao-growing Steelgrass Farms on Kauai. "We are not growing our chocolate to sell to Hershey or Mars. We are creating grown-in-Hawaii, made-in-Hawaii products," he says. "Every week we get inquiries from chocolate makers, not just from Hawaii, but on the mainland as well. I have to tell them, 'I'm sorry, there are no Hawaii beans for sale.' It really is the rarest chocolate in the world because there are so few beans and such high demand."
For his part, Bittenbender is confident the current climate will spell success for Hawaii chocolate this time around. "Farm production has not yet caught up with demand, but it will," he says. "Chocolate will soon take its rightful place alongside coffee and macadamias as one of our great suitcase exports."
Also read: Where to find Hawaii chocolate