Hawaii Five-0 brings cast and fans together for season five premiere on Waikiki's Queens Beach, Sept. 13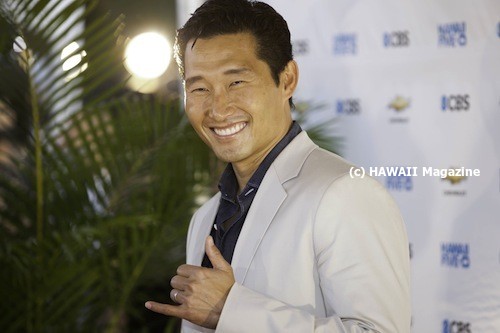 Since Hawaii Five-0 ended its fourth season in May, fans of the Hawaii-filmed CBS crime drama have eagerly anticipated the further adventures of Lt. Commander Steve McGarrett and his Five-0 crew. In particular, McGarrett's longtime cat and mouse chase with his recently escaped arch nemesis Wo Fat. If you're on Oahu this Saturday evening, Sept. 13, you need only head to Queens Beach in Waikiki at sunset to find out what happens next.
The premiere of season five's first episode—screening a full week ahead of the Sept. 26 CBS TV broadcast—will bring cast members and thousands of fans together for a night of action under the stars. The event also continues the series' now-annual tradition, begun with Five-0's Fall 2010 launch, of broadcasting the first episode of the new season on an 18 by 32-foot outdoor beachfront screen right on the sands of Queens Beach in Waikiki. As always, the screening is free and open to the public—all you have to do is show up early to get the best spot on the sand.


Alex O'Loughlin at 2012 season premiere in Waikiki. Photo by Wes Funai.
This year, attendees can look forward to Hawaii Five-0 cast members Alex O'Loughlin (Steve McGarrett), Scott Caan (Danno Williams), Daniel Dae Kim (Chin Ho Kelly), Grace Park (Kono Kalakaua), Masi Oka (Dr. Max Bergman), Chi McBride (Lou Grover) and original Hawaii Five-O cast member Dennis Chun (Duke Lukela) attending the screening and walking the beachfront red carpet. Jorge Garcia, of Lost fame, who had a recurring Five-0 role in season four as conspiracy theorist Jerry Ortega, is also expected to be in attendance. He'll be returning to season five as a member of the regular cast.
The premiere event will conclude with a live performance by British rock-band Bush. The group has a song in the first episode of season five. Cast and VIPs should begin arriving around 6 p.m., with the program and season premiere starting at 7 p.m.

Hawaii Five-0 season five Waikiki premiere
6 p.m., Sat., Sept. 13, Queens Beach, Waikiki, Oahu.