Hawaii Food & Wine Festival expands events to three islands for 2014, happening Aug. 28 through Sept. 7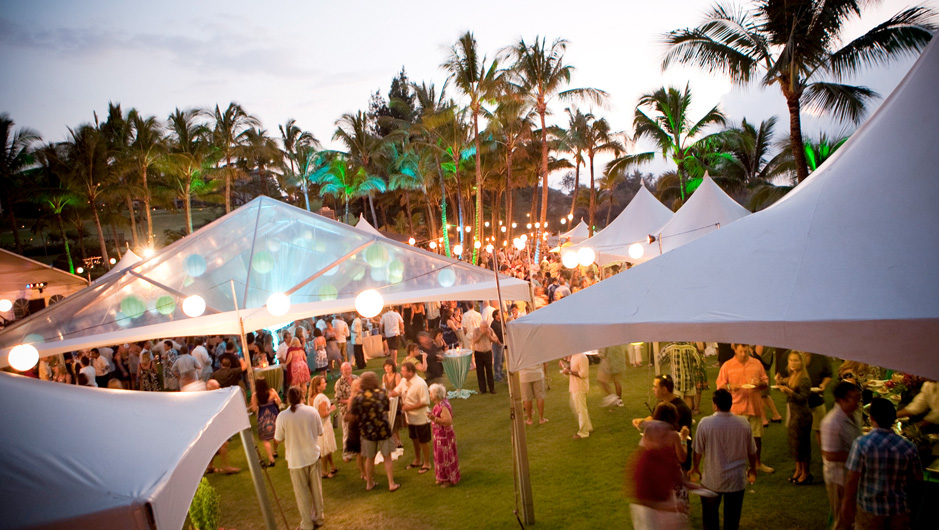 Hear that rumbling sound across the Islands? That's the sound of collective appetites anticipating the 4th annual Hawaii Food & Wine Festival.
Happening today through Sept. 7 at various locations on Oahu, Maui and (for the first time) Hawaii Island, this year's edition of Hawaii's biggest culinary fest promises more than 80 renowned Hawaii and international chefs, bartenders and sommeliers. The out-of-state invitee list of notable chefs includes Cat Cora (Iron Chef America), Hiroyuki Sakai (Iron Chef Japan, La Rochelle), Christina Tosi (Momofuku Milk Bar), Hubert Keller (Fleur de Lys, San Francisco), Charles Phan (The Slanted Door, San Francisco), Marcel Vigneron (Top Chef All-Stars, The Next Iron Chef) and Jonathan Waxman (Barbuto, New York).
Notable chefs representing Hawaii at Hawaii Food & Wine Festival include Isaac Bancaco (Kaana Kitchen, Maui), Quinten Frye (Cocina, Oahu), Vikram Garg (Halekulani, Oahu), Chris Kajioka, Michelle Karr-Ueoka (MW Restaurant, Oahu), Andrew Le (The Pig & The Lady, Oahu), Mark "Gooch" guchi (Pili Group, Oahu) Noguchi (Pili Group, Oahu), Mark Pomaski (Full Moon Café, Hawaii Island), Sheldon Simeon (Migrant, Maui) and fest co-founding chefs Alan Wong (Alan Wong's Restaurant, Oahu) and Roy Yamaguchi (Roy's Restaurants).
In addition to wine seminars, a kids culinary outing at the Honolulu Zoo and "Laulima at Heeia," a cultural education event where guests will get lunch and some work experience in an Oahu loi kalo (irrigated taro terrace) and centuries-old Hawaiian fishpond, the fest's signature evening events include:
• "Aloha Aina, Aloha Kai — Love of the Land, Love of the Sea"
The fest's opening gala and first-ever Hawaii Island event, featuring a six-course gala crafted with grown-on-Hawaii-Island products.
Fri., Aug. 29, at the Waikoloa Beach Marriott Resort
• "Kaanapali Kitchen Stadium Under a Maui Moon"
The six-course menu by six chefs at this event features Maui-grown and -raised products served outdoors and seaside at sunset.
Sun., Aug. 31, at the Hyatt Regency Maui Resort & Spa
• "A Lucky MODERN Buddha Belly"
The fest's opening Oahu signature event features 14 chefs crafting East and West fusion dishes inspired, according to organizers, by the Lucky Buddha.
Thurs., Sept. 4, at The Modern Honolulu
• "Halekulani Master Chefs Gala Series: Chefs who Cook to Compete"
Wine, cocktails and a six-course menu prepared by seven chefs competing to become the guest favorite chef of the evening.
Fri. Sept. 5, at Halekulani Hotel
• "Corks & Forks"
A outdoors grazing dinner featuring dishes crafted by 20 Hawaii, Mainland and international chefs.
Sat. Sept. 6, at the Hawaii Convention Center Rooftop Garden
• "It's a Food World After All"
The fest finale event features 15 chefs and cuisine representing the diversity of international cultures.
Sun., Sept. 7, at Aulani: A Disney Resort & Spa and the JW Marriott Ihilani Resort & Spa
Proceeds from the Hawaii Food and Wine Festival annually help support local beneficiaries committed to sustainability and cultural programs in Hawaii, such as the Hawaii Agriculture Foundation and Maui County Farm Bureau.