Hawaii humpback whale sanctuary begins 20th annual volunteer whale census, Jan. 31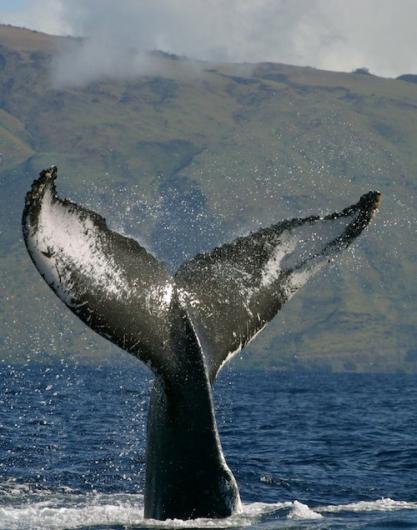 In September, a tour boat off the coast of Kauai spotted the first humpback of the 2014-2015 whale-watching season. Now with Hawaii's whale season in full swing, its time to figure out about how many of the endangered North Pacific humpbacks made the migration to Hawaii's warm waters this year.
Hawaii residents and visitors are invited to take part in 20th annual Hawaiian Islands Humpback Whale National Marine Sanctuary's Ocean Count. The census relies on volunteers to count whales and record their behaviors—such as spouting, pectoral slaps and breaches—from more than 60 shoreline viewing sites fringing Oahu, Kauai, and Hawaii Island.
The ocean count, held over three Saturdays during the whales' peak breeding season, kicks off with its first date this Sat., Jan. 31. The other 2015 census dates are Feb. 28 and March 28.
The project allows the public to learn more about humpback whale population, distribution and behavioral trends. The data collected is used to monitor whale populations as well as assess how whales use the in-shore waters of the Hawaiian Islands Humpback Whale National Marine Sanctuary.
Managed jointly by the National Oceanic and Atmospheric Administration (NOAA) and the State of Hawaii, the Hawaiian Islands Humpback Whale National Marine Sanctuary encompasses the shallow (less than 600 feet), warm waters surrounding the main Hawaiian Islands. The sanctuary constitutes one of the world's most important humpback whale habitats.
Hawaii is the only state in the nation where humpback whales mate, calve, and nurse their young in offshore waters. According to NOAA, humpbacks are drawn to Hawaii's warm waters, underwater visibility, variety of ocean depths and the lack of natural predators.
In Hawaii's waters, mothers can be seen breaching alongside their calves and males can be seen competing with one another for females in fierce head-to-head battles.
No advance training is required for Ocean Count general volunteers on Oahu and Hawaii Island, however, general volunteers on Kauai are required to attend a free training session. Volunteers are welcome to sign up for any number of the count days and are not required to attend all three. Advance registration for all volunteers is required and closes one week prior to the count date (though you may be able to call and reserve a spot for this weekend's count if you ask nicely and act fast, phone numbers below).
The Ocean Count began in 1996 with 150 volunteers on Oahu, the project has since grown to include 62 shore-spotting locations on three islands with more than 2000 volunteers.