Hawaii illustrator named official artist of the 2015 National Cherry Blossom Festival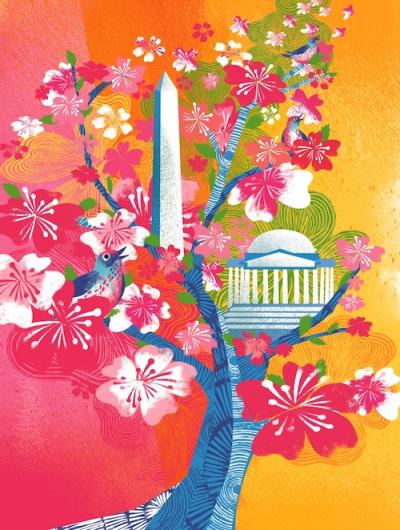 What's pink and white and read all over? Posters advertising the annual springtime extravaganza that is the National Cherry Blossom Festival in Washington, D.C.!
But what does that have to do with Hawaii, you ask?
Hawaii Island-based illustrative artist Jing Jing Tsong's original artwork was chosen to represent the upcoming 2015 National Cherry Blossom Festival. Her vibrant, almost tropical, print-and-digital rendering of cherry blossoms will adorn the festival's commemorative posters when the event begins next March. These highly coveted collectors' items will ensure Tsong's graphic can seen be throughout the country for years to come.
The annual festival—happening next year from March 20 to April 13—celebrates the 1912 gift of cherry trees from a Tokyo mayor to the city of Washington, D.C. The trees' pink and white blooms, revered in Japan, have become a symbol of the friendship between the two countries. Thirteen varieties and more than 3,800 individual cherry trees line the Tidal Basin around the Jefferson Memorial. They all bloom around the same time (usually) within the festival window, blanketing the area in fragrant pink and white petals. The event has grown from modest beginnings more than a hundred years ago to become a national spring spectacle—according to the event's official website, the blooms will lure as many as 1.5 million people to the capital over the four festival weekends.
Tsong used block printing and a pochoir technique—a form of stenciling refined by Japanese in the Edo period—to create the intricate cherry blossom details and tree trunk patterns in her festival artwork. "I remember springtime as a rich sensory experience," said Tsong in a National Cherry Blossom press release. "I tried to capture the idea of nature waking up from a long winter slumber with song and color, the branches of the tree reaching out to embrace the warmth of the season."
The artist's work has previously appeared in the New York Times' best-selling children's book A Bucket of Blessings by Kabir and Surishtha Sehgal, as well as on two U.S. Postal Service "Forever" stamps. Tsong will attend the festival and sign copies of her poster.
The official poster sells for $12, and can be purchased now through the festival's online shop. Hats, shirts, umbrellas and totes displaying Tsong's festival artwork will be on sale at various locations throughout Washington D.C. closer to event time.
Though the National Cherry Blossom Festival in D.C. is the largest, several other U.S. cities have cherry blossom festivals as well. In 2015, Hawaii Island's Waimea Cherry Blossom and Heritage Festival will celebrate its 21st year, and February will bring Honolulu's 62nd Cherry Blossom Festival.