HAWAIʻI in the Kitchen: Hawaiʻi-Style Fried Saimin
Whip up this local potluck fave with tips from Keoni Chang, chief food officer at Foodland Super Markets.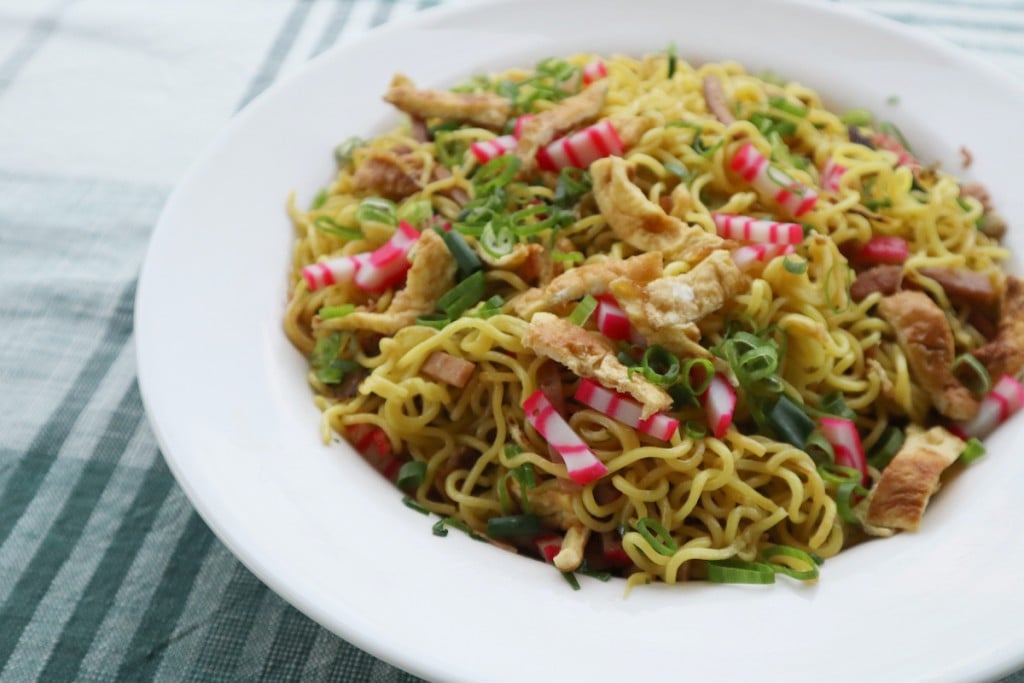 Fried saimin is a potluck staple in Hawaiʻi, a stir-fry of curly noodles, Spam (or char siu pork) and veggies seasoned with dry dashi (Japanese soup stock). You'll see this dish on menus at local restaurants, okazu-ya and saimin stands. In fact, some places—like Leeward Drive-Inn and Shige's Saimin Stand on Oʻahu—even specialize in it.
We asked Keoni Chang, chief food officer at Foodland Super Market, to show us step-by-step how to make this classic local dish. It's simple, especially if you have the ingredients prepped ahead of time.
(To see more videos, follow us on Instagram @hawaiimagazine.)
Hawaiʻi-Style Fried Saimin
Ingredients:
2 packages fresh saimin noodles (cooked and drained)
4 T. oil
2 saimin dashi pack
6 oz. Spam (thinly sliced)
1 egg, scrambled (cooked ahead of time)
1 cup cabbage (shredded)
1⁄2 cup carrots (julienne)
1⁄2 onion (thinly sliced)
6 oz. kamaboko (sliced)
3 oz. char siu pork (sliced)
1⁄2 cup green onions (sliced )
2 T. shoyu (soy sauce)
Directions:
In a frying pan over medium high heat; add oil then add the spam and char siu.  Stir fry for a few minutes. When Spam and char siu is lightly browned, add cabbage, carrots, kamaboko, ½ of the green onion and onions.  Continue to stir fry for a few minutes until browned. Add the cooked egg, saimin noodles and dashi packs. After stir frying add the shoyu. Stir fry until shoyu is incorporated then transfer to a serving plate. Note: Garnish the dish with the rest of the green onion after plating.