How Hawaii-Style Saimin is Making a Comeback
This humble noodle dish, unique to Hawaii, is quietly regaining its popularity.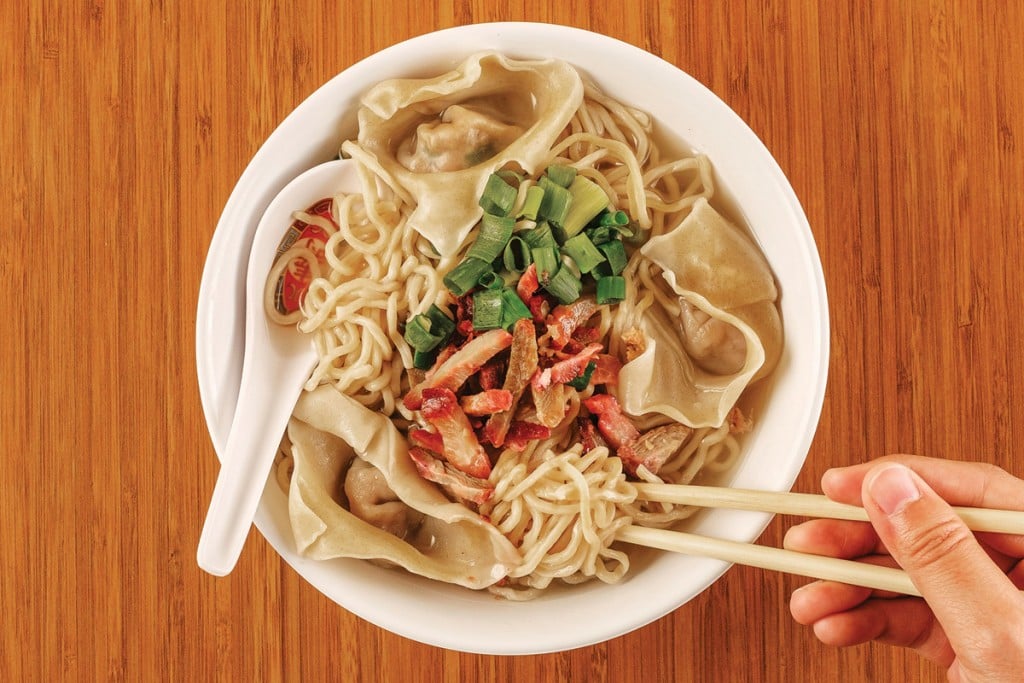 It's obvious when Mark Noguchi walks into Palace Saimin in Kalihi on Oahu that he's been coming here for decades. Practically his whole life.
"I'm a creature of habit," explains the gregarious chef, who greets everyone in the kitchen with a hug and kiss on the cheek.
"If you had to kill me, I would be pretty easy to find."
Born and raised in Manoa Valley on Oahu, about 6 miles from where we're slurping noodles, Noguchi could very well be the biggest fan of saimin in the world. Despite all of his professional training and chops—he's a graduate of the Culinary Institute of the Pacific and the Culinary Institute of America, worked at top restaurants, ran popular eateries, operates a successful catering business and participates in world-class food events and festivals here and abroad—Gooch, as he's known in the Islands, will always come back to this simple noodle dish, its origins rooted in Hawaii's rich plantation history.
"To me, saimin is pure," he says, dipping the back of his soup spoon, already occupied with a plump wonton (pork-filled dumpling), in a mixture of hot mustard and shoyu before shoving the whole thing in his mouth. "It's such a unique dish. It has a sense of place. To me, it's the definition of being local."
Saimin (pronounced sigh-min) is a noodle dish that's only found in the Islands. The word "saimin" is a combination of two Chinese words—sai meaning thin and min, which means noodle. The dish dates back to the plantation era in Hawaii—late 1800s—when workers from various ethnic camps would gather to eat, bringing with them various ingredients to share.
The noodles are what make saimin unique from other Asian noodle dishes like Japanese ramen and Vietnamese pho. Saimin noodles typically contain the same ingredients as ramen—wheat flour, sodium and potassium carbonate and salt—but are darker in color, curly and slightly chewy when cooked, explains Hidehito Uki, president and CEO of Sun Noodle, the largest family-run noodle manufacturer in the state. (Some styles of saimin can also include eggs.) The noodles are served in a hot dashi, or broth, usually made from shrimp, mushrooms, ginger and konbu (dried kelp).
And there's nothing like it anywhere else in the world.
"There is no saimin in Japan or China. This is truly a Hawaii product," says the Japan-born Uki, who experienced saimin for the first time 36 years ago at the now-defunct Hall Saimin in Honolulu. "So we need to take care of it, promote it, improve it, take it to the next level."
Saimin's Appeal
Ask anyone from Hawaii about saimin and you'll hear some kind of story. Maybe about a favorite saimin stand that's long-shuttered. Or a nostalgic family meal that consisted of frozen saimin noodles thawed in a boiling-hot broth and served with slivers of Spam, kamaboko (fish cake) and scrambled egg.
Chef Sheldon Simeon, who owns two restaurants on Maui, recalls eating saimin every morning at home in Hilo. "I never knew what cereal was because saimin was my breakfast growing up," he says, laughing. "I still crave it. I love it."
Kirk Toma, the grandson of the owner of Sam Sato's, an unpretentious restaurant in Wailuku on Maui that serves the island's unique variation of saimin called dry mein, still eats the noodle dish several times a week—and not always at his family's restaurant. "I grew up in the restaurant, so I've been eating noodles since before I can remember," he says. "It's comfort food. It's something that warms our souls."
Saimin may have started on plantations, but the dish quickly spread beyond the camps. In the '30s, some saimin stands served it with barbecue burgers or skewers of teriyaki beef. Bowls were—and still are—garnished with kamaboko, char siu (sweet roast pork), sliced Spam and green onions. It was a popular item at the old Honolulu Stadium in Moiliili.
Today, saimin can be found everywhere, from old-school drive-ins to high-end resorts, from sporting events to movie theaters. It's such a staple even McDonald's in Hawaii has saimin on its menu. Hamura's Saimin Stand in Lihue, Kauai, known for its old-fashioned bowls of homemade noodles, was recognized by the prestigious James Beard Foundation as one of America's Classics in 2006. And the late Anthony Bourdain, who built a reputation on his fearless travels and unapologetic realness, feasted on a bowl of saimin at Palace Saimin with Noguchi. His reaction, while incredibly positive, is too vulgar for print.
But, for whatever reason, saimin has lost its sheen. Newer, trendier, sexier noodle dishes—Fukuoka-style tonkotsu ramen, Vietnamese pho, Sichuan mung bean jelly noodles—have nudged the humble bowl to the side. Old-fashioned stands are closing, restaurants are replacing saimin with ramen on their menus. The buzz is gone.
"Saimin is considered less sophisticated than its cousin, ramen," says Edwin Goto, chef-owner of Noodle Club in the rolling hills of Waimea on Hawaii Island, which serves both noodle dishes. "Saimin is simple, it's laid-back, it's familiar, it's affordable. There's no discussion of flavor profiles while dining on saimin. Saimin doesn't lie, either. It's either good or not-so-good."
But there's been a quiet movement, helped by Sun Noodle's Uki, to revive the popularity of the dish. In March, the 2nd annual Noodle Festival Hawaii featured three old-school saimin stands, and a popular ramen shop crafted a special garlic-butter-shrimp saimin dish for the Honolulu event, which drew about 15,000 people. And Zippy's, the popular local chain restaurant with 24 locations across the state and one opening in Las Vegas soon, recently partnered with Hawaiian Airlines to feature an in-flight video series about saimin. Last year, Zippy's sold more than 955,000 bowls of saimin.
"Saimin is very unique to Hawaii and the way we share Hawaii is through our food," says Daniel Ikaika Ito, communications and social media manager for Zippy's, which has been serving saimin since it opened in 1966. "Upholding the legacy of saimin is a huge priority."
Upholding the Tradition
It's around 7:30 a.m. and Ross Shigeoka is feeding flattened noodle dough into the maw of a 60-year-old Japanese noodle-making machine in the kitchen of Shige's Saimin Stand in Wahiawa, one of the last remaining old-school saimin shops on Oahu. The dough was made earlier that morning—a straightforward combination of eggs, water, all-purpose flour and salt—mixed in a big plastic bowl with a shamoji (Japanese rice paddle) until fluffy and dry, almost like oatmeal. The dough was then rolled out with a weighted PVC pipe before being manually pushed through the machine.
"Everybody grew up with it," says Shigeoka, 57, who was born—and still lives—not far from his shop. "We eat it as a snack or as dinner. It's comfort food."
Once ubiquitous, neighborhood saimin stands like Shige's are increasingly harder to find today. And this shop is even rarer: Only one other on Oahu—Shiro's Saimin Haven in Waimalu—makes saimin noodles in-house.
On average, Shige's serves about 400 bowls of saimin a day, each one consisting of the quintessential toppings: chopped green onions, slivers of scrambled egg, sweet char siu, Spam and a slice of pink-and-white fish cake. (Shigeoka prefers his saimin much simpler, with just green onions and "choke [a lot of] black pepper.") Regular customers here order without even glancing at the menus, adding a barbecue burger or skewer of grilled teriyaki beef on the side. But the shop is seeing more and more visitors, many looking for places to eat en route to the North Shore and others specifically seeking out this iconic local staple.
Palace Saimin, which is tucked away in an industrial part of Kalihi near a sports bar and post office, is seeing more visitors, too, thanks in part to social media. It's one of the oldest saimin shops in the state, opened by Kame Ige in 1946. The hole-in-the-wall was passed to Setsuko Arakaki, a trusted waitress, in 1975, and her family continues to run it today. The noodles are made by Sun Noodle, but the broth—a secret shrimp dashi flavored with beef and pork that hasn't changed since the place first opened—is still made in-house.
"What makes saimin unique is the strong sense of nostalgia [people] associate with this dish," says Susan Nakagawa, Arakaki's daughter who manages the shop. "It stirs up memories, tastes, smells and emotions of simpler times. We aren't trying to improve our menu or our flavors. The value lies in the consistency and familiarity of the aroma and taste that brings them back to a familiar place."
That's the reason BethAn Nishijima opened Nori's Saimin and Snacks in Hilo on Hawaii Island in 1983. It's one of her all-time favorite foods, bringing back childhood memories of eating saimin out of paper cups from a little food truck in Honolulu. Her restaurant, outfitted with old-fashioned wooden booths, has evolved over the decades to include more than just saimin. You can get burgers, loco moco, kimchi fried rice and Korean-style hot pot. But saimin is still the heart of her business.
"Like everything else in the world nowadays, change is coming, to everything," Nishijima says. "Eventually, saimin shops will be scarce because of economics, the cost outweighing the profits."
But she's hopeful that the ramen boom, which started in the mid-2000s, is luring people back to noodle dishes in general—including saimin.
"I think you have to start off with saimin, then go to ramen, and then you'll see the difference," she says. "If you love noodles, you won't care. Saimin is still the original way in Hawaii."
I watch Noguchi expertly slurp the slippery noodles with a pair of wooden chopsticks, his eyes focused on the bowl in front of him. He doesn't look up once. To him, eating saimin is akin to a religious experience.
"Ramen is trendy, saimin is life," he says. (He always says.) "We are a people who hold onto our stories. I still make the food we grew up with because I still have a strong sense of place. There's no white truffle or crab in this. It's just saimin. This is who we are. It's so Hawaii."
On the Side
Every great bowl of saimin is really the sum of its parts. Traditional garnishes are char siu (sweet roast pork), Spam, egg, green onions and kamaboko (fish cake). But newer versions may boast a variety of other add-ins including wonton (pork-filled dumplings), bok choy (a type of Chinese cabbage), bean sprouts and daikon. And don't forget the side of barbecue beef skewers. It's a classic pairing.