HAWAIʻI in the Kitchen: Local-Style Potato Salad
Keoni Chang of Foodland Super Markets show us how to make ʻono potato salad in our new cooking video series.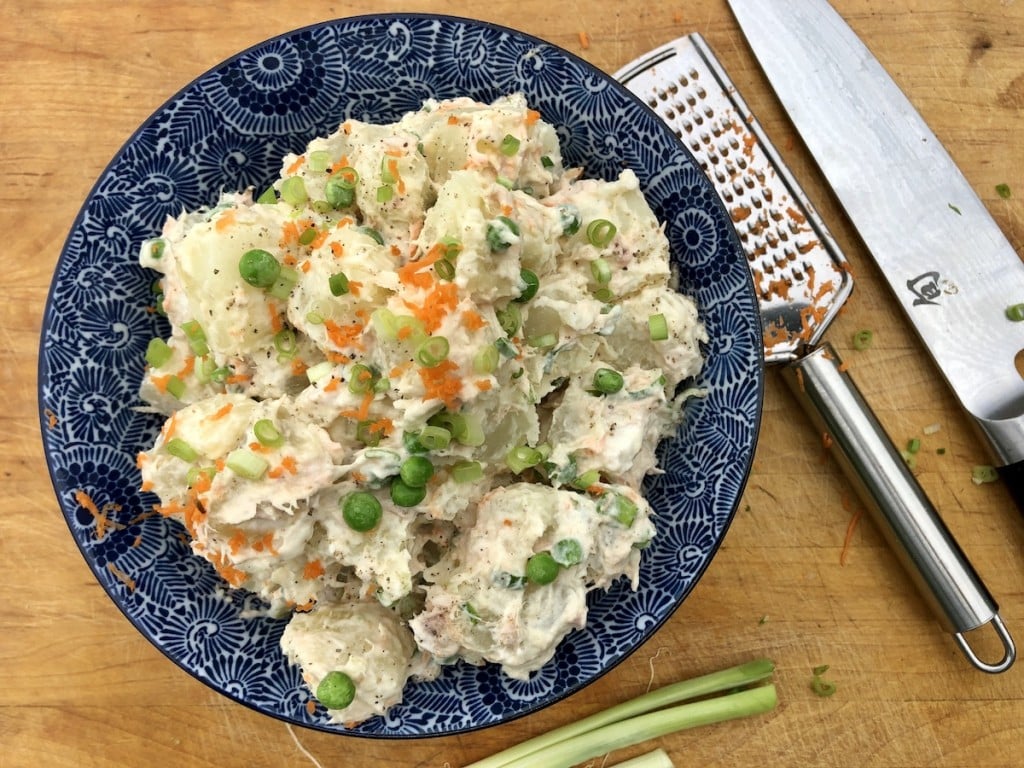 The upside of COVID-19? More of us are cooking and baking at home.
In a recent survey, more than 50 percent of respondents said they are cooking more now than before the pandemic, 75 percent have been more confident in the kitchen and 51 percent said they will continue to cook more after the crisis ends.
So we decided to help.
HAWAIʻI Magazine is launching a new cooking video series called "HAWAIʻI in the Kitchen," with notable local chefs whipping up local-style and Hawaiʻi-inspired dishes and cocktails. Now you can make some of your favorite Island comfort foods—or learn how to prepare new ones—from the comfort of your home kitchen.
To kick off this series, our friend Keoni Chang, executive corporate chef of Foodland Super Markets, shows us how to make a local-style potato salad. (Spoiler Alert: It uses a lot of Best Foods mayo.)
To see more videos, follow us on Instagram @hawaiimagazine.com.
Here's the recipe:
Local-Style Potato Salad
Ingredients:
2 pounds russet potatoes peeled, diced 1 inch
1 T. rice wine vinegar
Salt as needed
Pepper as needed
1 can (5 oz.) chunk light tuna drained
1 cup frozen peas, defrosted
¼ cup sliced green onions
¼ cup minced celery
1 T. grated carrot
1 ½ cups Best Foods mayonnaise
Directions:
Cook the diced potatoes in salted water until tender. Drain and cool. In a large mixing bowl, add in the remaining ingredients and evenly mix. Adjust seasoning to preference. Refrigerate or serve.
Note: Salad can be improvised on with other favorite ingredients like diced hard boiled egg, crab or imitation crab.