HAWAIʻI in the Kitchen: Tropical Malasada Shortcake
Learn how to make the perfect malasada with executive pastry chef Daniel Sampson from the Fairmont Orchid on Hawaiʻi Island.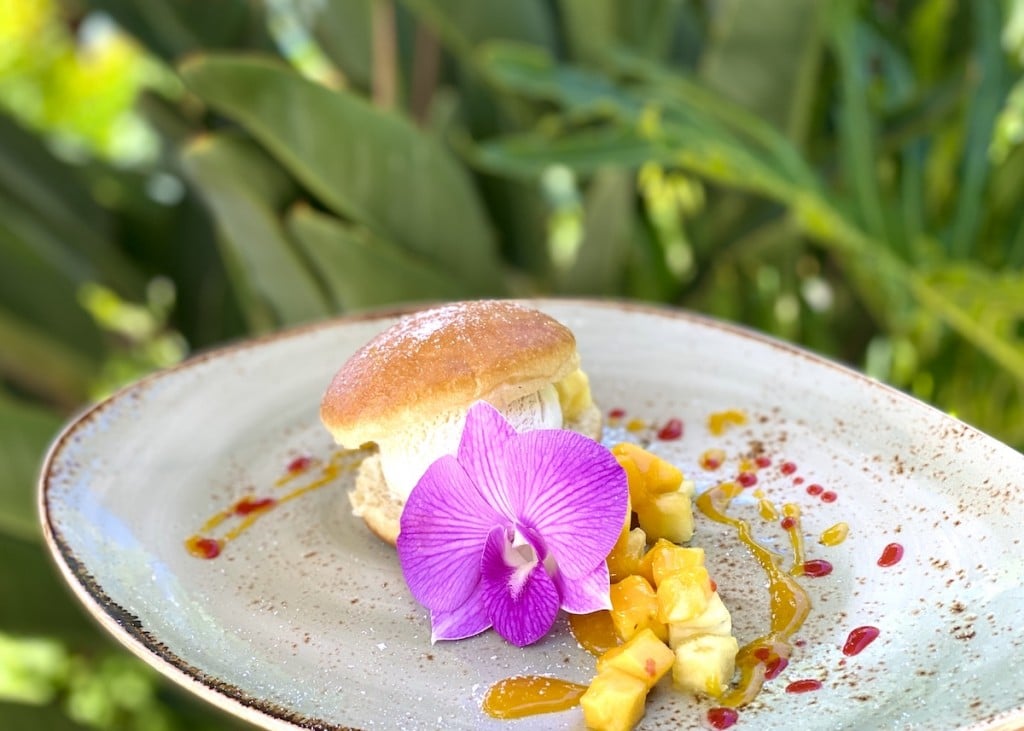 If you've ever been to the luxe Fairmont Orchid on Hawaiʻi Island—and lucky enough to dine at Brown's Beach House on a Tuesday or Wednesday—you might have tried the dessert special: the Tropical Malasada Shortcake. (At least you should have!)
It's a housemade malasada, sliced in half and filled with vanilla ice cream and topped with fresh fruits. It takes the popular Portuguese doughnuts to another, tropical level.
Executive pastry chef Daniel Sampson shows you how to make this crave-able dessert. Don't be intimidated! It's easier than it looks.
So if you can't get to Brown's Beach House anytime soon, at least you can make this dessert wherever you are.
(To see more videos, follow us on Instagram @hawaiimagazine.)
Tropical Malasada Shortcake
Ingredients for Malasadas:
3 c. flour
¼ c. granulated sugar
1 T. + ½ tsp. dry yeast
7 eggs
2 tsp. salt
1 ½ c. unsalted butter
Vegetable oil for frying
Sugar for coating
Directions:
Mix together the flour, ¼ c. sugar, and yeast. We recommend kneading the dough by hand. If mixing by hand, allot 10 to 15 minutes. If using an electric mixer, mix for 5 to 6 minutes tops. Start by mixing in 3 eggs to form a soft and smooth dough consistency. Once it thickens, add the remaining 4 eggs (one at a time) and then add the salt. Fold in the butter (at room temperature),½ cup at a time. Transfer dough to a large bowl, cover, and allow to rise at room temperature until it doubles. Refrigerate for 2 hours. Form the dough into a log and cut into nice, even portions. (If you have a scale at home, 1.5 ounces is plenty.) Allow them to rise once more at room temperature. Heat oil to 375°F. Fry the dough until it's a nice, light golden brown on both sides. Drain on paper towels. Roll the malasadas in sugar when they're still warm. This dessert takes best the day it's made. Makes 2 dozen malasadas.
Toppings:
Fresh mango purée. To make your own: Purée 2 c. diced mango until smooth. You can also swap with strawberries.
Vanilla ice cream
Powdered sugar to taste