HAWAII Magazine's "75 Places to Eat Like A Local": Breakfast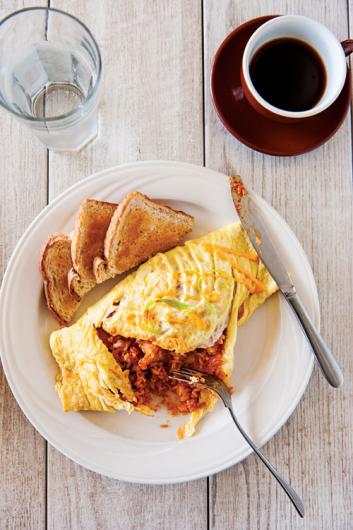 Now through December, we're sharing categories from HAWAII Magazine's 2013 Food Issue main feature, "75 Places to Eat Like a Local."
You'll find the issue on sale now, loaded with features focused on Hawaii eats and where to get 'em, as well as the complete, 75-strong collection of Hawaii food spots you'll find us grabbing a plate lunch, inhaling a bowl of noodles, sating our sweet tooth and more—or telling our friends and family to do the same.
Elsewhere in the November/December issue, we quench our thirst at Kauai fresh juice business Akamai Juice Co., learn the history of (and, yes, consume) Maui restaurant Sam Sato's famous dry mein, rate the famed shrimp trucks and shacks of Oahu's north shore and visit with the mochi masters behind the Big Island's much-loved Two Ladies Kitchen. We even chat up Chef Andrew Le, of popular Oahu pop-up and newly brick-and-mortar restaurant The Pig & The Lady, on the 5 Things He Loves About Owning A Hawaii Pop-Up Restaurant."
Over the past two weeks, we've revealed picks in our "HOMEGROWN" and "CARNIVORE" categories.
Here's the third category we're sharing from our "75 Places to Eat Like A Local" feature: the five restaurants that made our "BREAKFAST" category.
Enjoy!

75 Places to Eat Like A Local
"Breakfast"
Category 4 of 15

Wake up! Wake up! Here's where we start our days.
Morning Glass Coffee + Cafe
You'll get a guaranteed great cup of fresh-ground, individually filtered coffee here (including a Hawaii-grown bean of the day). But what we really love about Morning Glass is its smallish, wonderfully ingenious Hawaii-ingredients-focused breakfast menu: Skillet-baked Oahu eggs with Big Island ground beef, mac-and-cheese pancakes and kimchee fried rice omelette, among our faves.
2955 E. Manoa Road, Manoa Valley, Oahu • (808) 673-0065 • Website

Pancakes & Waffles
Lest you think our breakfast ardor limited to twists on local comfort food, allow us to introduce you to the sweet-and-savory joys of this Honolulu eatery's killer honey butter crispy fried chicken and waffle plate. Then watch us retreat back to the multicultural comforts of home with sides of garlicky, vinegar-y vinha d'alhos and Scottish banger sausages.
1284 Kalani St., Honolulu, Oahu • (808) 847-7770 • Website
Eggs 'N Things
This longtime favorite Oahu breakfast spot used to be famous for two main reasons: it was open all night for hungry midnight-to-early morning revelers and it had a massive menu of solid breakfast items. The latter, at least, is still true with a rib-sticking menu including big orders of macadamia nut waffles, banana pancakes, sour cream lemon crepes, pork chops and eggs available all day.
Two locations on Oahu—343 Saratoga Road, Waikiki, (808) 923-3447; 451 Piikoi St., Honolulu, (808) 538-3447 • Website
Café Kaila
Many is the local who will wait patiently (or semi-patiently) outside this small Oahu breakfast haven for its salty-smoky lox and eggs scramble, peanut butter-and-banana-stuffed thick-cut French toast, loco moco Eggs Benedict, crazy thick pancakes with a side of Portuguese sausage, malted waffles with caramelized apples, ribeye steak and eggs and more. Count us among the patient.
2919 Kapiolani Blvd. Honolulu, Oahu • (808) 732-3330
Sweet E's
Another great local breakfast spot, another wait for a table. But we'll hold our morning hunger time and time again for this charming, airy café's kicked-up-a-notch blending of Hawaii comfort food favorites with breakfast. Can't miss eats include a kalua pig Eggs Benedict and kimchee and kalbi breakfast burrito.
1016 Kapahulu Ave. Honolulu, Oahu • (808) 737-7771