HAWAII Magazine's "75 Places to Eat Like A Local": Grab & Go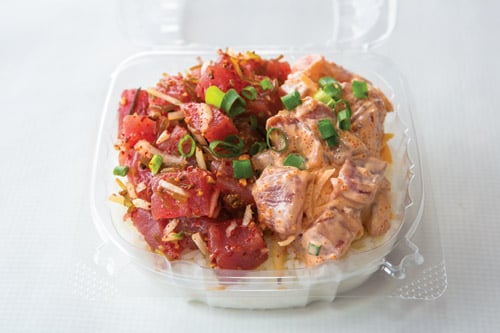 So here it is. The final category we're sharing online from HAWAII Magazine's 2013 Food Issue main feature "75 Places to Eat Like a Local."
Over the last couple of months, we've been sharing multiple categories and eateries from our "75 Places to Eat Like a Local" feature here on HawaiiMagazine.com. (The full list, of course is in our 2013 Food Issue.) We've shared 6 of the feature's 15 food categories here online: "FROM THE SEA," "HOMEGROWN," "CARNIVORE,""BREAKFAST," "LUXE & LOCAL" and "NOODLES"
Below is the sixth and final category we're sharing free-of-charge online: the five restaurants that made our "GRAB & GO" category.
Enjoy!
75 Places to Eat Like A Local
"Grab & Go"
Category 1 of 15

When we're on the run but want to eat well.
Ono Seafood
Residents flock to this hole-in-the-wall seafood merchant just outside of Waikiki to pick up containers of all manner of made-to-order poke—from shoyu ahi (tuna) and limu (seaweed) ahi to miso tako (octopus) and more. We come for the simple joy of Ono Seafood's poke bowls: your choice of poke—one or two kinds—generously portioned over a bed of warm rice.
747 Kapahulu Ave., Honolulu, Oahu • (808) 732-4806

Diamond Head Market & Grill
Hit the "grill" at this take-out favorite near Waikiki and you'll find grilled ahi steak, char siu pork, portobello burgers, kalbi ribs and other tasty plate lunch specials. Hit the "market" and leave with an ever-changing selection of tasty gourmet baked goods, salads, sandwiches, wraps and cold items.
3158 Monsarrat Ave., Honolulu, Oahu • (808) 732-0077 • Website
Writers' okazuya from Hilo Lunch Shop, Hilo, Big Island with (clockwise from bottom, left) pohole salad, pipinola salad, vegetable tempura, fried chicken, shoyu hot dogs, corned beef hash patties, nori-wrapped fried chicken, pickled radish maki sushi, hot dog maki sushi. Photo: Derek Paiva.
Hilo Lunch Shop
We've previously mentioned our pages the giddiness that overtakes us whenever we enter this Big Island take-out shop and again find ourselves confronted with all of our local food favorites—musubi, shoyu hot dogs, nori (dried seaweed)-wrapped fried chicken, fried noodles, pohole (fiddlehead fern) and pipinola (chayote squash) salad. The list goes on. The staff here will put as much as you want of anything on your plate. You pay a la carte.
421 Kalanikoa St., Hilo, Big Island • (808) 935-8273
Cafe 100
The food at this venerable drive-in—known for its large menu of loco moco, Hilo's ultimate comfort food dish—is hit-and-miss. Order right, though—the monster Kilauea Loco with its Spam, mac salad and chili "lava flow" for starters—and let moco mania begin.
939 Kilauea Ave., Hilo, Big Island • (808) 935-8683 • Website
Gulick Deli
Oahu's closest match to the local food take-out paradise that is the Big Island's Hilo LUnch Shop are Gulick's two Honolulu locations. Tell the staffer behind the trays of sushi, hot dog musubi, shoyu and fried chicken, tempura, corned beef hash patties and more to grab the biggest empty take-out box, and have fun filling it.
1812 Gulick Ave., (808) 847-1461 • 1936 S. King St., (808) 941-2835 • both in Honolulu, Oahu