HAWAII Magazine's "75 Places to Eat Like A Local": Hawaiian Food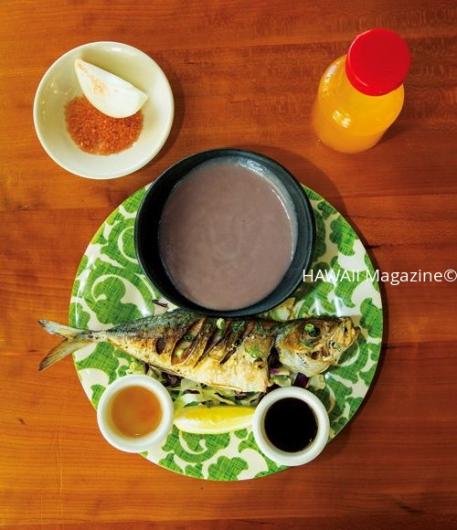 HAWAII Magazine's 2014 Food Issue is on sale now.
As usual, the issue is packed with stories and regular departments spotlighting the food we eat here in the Islands. From flying off to Maui, Kauai and Hawaii Island to visit family hot sauce makers Adoboloco, sample okazuya lunch favorites in Hilo and nosh on Garden Isle kulolo until we could handle no more, to driving Oahu's Windward Coast to learn about the Hawaiian food favorites and fresh-pounded poi at Waiahole Poi Factory, we've put together another great literary plate lunch we hope you'll enjoy. To showcase the diversity of the popular Hawaii comfort food dish poke, we even asked five top Hawaii chefs to share their five favorite recipes eschewing traditional main ingredient fresh ahi (tuna) in our "Power to the Poke" main feature.
Another one of the Food Issue's main courses is "75 Places to Eat Like a Local," our now annual guide to the Hawaii places you'll find residents like us heading for great eats when we're hungry. We change the overall menu theme of "75 Places" every year to keep it fresh and this year is no different. "75 Places to Eat Like a Local: Mixed Plate Edition" digs into the Islands' renowned array of multicultural cuisines. For example, where we go when we want the best Chinese roast pork. The Korean restaurants we favor when we're hungry fro the best kalbi and bulgogi. Where he head to when we're craving the freshest, most flavorful poke. You get the picture.
Over the next few weeks, we'll be sharing a few categories and eateries from this year's "75 Places to Eat Like a Local: Mixed Plate Edition" feature here on HawaiiMagazine.com. Below is the first of these we're sharing: the five restaurants that made our "HAWAIIAN" category.
Let's eat!
75 Places to Eat Like a Local: Mixed Plate Edition

"Hawaiian"
Category 4 of 15
What would a look at Hawaii's mixed plate fare be without a taste of the original Island cuisine?
Highway Inn
Highway Inn's original Waipahu location won a place in last year's "Hawaiian" category. This year, its "75 Places" spot is secured by a brand-new Honolulu location expanding its time-tested Hawaiian food favorites menu to include creations such as a smoked-meat loco moco and inspired daily desserts by pastry chef Ed Morita.
Two locations on Oahu • myhighwayinn.com
Yama's Fish Market
Order your Hawaiian food by the pound, half-pound, quarter-pound or, heck, jump up to multiple poundage if that's what your appetite for kalua pig, creamy squid luau, the best chicken long rice outside of a home kitchen and other classics calls for. With just three outside tables, Yama's is the best when you want your Hawaiian grub to go.
2332 Young St., Oahu • (808) 941-9994 • yamasfishmarket.com
Waiahole Poi Factory
Featured in this issue's Island Hopping: Oahu section, Waiahole Poi Factory is a Windward-side resident favorite for its craving-sating combination plates, featuring generous helpings of beef laulau, kalua pig and squid luau. Opt for the hand-pounded poi with your plate and grab a side of briny hoio (fiddlehead fern) salad.
48-140 Kamehameha Highway, Oahu • (808) 239-2222 • waiaholepoifactory.com
Helena's Hawaiian Food
We said it before, and we'll happily repeat this helpful piece of Helena's dining advice: Do not leave without ordering a serving (or if you're us, two servings) of this James Beard-award-winning Hawaiian food institution's smoky, tender, bone-in pipi kaula (dried beef). Trust us, you'll dream about it afterward. 

1240 N. School St., Oahu • (808) 845-8044 • helenashawaiianfood.com
Ono Hawaiian Food
Is the lunchtime line at Ono's worth the wait for a table in its cramped interiors? Better believe it if you want one of our favorite pork laulau in Hawaii (also one of the biggest we've had) with our favorite Ono sides such as salt-meat watercress, tripe stew, beef stew, chop steak and butterfish luau. 

726 Kapahulu Ave., Oahu • (808) 737-2275 • onohawaiianfoods.com
Check out our 70 other "75 Places to Eat Like A Local" picks, listed in these 15 categories …

"Japanese"
"Izakaya"
"Sushi"
"Korean"
"Italian"
"Indian"
"Vietnamese"
"Hot Pot"
"Poke"
"Filipino"
"Thai"
"Mexican"
"Chinese"
"Melting Pot"
… in HAWAII Magazine's new November/December 2014 Food Issue, available in bookstores and on newsstands throughout the U.S. and Canada, or by subscription, on the Apple iPad Newsstand and for the Android platform.