HAWAII Magazine's "75 Places to Eat Like a Local": Homegrown Eats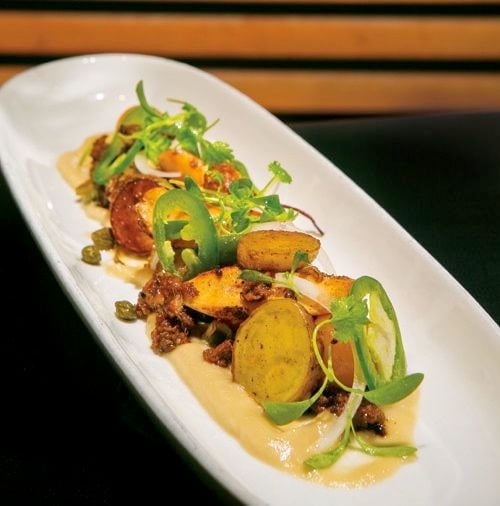 HAWAII Magazine's 2013 Food Issue is on sale now.
And this year, we've packed the issue with even more stories focused on eats than years' past. From winging to Kauai, Maui and the Big Island to explore fresh juice business Akamai Juice Co., nosh on the Valley Isle's favorite noodle dish at Sam Sato's and visit the beloved mochi makers at Two Ladies Kitchen, to chatting up Chef Andrew Le, of much-adored Oahu pop-up restaurant The Pig & The Lady, we've assembled a literary plate lunch we hope you'll savor. We even rate the famed shrimp trucks and shacks of Oahu's North Shore.
The issue's main course, however, is "75 Places to Eat Like A Local," a guide to the Hawaii places you'll find us grabbing a plate lunch, going back for second-breakfasts, celebrating a special occasion with a splurge dinner, seeking out menus chock-full of Hawaii-procured ingredients or just sitting down for pau hana (after-work) drinks with friends.
Over the next few weeks, we'll be sharing a few categories and eateries from our "75 Places to Eat Like a Local" feature here on HawaiiMagazine.com. Below is the first we're sharing: the five restaurants that made our "HOMEGROWN" category.
Let's eat!

75 Places to Eat Like A Local
"Homegrown"
Category 14 of 15

Farm-to-table. Sea-to-table. Hawaii-raised rules at these restaurants.
Kaana Kitchen
Maui chef Isaac Bancaco's restaurant at the just-opened Andaz Maui at Wailea Resort features a changing daily menu so homegrown, it's divided into sections like "Big Island Kona Cold" and "Free Range from Upcountry Ranchers," and name-checks the anglers who brought in the evening's fresh catch.
Andaz Maui at Wailea Resort, Wailea, Maui • (808) 573-1234 • Website
Merriman's
Chef Peter Merriman was talking to Hawaii's farmers, ranchers and fisherman about growing and selling him as much local meat and produce as they could when the term "farm-to-table" was the food vocabulary equivalent of a zygote. He's still one of the most knowledgeable chefs in the Islands when it comes to local ingredients. And his menu shows it.
Locations on the Big Island, Maui and Kauai • Website
Big Island-grown mushroom appetizer from Prima. Photo: David Croxford for HAWAII Magazine.
Prima
The menu at this Kailua, Oahu restaurant is succinct, divided into "Pizza," "Not Pizza," and "Sides." Even more concise? Its proprietor-chefs' amour for seasonal Oahu-procured produce and absolute dedication to creative interpretations that enhance, not over-power, nature-nurtured fresh flavors.
108 Hekili St., Kailua, Oahu • (808) 888-8933 • Website
Salt Kitchen & Tasting Bar
Executive chef Quinten Frye's exquisite menu doesn't flaunt his fondness for procuring as much Hawaii-raised product as he can get his hands on, but diners who can taste the difference between fresh and flown-in know. A platter of charred, tender Oahu-caught fresh tako (octopus) in a smoky Maui onion puree, and lightly crisped chicken-fried local rabbit are just starters.
3805 Waialae Ave., Honolulu, Oahu • (808) 744-7567 • Website
Town
Town chef/owner Ed Kenney is all about Hawaii ingredients. He's on the board of Mao Organic Farms, one of the state's leading organic farms, with a quest to educate student farmers. "Local first, organic whenever possible" is his restaurant's maxim. And his daily-changing menu is an open love letter to everything he can find that's fresh and grown here.
3435 Waialae Ave, Honolulu, Oahu • (808) 735-5900 • Website