HAWAII Magazine's "75 Places to Eat Like A Local": Japanese Food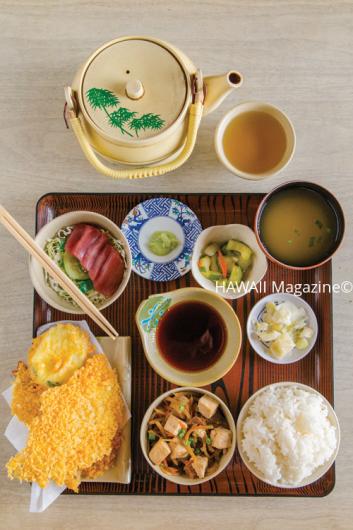 HAWAII Magazine's 2014 Food Issue is on sale now.
And one of its main courses is "75 Places to Eat Like a Local," our now annual guide to the Hawaii places you'll find residents like us heading for great eats when we're hungry. We change the overall menu theme of "75 Places" every year to keep it fresh and this year is no different. "75 Places to Eat Like a Local: Mixed Plate Edition" digs into the Islands' renowned array of multicultural cuisines. For example, where we go when we want the best Hawaiian food. The Asian hot pot restaurants with the best selection of dipping and cooking sauces. Where we head to when we're craving the best bowl of pho or Vietnamese beef stew. You get the picture.
Through the end of December, we're sharing a few categories and eateries from this year's "75 Places to Eat Like a Local: Mixed Plate Edition" guide here on HawaiiMagazine.com. We've shared our "Hawaiian food" category in a previous post. Below is the second category we're sharing: the five restaurants that made our "JAPANESE" category.
Let's eat!

75 Places to Eat Like a Local: Mixed Plate Edition

"Japanese"
Category 1 of 15

Nothing fancy here. Just good homestyle Japanese food.
Teshima's Restaurant
A Kona institution, founded in 1957, this family-style restaurant's menu is rich with homestyle Japanese cooking that's tasty and plentiful. Teshima's savory pork sukiyaki, served in a kettle, is as plantation-era charming as it is delicious. And when we dream of Japanese comfort food, it's Teshima's oyako donburi and sashimi combo that comes to mind.
79-7251 Mamalahoa Highway, Hawaii Island • (808) 322-9140 • teshimarestaurant.com
Miyo's
We miss Miyo's original location overlooking Hilo's Waiakea Fishpond, noshing on our favorite "two-way" teishoku (set meals)—sesame chicken and pork tonkatsu, tempura and sashimi—as ducks glided on the water at sunset. But a larger kitchen at Miyo's new location allows for a larger menu, too, the old favorites and additional noodle, donburi and hot-pot selections.
564 Hinano St. Hawaii Island • (808) 935-2273 • miyosrestaurant.com
Kiibo Restaurant
A menu of solid, simple Japanese favorites has made Kiibo a longtime favorite of Līhu'e residents. We'll give up frills like modern décor and good lighting—both lacking at Kiibo—for a warm kettle of veggie-packed pork or chicken sukiyaki, served with a side of ahi sashimi, any night.
2991 Umi St., Kauai • (808) 245-2650
Yataimura Food Court
The appeal of this collection of Japanese food stands, to borrow the title of a Devo classic, is freedom of choice. Crisp, warm tonkatsu and shrimp tempura. Curry bowls. Okonomiyaki. Takoyaki. Yakisoba. Mochi. Bento lunches. Noodle bowls. Japanese beers. All proffered by so many vendors, your leeway to choose is bounded only by the size of your appetite.
In Shirokiya at Ala Moana Center, Oahu • (808) 973-9111 • shirokiya.com
Irifune
This smallish eatery just outside of Waikiki gets mad props for its seared garlic ahi. But the truth is, we love just about every garlic-appreciative dish on the menu here—garlic crab, garlic mushrooms, garlic rice. You get the point. For those less fond of garlic, Irifune's menu also offers a wonderful tempura donburi, sushi, tonkatsu and more.
563 Kapahulu Ave., Oahu • (808) 737-1141