HAWAII Magazine's "75 Places to Eat Like A Local": Korean Food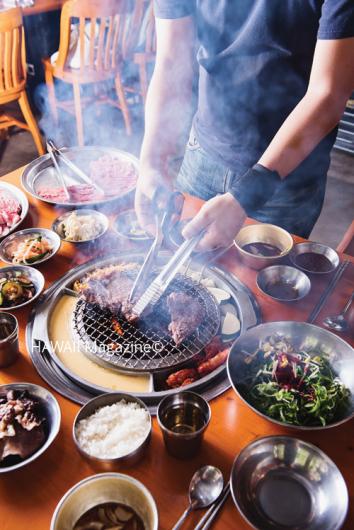 HAWAII Magazine's 2014 Food Issue is on sale now.
Inside the issue you'll find "75 Places to Eat Like a Local," our now annual guide to the Hawaii places you'll find residents like us heading to eat when we're famished. This year's "75 Places to Eat Like a Local: Mixed Plate Edition" digs into the Islands' renowned array of multicultural cuisines. For example, where we go when we're after the best Hawaiian food. The restaurants we head to for the best homestyle Japanese food. And, when we're craving more than one ethnic cuisine, the places with melting pot menus boasting eats from multiple Hawaii cultures.
Through the end of December, we're sharing a few categories and eateries from this year's "75 Places to Eat Like a Local: Mixed Plate Edition" guide here on HawaiiMagazine.com. We've shared our "Hawaiian food," "Japanese food," "Asian Hot Pot," "Poke" and "Vietnamese" categories in previous posts. Below is the sixth category we're sharing: the five restaurants that made our "KOREAN" category.
Let's eat!

75 Places to Eat Like a Local: Mixed Plate Edition
"Korean"
Category 5 of 15
So many places for great Korean food in Honolulu. Only room for five here.
678 Hawaii
Since appearing on our last "75 Places" list, 678 now boasts a crazy lengthy dinnertime queue. Oh, well. Word has clearly spread about 678's mouthwatering menu of marbled, high-quality, grill-at-your-table meats (pork belly, pork brisket, kalbi beef, pig skin, ribeye) and extras. We'll still wait for the spread pictured in the above photo. But, hey, how about a second Honolulu location?

1726 Kapiolani Blvd., Oahu • (808) 941-6678
Ah-Lang
In the kitchen of owner-chef Won Nam—whose feisty, take-no-guff-from-patrons demeanor lent this Honolulu restaurant its other moniker, "Angry Korean Lady"—familiar Korean fare achieves creative, flavorful heights unmatched elsewhere. Prepared with Nam's skill and mastery of taste, even a simple meal of kimchee fried rice, Korean pancakes, pork bulgogi and steamed kalbi is gastronomically transporting.
In the Imperial Plaza, 725 Kapiolani Blvd., Oahu • (808) 596-0600 • angrykoreanlady.com
Kyung's Seafood
Large portions of homestyle Korean favorites—sinfully crispy kimchee pancake, char-crusted kalbi—meet the clean flavor of fresh seafood—ahi, hamachi, tako (octopus), abalone, etc.—at this cozy Honolulu restaurant. We could eat the ahi sesame poke with Maui onion and tobiko (flying-fish roe) every night. Good thing Kyung's is always open late.
1269 S. King St., Oahu • (808) 589-1144
Million Restaurant
Until recently, famously open until the wee hours—the better to sate post-bar-crawl hunger pangs for Korean food—Million now shuts down at a more respectable 11 p.m. or midnight. We've adjusted our late night schedule accordingly to nosh on Million's massive menu of Korean comfort favorites (tender, char-grilled kalbi and beef skirt steak) and deep menu oddities (al chigae, a fish egg soup).
626 Sheridan St., Oahu • (808) 596-0799
Yakiniku Don Day
We're suckers for the nighttime-friendly environs here—open-air seating under large umbrellas, strung white lights and surrounding urban condos. But the main draw of this fave dive for local late night denizens is the expansiveness and quality of its grill-your-own and cooked-to-order offerings. Fire up some curried pork belly slices on the grill and order a lemon soju, for starters, then have fun exploring the menu.
905A Keeaumoku St., Oahu • (808) 951-1004