HAWAII Magazine's "75 Places to Eat Like A Local": Luxe & Local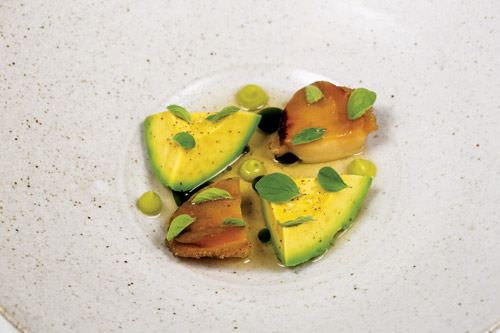 HAWAII Magazine's 2013 Food Issue is on sale now and chockfull of features focused on Hawaii eats.
All month, we've been sharing categories and eateries from our "75 Places to Eat Like a Local" feature here on HawaiiMagazine.com. (Not all 75, of course. For that, you'll have to purchase the issue). In an issue full of mouth-watering features about Hawaii eats, it's our main course—a guide to the Hawaii places you'll find us grabbing a bite to eat, or telling our friends and family to nosh at. They're the cafes we send our Mainland-dwelling former college roommates to when they visit Hawaii and want comfort food. The Honolulu noodle bars we take neighbor island family to eat when they visit "the big city." And much more.
In the last three weeks, we've revealed the picks in our "HOMEGROWN," "CARNIVORE" and "BREAKFAST" categories. Below, we present the fourth category we're sharing: the five restaurants that made our "LUXE & LOCAL" category.
Enjoy!

75 Places to Eat Like A Local
"Luxe & Local"
Category 8 of 15

When we want an evening of posh eats, with local flair.
Vintage Cave
Chef Chris Kajioka's menu for his year-old upscale Oahu restaurant is ever-evolving and ever-indulgent of his fondness for procuring top ingredients from around the world. Still, many of our favorite Kajioka dishes are inspired by the finest Hawaii ingredients, selected and utilized just as meticulously.
Ala Moana Center, Honolulu, Oahu • (808) 441-1744 • Website

Orchids
The only one of our luxe picks also offering breakfast, lunch and tea service, Orchid's executive chef Vikram Garg downplays his skillful creations: "I just cook," he says. He can "just cook" his locally sourced ingredients spiced with global flavors for us anytime. Pastry chef Mark Freischmidt likewise wows with inspired and inventive desserts.
Halekulani Hotel, Waikiki, Oahu • (808) 923-2311 • Website
Chef Mavro
The seasonal menus Chef George Mavrothalassitis crafts for his award-winning fine-dining restaurant are a reflection of his enduring love of Hawaii-procured ingredients. From sweet Kona lobster and abalone to Big Island goat cheese and mushrooms, few coax the best flavors from local ingredients as masterfully as Mavro.
1969 S. King St., Honolulu, Oahu • (808) 944-4714 • Website
Le Bistro
The not-so-secret off-menu "Beef Quartet" at this casually-upscale East Honolulu neighborhood restaurant gets a lot of local love, but make sure someone at the table orders the consistently great daily fish special.
Niu Valley Shopping Center, Niu Valley, Oahu • (808) 373-7990