Hawaii named "Best Value Destination"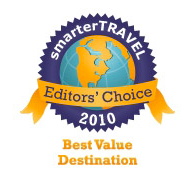 The website SmarterTravel.com has just announced something we've known all along. Hawaii is currently the best value travel destination on the planet.
SmarterTravel's finalists for its 2010 Editors' Choice best value destination award were Argentina, Australia, Hawaii, Las Vegas, and Mexico.
Hawaii beat all the other contenders based on sales and deals. Said the site:
With a three percent drop in overall year-over-year travel prices and a 10 to 15 percent decrease in premium hotel rates, plus four new air routes so far in 2010 and the likely addition of new low-cost carrier service from Allegiant, Hawaii was the obvious choice.
While the summer peak season should be busy, last-minute deals may still be available, as will discounts for the rest of the year.
As we've been letting HAWAII Magazine readers know all along, there's never been a better time to come to Hawaii. Hawaii has always been a good value in terms of the visitor experience. With all the discounts and deals available, it's never been cheaper.
Keep visiting us here at HawaiiMagazine.com, or follow us on our Facebook and Twitter pages, and we'll always keep you updated about all of the best Hawaii deals we find.