Hawaii national parks participate in National Public Lands Day, Sept. 26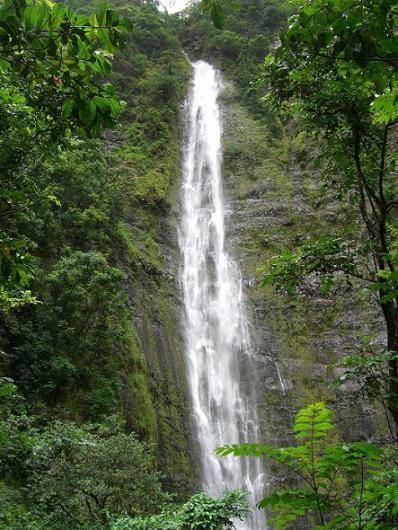 Hawaii's natural beauty is stunning, and fortunately for both residents and visitors, the state is blessed with an abundance of public lands. With gigantic waterfalls, lush rainforests, white—and even black and green—sand beaches, there's much to see and do in the great outdoors here.
National Public Lands Day (NPLD), an annual day aimed at affording the public opportunities to visit, help maintain and learn about our nation's parklands and public spaces, returns this Sat., Sept. 26. Several Hawaii parks and public spaces will be offering fee-free entry and organized volunteer activities in honor of the occasion.
Hawaii's three national parks that charge fees for entry—Hawaii Volcanoes National Park and Puuhonua O Honaunau National Park on Hawaii Island, and Haleakala National Park on Maui—are all offering free admission, but only Hawaii Volcanoes is hosting special NPLD programming this year. There, everyone who volunteers on Saturday will not only get in free that day, but will also receive a pass for free entry on another day of their choosing
Volunteer programming in Hawaii Volcanoes National Park will help to remove invasive Himalayan ginger, which crowds out native plants from the summit of Kilauea. To join, meet the volunteer group at the Kilauea Visitor's Center at 9 a.m.—plant pulling will last until noon. Gloves and tools will be provided.
None of the parks in Hawaii's state park system—managed by the state Dept. of Land and Natural Resources—are officially on board for NPLD, including Kokee State Park on Kauai, which has traditionally held a cleanup in advance of its popular Eo E Emalani Alakai festival. However, various Department of Defense groups are offering several unique volunteer opportunities on Saturday.
From 8 a.m. til 1 p.m., volunteers are welcome onto Bellows Air Force Station in Waimanalo, Oahu to keep its white sandy dune system healthy. The military base has 2,500 native Hawaiian plants ready for planting that will help stall beach erosion and restore native habitat. To join, just tell gate guards that you are participating in the dune out-planting and present a valid U.S. ID. Volunteers will meet at the sand dune in front of cottage 316.
Schofield Barracks, just north of Wahiawa on Oahu, invites the public to learn about and help restore their eight-year-old garden of native ecosystems from 8 a.m. til 5 p.m. With volunteer help, they hope to construct a new shelter for relief from the hot mid-day sun, weed, install new interpretive signage and maintain their compost pile. To participate, visit this site and contact the individuals listed.
Already have plans this weekend? Next Sat., Oct. 3, the Joint Base Pearl Harbor-Hickam is hosting their NLPD project—restoration efforts at the nearby Loko Paaiau Fishpond from 9 a.m. til noon. Archaeological, biological and cultural experts will give a talk in advance of the volunteer efforts, which will help remove invasive mangrove seeds, clear the rock walls of vegetation, install native plants and more. To join and learn more about this opportunity contact representatives by Sept. 30—more details are listed here.
Last year, more than 175,000 people participated in National Public Lands Day events at over 2,100 sites throughout the country. The National Environmental Education Foundation, the group behind National Public Lands Day, estimated that approximately 23,000 lbs. of invasive plants were pulled, 100,000 trees, shrubs and other native plants were planted and some 500 tons of trash were removed during 2014 NPLD events.