Hawaii Ocean Expo in Honolulu this weekend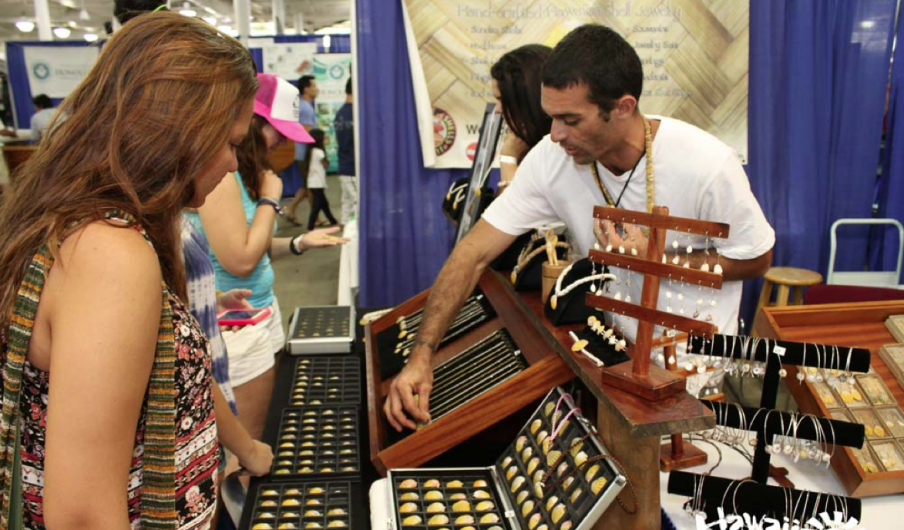 Hawaii is surrounded by miles and miles of open ocean, a continent of water. It's fitting then that a huge annual expo celebrating all things sea takes place in Honolulu each year.
This year's 7th annual Hawaii Ocean Expo will be held at the Neil S. Blaisdell Center Sat., April 11 and Sun., April 12. The event promises something for everyone who enjoys and cares about the big blue: ocean lifestyle and surfing apparel sales, surfboard consignment and sales, a boating equipment and accessories showcase, dive shop representatives, a poke contest, seafood booths, as well as an information section chock full of representatives from area marine education, conservation, research, policy and advocacy organizations. There will even be mock fishing (and bouncy castles) for the keiki (kids).
The main expo stage will host ongoing demonstrations for activities such as fly fishing, seafood cooking and tandem surfing, as well as awards ceremonies for two Oahu marine competitions taking place this weekend: Saturday's Kanaka Ikaika Scott Hawaii State Championship, 20- and 12.5-mile solo outrigger canoe and stand-up paddleboard races, and the weekend-long GT Masters 2015 fishing tournament. Attendees can snap photos with the GT Masters fishermen's huge catch before and after their official Sunday weigh-in.
Ocean enthusiast and painter Hilton Alves will be creating a wall of art at the expo and a silent auction of his artwork will raise money for charity. An annual poke contest, judged in part by popularity, means tasty ahi, taco (octapus) and vegitarian poke samples for everyone.
If you decide to go, be sure to stop by some of the informative booths too. Notable presences include NOAA's Fisheries Service, the Hawaii Institute of Marine Biology, the West Pacific Fisheries Management Council, Coastie the Safety Boat, as well as the Hawaiian Islands Humpback Whale National Marine Sanctuary who announced a proposal for expansion last month.
For waived admission on Saturday—and for a feel-good morning—residents and visitors are welcome to join in on the first ever South Shore Beach Cleanup, stripping Kakaako Beach of marine debris and trash. The clean-up is a partnership with Sustainable Coastlines Hawaii and begins at 9 a.m.