Hawaii Volcanoes National Park's Puu Loa petroglyphs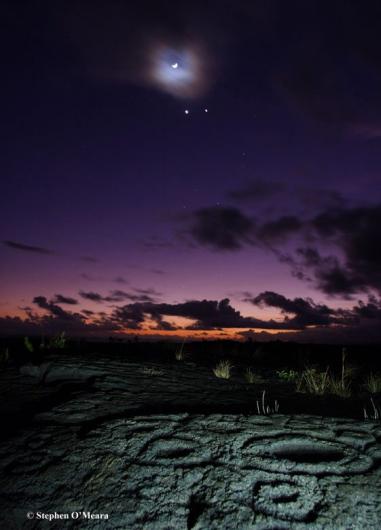 The most popular attractions at Hawaii Volcanoes National Park are Mother Nature-made: molten lava entering the ocean with explosive force, turbulent plumes of hot steam and ash escaping from open cracks in the Earth, pristine forests filled with native Hawaii plants, birds and wildlife.
If you have some extra time on your next visit to the park, though, seek out an attraction that is manmade, but no less breathtaking: Puu Loa petroglyph field.
Located on Kilauea volcano's southern flank, Puu Loa is home to one of Hawaii's largest collections of petroglyphs—images carved into hardened lava by ancient Hawaiians.
There are more than 23,000 petroglyphs carved into the mostly pahoehoe, or "smooth-surfaced," lava field at Puu Loa—images of animals, humans, sailing canoes, geometric shapes and other designs.
The petroglyphs are essentially a large outdoor journal revealing the lives and thoughts of their creators. The designs commemorate important events, tell stories of travels and even express lessons and moral guidelines for life.
Many of Puu Loa's images include what archaeologists called "cupules"—carved-out holes where the umbilical cords of newborns were placed and covered with a rock in the hopes of ensuring a long life for the child. Translated from Hawaiian, Puu Loa means "long hill" or "hill of long life."
Archeologists estimate Puu Loa's carvings were made between 1200 and 1450 AD.
Kilauea volcano area residents, volcano watchers and regular HawaiiMagazine.com contributors Stephen and Donna O'Meara took the above image of the Puu Loa field at sunset on Dec. 1. Our thanks to them for another terrific photo for our Web site!
Click here for a National Park Service archeologist Mara Durst's informative essay on Puu Loa's petroglyphs.
The Puu Loa petroglyph field hike is about two-miles round-trip, rated easy to moderate by Hawaii Volcanoes National Park rangers. Click here for map directions.