Hawaii's 52nd annual Merrie Monarch festival concludes, winners named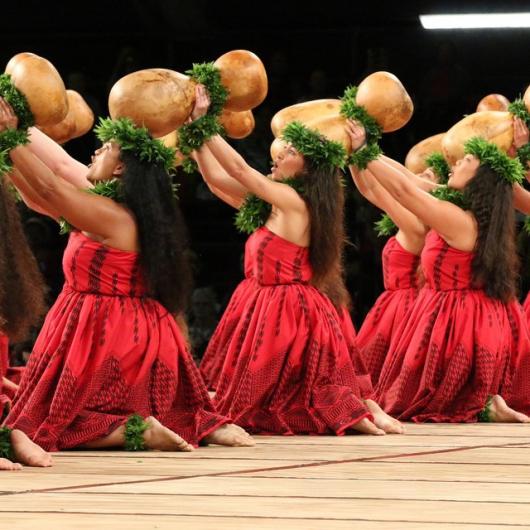 This year's installation of the so-called "Superbowl of Hula," the 2015 Merrie Monarch festival, concluded on Sat., April 11.
The annual Hilo-based festival's three days of competitive events are its most popular draw. Each evening features a different competition: Solo dancers performed on Thursday, on Friday hula halau (dance troupes) performed kahiko (traditional) hula and Saturday halau performed auana (modern) hula.
Thursday's performances saw 11 women vying for the title of 2015 Miss Aloha Hula, an honor that ultimately went to Jasmine Kaleihiwa Dunlap of Oahu-based Hula Halau O Kamuela. Dunlap also snagged the OHA Hawaiian language award, given to only one contestant for her use and mastery of the Hawaiian language during performances. You can watch a short clip of Dunlap's powerful kahiko (traditional) dance to a chant praising Hiiaka, the youngest sister of Pele via this link.
Friday and Saturday hula halau (dance troupe) competitors had to wait until nearly midnight on Saturday to find out their standing.
Dunlap's halau, Halau O Kamuela, won the Wahine Kahiko (Women's Traditional) hula category as well as the event's highest award for a female group: 1st Overall Wahine. You can see a short clip of the troupe's kahiko performance honoring the goddess Pele here. Halau Hula Ka Lehua Tuahine snagged 1st place in the Wahine Auana (Women's Modern) hula category with a dance honoring King David Kalakaua, watch a clip here.
The winner of the Kane Kahiko (Men's Traditional) hula category was Ka Leo O Laka I Ka Hikina O Ka La with a dance honoring Kamehameha's wife Keopuolani, set to pahu (drums). But it was the second place Kane Kahiko troupe, Halau Na Kamalei O Lililehua, that won 1st Overall Kane and came away as this year's Overall Winner. The group, led by Kumu Hula and famed Hawaii musician Robert Uluwehionapuaikawekiuokalani Cazimero, last competed and won Merrie Monarch's top award ten years ago. Their winning auana performance of an 1895 mele (song) honoring Oahu's Leahi (Diamond Head) can be viewed in part here.
If you'd like to see full-length performances of solo or group hula from the Merrie Monarch festival, you'll have to wait and tune in next year. Fortunately, you can still catch one-minute summary clips from each solo and group performance on KFVE The Home Team's Merrie Monarch page.
For a complete list of winners, including the runner-ups, click here.