Hawaii's explosive new beaches. Hold the surfboard. Bring a camera.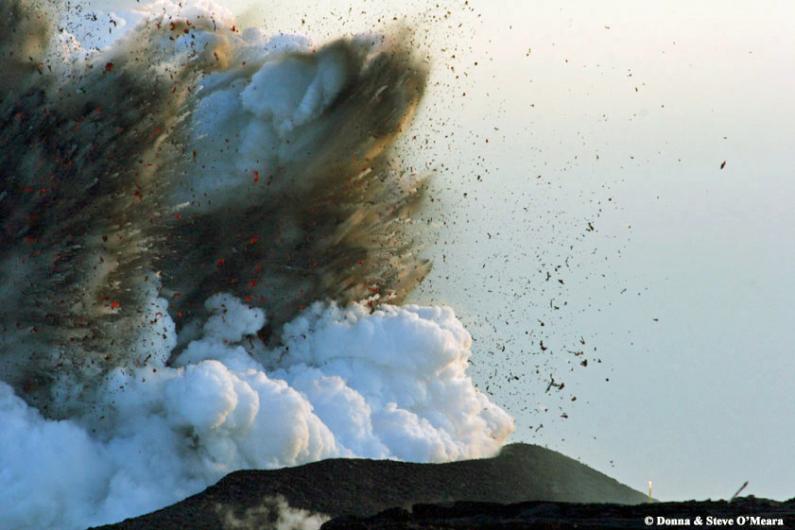 Kilauea volcano is still the best show on Hawaii's Big Island even if it has been sort of business-as-usual the last couple of weeks.
A few small temblors at the summit. Halemaumau's steam and ash plume. Molten magma from downslope Pu'u O'o vent meeting chilly ocean off the Puna coastline.
What to do?
Catch up with volcano watchers Steven and Donna O'Meara—who live near Kilauea and are regular HawaiiMagazine.com contributors. The couple was sorting through recently-shot photos chronicling the simultaneous creation and destruction of Earth's newest land.
They sent this photo and note for HawaiiMagazine.com readers.
When hot lava pours into the much cooler water of the Pacific, as it is doing now, steam explosions occur blasting the lava into bits and fragments.
Some of these fragments, called tephra, can fall towards land and build small littoral cones—like this one, photographed on July 17.
Some of the blasted bits are carried away by the ocean currents, some are deposited onshore creating stunning black sand beaches.
A few of the beaches become permanent. Others are washed away almost as quickly as they were created.
Regardless, the process is mesmerizing to watch and hear. That can make daytime visits like this one just as exciting as nighttime visits.
On the Big Island this week? Click here for directions to the ocean side public viewing area where this photo was taken, and more information.