Hawaii's under-the-radar tiki bars, speakeasies and block parties
Sometimes the local hangouts are the best spots for drinks, takoyaki and live music.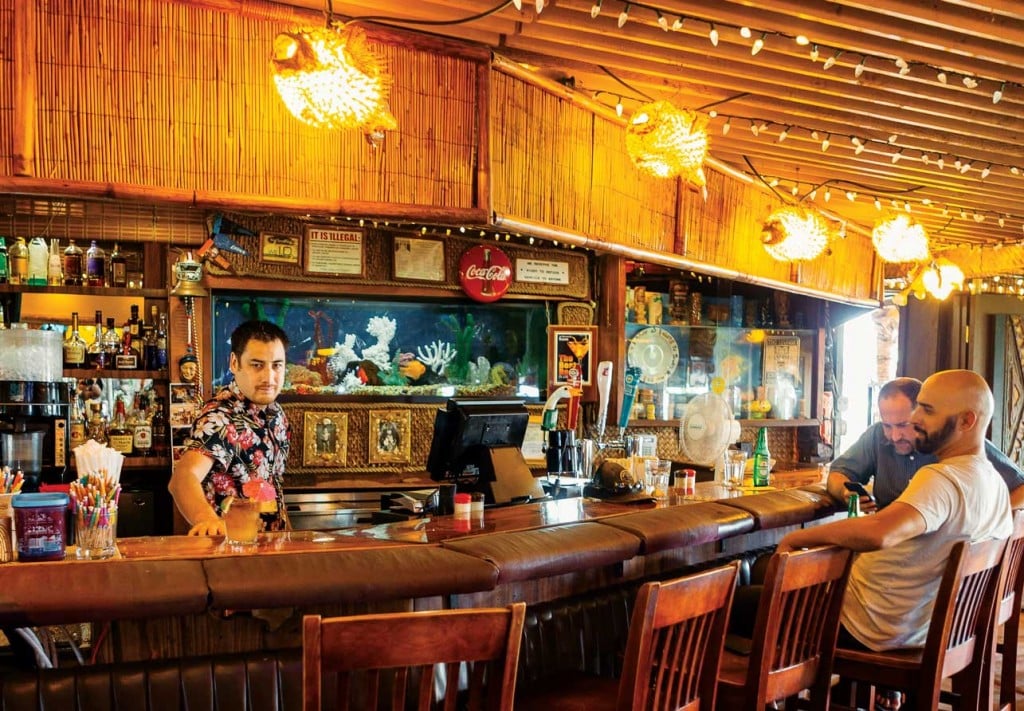 Sure, you can go to any hotel bar and find a decent mai tai, mahimahi sandwich and fries, but, sometimes, it's a better idea to search out the spots that the locals deem the best. After all, if it's proven to be a local hangout, then that's probably a good sign it's worth the extra time to get there.
From tiki bars to speakeasies, these are some of the under-the-radar places you may not have heard of, but have locals frequenting them on the weekend or pau hana (after work) for drinks, takoyaki and live music.
La Mariana's Sailing Club
Tiki culture is alive and well at La Mariana's Sailing Club. With rattan chairs and rope nets to spare, the ambiance is cool and dim, the drinks are sweet and boozy, and the clientele runs the gamut from boomers in boat shoes to the party of aunties looking to suck 'em up after a day of paddling. 50 Sand Island Access Rd., Honolulu, Oahu, lamarianasailingclub.com.
Art Night in Hanapepe
Sleepy Hanapepe town comes alive for Friday Art Night, when food trucks and makeshift stands move in and start grilling and cooking, wafting delicious smells, and musicians set up on every block, adding to the din of what feels like everyone in town showing up for a night out. All of Hanapepe's art galleries fling their doors open, and the mood is festive and friendly. Fridays, 5 to 9 p.m., Hanapepe, Kauai.
First Friday Maui
No matter where you are, First Friday events draw a lot of locals into the streets, and Wailuku, Maui, is no exception. In the historic part of town near Iao Theatre, Market Street shuts down for live music performances, art shows and pop-up shops. All ages are welcome. Maui, mauifridays.com. 
Tahiti Nui
Not much has changed in Tahiti Nui since it opened in 1963. It's still a cozy, unassuming tiki bar that attracts locals and visitors alike (and George Clooney, while filming a scene for "The Descendants") for the mai tais, lilikoi margaritas, nightly live music and camaraderie. 5-5134 Kuhio Hwy., Hanalei, Kauai, (808) 826-6277, thenui.com.
Kani Ka Pila Grille
Order a mai tai and end the day poolside at Kani Ka Pila Grille at the Outrigger Reef Waikiki Beach Resort, where beloved musicians such as Brother Nolan and Sean Naauao play Hawaiian music nightly. 2169 Kalia Rd., Honolulu, Oahu, (808) 924-4990, outrigger.com.
Cafe Mambo
The walls of Café Mambo in Paia are bright yellow and blue, lined with rainbow hued abstract art (the art is for sale, too). One sip on the breezy café's housemade margaritas and you'll soon be feeling as cheery as its decor. We recommend the mango flavor. Those in the know stop by during happy hour, daily from 3 to 6 p.m., when the margaritas are $4.95. 30 Baldwin Ave., Paia, Maui, (808) 579-8021, cafemambomaui.com.
Honolulu's hidden speakeasies
Step into a more exotic era at Harry's Hardware Emporium, a posh, mysterious Prohibition-themed 1920s lair hidden behind a rundown, slightly creepy facade. This craft cocktail and jazz spot even has a hidden door disguised as a bookshelf, every mystery buff's dream come true. 1936 S. King St., Honolulu, Oahu, (808) 744-9593, pintandjigger.com. 
The wartime 1940s-themed Wicki Waki Woo speakeasy, part of The Brewseum in Kakaako, requires a secret knock to enter. Once safely inside, order a vintage Aviation cocktail (just the way they made them in 1917) or a house-brewed pint from WWII-uniformed barman-historian-owner Glen Tomlinson and marvel at the eclectic collection of militaria and vintage tiki and beer memorabilia at this one-of-a-kind spot. 909 Waimanu St., Honolulu, Oahu, (808) 799-2796, brewseums.com.
Surfer, the Bar
Finding an upscale bar on the North Shore can be a difficult task—fortunately Surfer, the Bar at Turtle Bay Resort fills the gap. Live music is the norm at this surf-themed venue, and talk-story times with local legends aren't uncommon. If you're looking to get a little starstruck, professional surfers from around the world convene here to get their drink on during the winter surfing season, specifically during the Billabong Pipe Masters waiting period. 57-091 Kamehameha Hwy., Kahuku, Oahu, (808) 293-6000, surferthebar.com.
Shirokiya Japan Village Walk
Some days, for inexplicable reasons, you're just craving takoyaki. When that time arises, Shirokiya Japan Village Walk has your back. Inside this Japanese-styled food and beer garden is a maze of hallways, lined with food stalls serving a variety of Japanese cuisine. If you're feeling a little thirsty, be sure to hit up the Shirokiya Beer Garden from 5:30 to 6:30 p.m. for $1 beers. 1450 Ala Moana Blvd., Honolulu, Oahu, shirokiya.com.