Help! I need a good Mai Tai mix! Right now!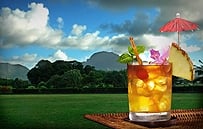 HAWAII Magazine reader Raymond Bertrand of Grapevine, Texas, sent us an e-mail with the subject line: "Help! Help!":
While in Hawaii, I really like those mai tais. However, I cannot seem to find a decent mai tai mix here in Texas. Could you help us? I've looked on Google, but I'm not sure which one of those mixes are good or not. Your help in finding a mai tai mix that's not all corn syrup (I'm allergic to corn, by the way) would be greatly appreciated.
You ask, we answer.
We're pleased to have discovered on our last trip to Kaua'i an excellent mai tai mix bottled by Hawaiian Kukui Fruit Specialties, a small Kauai company with a rich history on the island. Kukui's Authentic Hawaiian Mai Tai Mix is made with cane sugar from Maui and fresh Kaua'i fruit juices.
Claims Kukui, "Unlike other mai tai mixes that use corn syrup for sweetness, our Kukui Brand insures sweetness all the way through the drink because there is no settling of the sweetness to the bottom of the glass like with corn syrup."
We've got a bottle in our refrigerator right now. Although we are not usually fond of premixed cocktails, we have to admit Kukui's mix makes a simple, quick and quite delicious mai tai.
That's especially true when you mix it with Kauai's first rum, Koloa, just coming into production from the same company.
Hawaiian Kukui's Mai Tai Mix is available by mail order in the U.S. and Canada, at $5.95 a liter, by calling (808) 332-9333, between 8 a.m. and 3 p.m. (Hawaii standard time). More info here.
Look for a feature on the revival of the Hawaiian Kukui Brand and the distilling of Kauai's first rum in an upcoming issue of HAWAII Magazine.
Oh, and if you're willing to go through the trouble of making a mai tai from scratch, we have a couple of recipes you can make yourself—courtesy of Waikiki's Moose McGillycuddy's Pub & Cafe and The Royal Hawaiian hotel Mai Tai Bar. Just click here.