Herringbone restaurant in Waikiki gives surf and turf a modern, local twist
Chefs at the California-based restaurant work with local producers to get the best ingredients.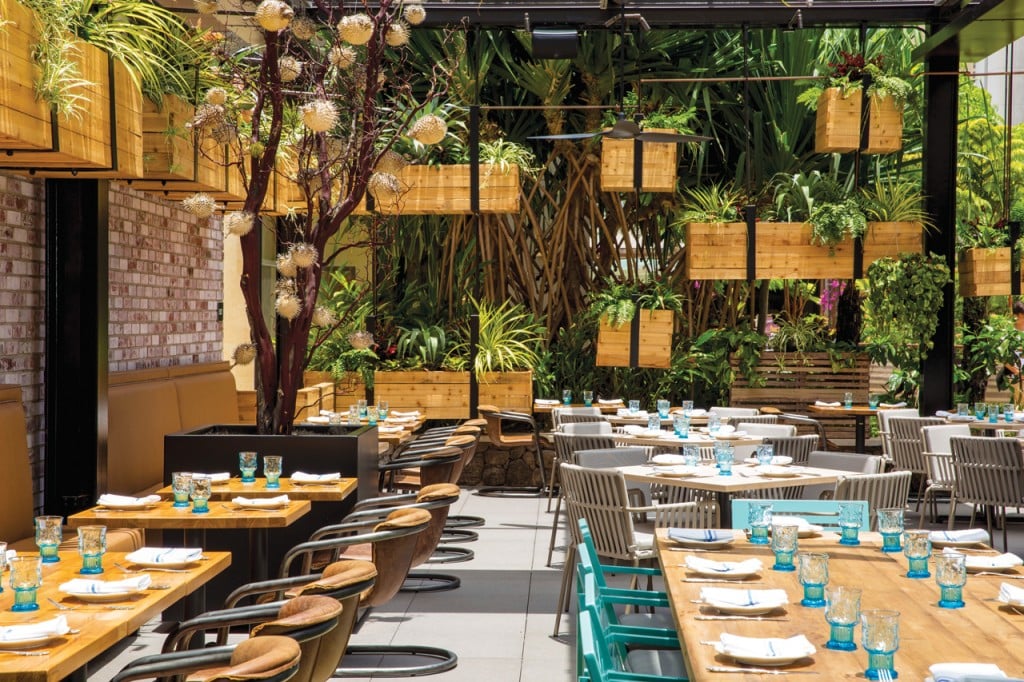 Given Herringbone's slogan of "fish meats field," opening a Waikiki outpost of the southern California-based restaurant made sense. After all, a long history of hunting and gathering suffuses the Islands, and many of Hawaii's diners have an equal zest for what the sea and land provides.
The chefs at Herringbone recognized it. Generally, the menus at Herringbone restaurants contain about 70 to 80 percent of the same dishes. But "that changed when we saw the abundance available locally," says chef Chad Horton. Prior to opening Herringbone Waikiki in the summer of 2017, he sought out farmers and suppliers in Hawaii. What he found inspired new dishes such as the whole fried fish, using local catch, and a pork chop served with kabocha dressed in a kukui and macadamia nut vinaigrette. There's also a riff on a green papaya salad, incorporating Hawaii Island hearts of palm.
Horton forged a particularly close relationship with Mari's Gardens, an 18-acre nursery that also houses the Islands' largest aquaponic farm. In Mililani, the organic-certified farm grows everything from beets to Okinawan spinach, similar in flavor to the more common spinach, but which grows better in the tropics. It, along with Okinawan sweet potatoes (also from Mari's), makes an appearance on Herringbone's filet mignon plate. A salad on the menu is a celebration of Mari's Garden, with all the vegetables sourced from the farm, tossed in an herb vinaigrette. "[Mari's] has always been very supportive of us," Horton says. "Sampling things for us, growing specific things for us." To satisfy Herringbone's penchant for micro-garnishes, Mari's is experimenting with micro-cilantro and micro-celery for the restaurant.
The rest of the menu is a playful mashup of surf and turf influences, created by Top Chef alum Brian Malarkey. Take the buffalo octopus, which fuses the hot sauce normally reserved for chicken wings with tender tako, while the mussels tikka combines classic Indian spices with shellfish. The menu exchange goes both ways. A new brunch dish, lilikoi mochi pancakes, created by Herringbone Waikiki's sous chef Ray Locquiao, has become so popular that the other Herringbone locations are considering adding it to their menus. Proving that a little bit of cross-pollination begets delicious creativity.

Mari's Local Greens Salad
Recipe adapted from Herringbone

2 baby carrots
2 baby beets
1 radish
1 Japanese cucumber
1 green onion
2 handfuls mixed lettuce
chervil, for garnish
Champagne herb vinaigrette
¼ cup champagne vinegar
1 tablespoon Dijon mustard
1 tablespoon finely chopped
shallots
2 teaspoons honey
1 tablespoon chopped tarragon
1 tablespoon chopped chives
½ teaspoon salt
¼ cup extra virgin olive oil

For the salad, use a mandoline to thinly slice the carrots lengthwise, creating long, thin strips. With a mandolin, slice the beets, radish, and cucumber into thin circles. Trim the green onion bottom and cut into two-inch segments. Flatten each segment and then julienne into thin strips.
For the champagne herb vinaigrette, whisk together vinegar, mustard, shallots, honey, tarragon, chives, and salt. Gradually whisk in olive oil until blended.
Combine the vegetables in a large bowl and gently toss with the vinaigrette to taste. (Start with a few tablespoons—you can add more as you go.) Divide among two plates and garnish with chervil.