Honolulu celebrates Chinese New Year this weekend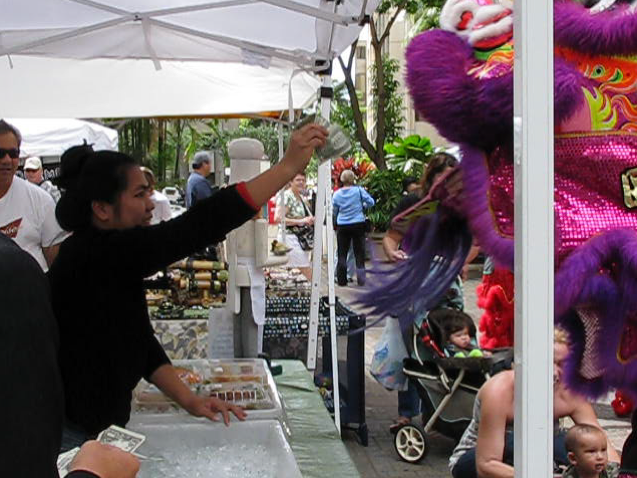 Businesses in Honolulu's Chinatown are already starting to put out their red decorations and lanterns in anticipation of ringing in the New Year all over again.
Annual Chinese New Year festivities regularly draw 15,000 people to the downtown area, and this year promises to be no different. Residents and visitors can expect a fun party atmosphere, firecrackers, a parade, dancing dragons, hungry good luck lions, live music, lots of delicious Chinese and traditionally prepared ethnic food and so much more.
On Thurs., Feb. 19, the year of the horse will give way to the year of the ram (or sheep), officially kicking off the Chinese New Year. Celebrations are usually held across two weekends around the transitional date, but this year's free and open to the public events are this weekend only. So, don't miss out!
Here's what you need to know and where to go for 2015 festival highlights.
Gung Hee Fat Choy! Be happy and prosperous.
Fri., Feb. 13
• Chinese Chamber of Commerce of Hawaii's Chinatown Open House (Choy Cheng)
6:00 til 9:00 p.m., Chinese Chamber of Commerce and Chinatown District
• Street Festival in Chinatown
5:00 p.m. til 10 p.m., Chinatown Cultural Plaza, 100 North Beretania Street
Amid firecrackers, a dancing lion will take lucky red envelopes filled with money and bless Chinatown merchant's shops during the annual Open House (Choy Cheng). Nearby, the two-day street festival kicks off with cultural displays, martial arts demonstrations, music, vendors and delicious and auspicious foods—such as jai (vegetarian monk's food), gin doi (Chinese doughnut) and gau (New Year pudding)—at the Cultural Plaza on North Beretania Street.
Sat., Feb. 14
• Street Festival in Chinatown
9 a.m. til 10 p.m., Chinatown Cultural Plaza, 100 North Beretania Street
• Chinatown Merchant's Association Night in Chinatown Street Festival
approx. 10 a.m. til 10 p.m., Smith, Pauahi and Maunakea Streets
• Chinatown Merchants Association's Night In Chinatown Parade
Begins at 3:30 p.m.
This is the main event—a full day of festivities held in multiple locations throughout Chinatown. The second day of street festival continues at the Cultural Plaza and coincides with the Chinese Merchant's Association's "Night in Chinatown," an all-day block party along Smith, Pauahi and Maunakea Streets with entertainment spread across five stages, more food vendors and lion dancers. The parade will pass just few streets away along Hotel Street as it makes it way from Richards Street and the grounds of the State Capitol in the afternoon. Be sure to watch for the dancing ram symbolizing the new year, this year's Narcissus pageant contestants and a massive 150-foot-long dragon bringing up the rear.
Sun., Feb. 15
• Happy Ewe Year event
Feb. 15, 2015 10 a.m. til 5 p.m. • Honolulu Museum of Art, 900 South Beretania Street
The full-day Bank of Hawaii Family Sunday event at the Honolulu Museum of Art adopts the year of the sheep theme. To celebrate Chinese New Year, the museum will offer free entry as well as keiki-friendly crafts, mah-jongg instruction, lotus flower paper folding, live Chinese music, martial arts displays, fan dancing and more. For details, click here.