How to eat like a local: Maui
When you're famished, try these tried-and-true local picks of Maui's diverse cuisine.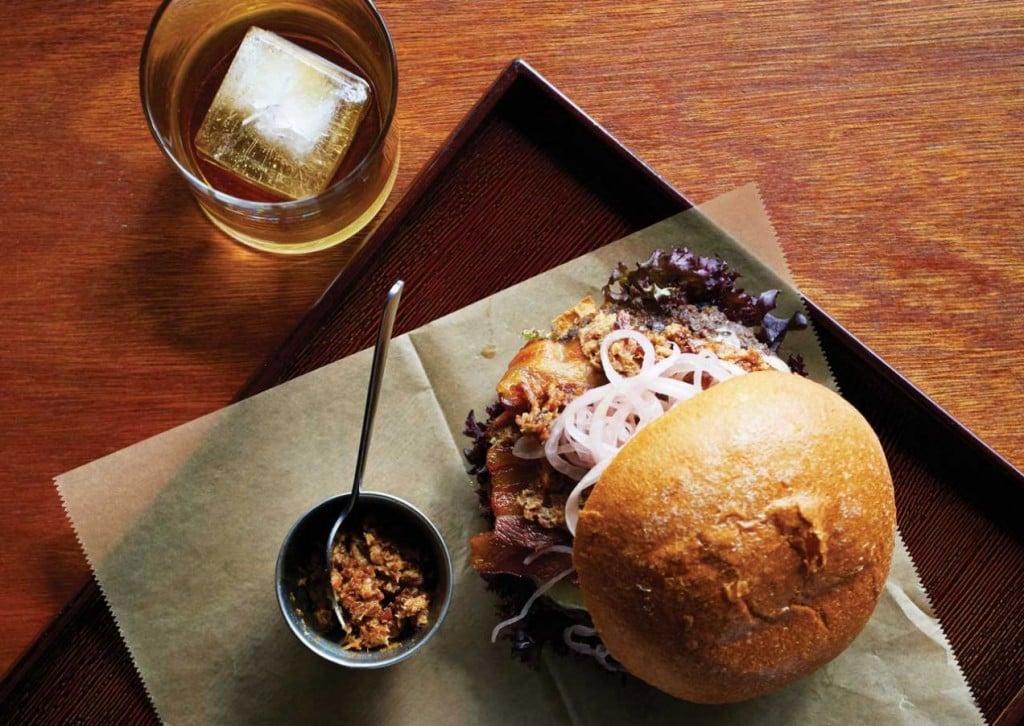 When it comes to eating, locals know the best spots. Whether you're craving burgers, pizza, gourmet hot dogs, poke or sushi, Indian or Vietnamese, here are a few places not to miss if you're on Maui.
Cow Pig Bun
Cow, pig, bun. Burgers and bourbon. And that pretty much sums up Cow Pig Bun, a Maui hot spot tucked away in a tech park. You'll find juicy burgers, many of them topped with bacon in some form, whether it's a bacon garlic aioli on the house burger or a bourbon bacon jam on a burger with blue cheese on brioche. Along with a sizeable list of bourbons and whiskeys, Cow Pig Bun also offers bourbon-forward cocktails, such as the Butchertown, with Maker's Mark, pineapple, rosemary, lime and Fernet Branca. An insider tip: you'll find one of the best mac 'n' cheese on the island here, studded with caramelized onions, potato, and—of course—chunky bits of bacon. 535 Lipoa Pkwy., Kihei, Maui, (808) 875-8100, cowpigbun.com.
Flatbread Co.
Order the Mopsy at Flatbread Co., a pizza topped with kalua pork and pineapple, a step up from the so-called "Hawaiian" combination of ham and pineapple. Smoky kalua pork and sweet and juicy pineapple make for a perfect pairing. If you can't commit though, you can go halfsies: half Mopsy, half any other toppings. 89 Hana Hwy., Maui, (808) 579-8989, flatbreadcompany.com.
The food truck lot in Kahului
These days flying can be a trying experience, even if you're just going interisland. Good thing there's broke-da-mouth eats less than five minutes from the Kahului Airport. A hui (group) of food trucks is parked in a gravel lot waiting to satisfy your postflight hangry. Our two favorites are the acai bowls from Mo Ono Hawaii—get it with poi—and the fresh poke plate lunches from Like Poke? 591 Haleakala Hwy., Kahului, Maui.
Fukushima General Store
Based on its outer appearance, Fukushima General Store looks like any other general store, filled to the brim with produce, groceries and other items. You might never guess that it has one of the best hot dogs on the island. The dog features a perfectly steamed bun, red Maui hot dog and dill pickle spear. Ask for everything on it (mayo relish, mustard, ketchup, onions) and you'll be saying "hot dog!" 815 Haiku Rd., Haiku, Maui.
Eskimo Candy Seafood Market & Deli
There are decent enough burgers, ribs, teri chicken plate lunches and seafood items on the menu of this Kihei takeout joint. For us, however, it's always about the poke at Eskimo Candy—in particular, its four-ways ahi poke bowl with shoyu, wasabi, furikake and spicy varieties surrounding a scoop of ocean salad. You can order takeout poke containers here, too. 2665 Wai Wai Place, Maui (808) 879-5686, eskimocandy.com.
Jini's Curry Fiji-Indian Food
Indo-Fijian cooking was born of indentured laborers transported to Fiji in the late 1800s by the islands' then-British colonial rulers. Spicier, with more use of island ingredients—raw and cooked seafood, citrus, coconut—Indo-Fijian cuisine is represented on Jini's flavor-filled, if smallish, curry menu with fish, crab and lobster varieties. Portions at the tiny, takeout eatery are generous and reasonably priced. 2050 Main St., Maui, (808) 243-3454, fijiindianfood.com.
Koiso Sushi Bar
Make your reservation now. We'll wait. Back with us? Get ready to be happy. You've secured one (or more) of just 16 seats at this popular, never-empty Kihei sushi bar whose owner, Hiroaki Kudo, is as admirably fastidious about his rice (top-grade, Japan-imported, cooked and mixed just so) as he is his seafood (much of it fresh-flown from Japanese suppliers). It's all served sauce-free and unadulterated for true sushi purists. 2395 S. Kihei Road, Maui (808) 875-8258.
A Saigon Café
First off, order the Vietnamese steak—toothsome morsels of tender char-grilled strip steak rich with fish sauce and garlic flavor. Now that you've got the important dish out of the way, find joy in the rest of the menu with orders of mi vit tiem duck noodle soup and veg-stuffed banh xeo sizzling pancakes, for starters. 1792 Main St., Maui, (808) 243-9560