How to Spend a Day in Kailua, Oʻahu  With $40
From sunrise to sunset, there's a lot to do in this beloved beach town. Here's how to make the most of your day and budget.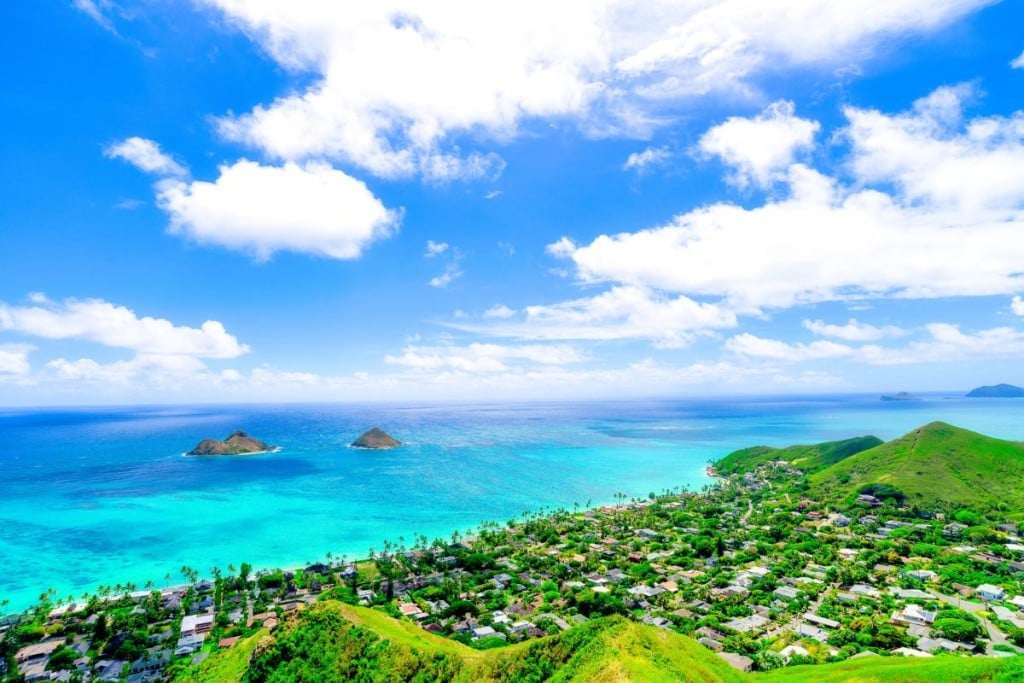 Traveling in Kailua can be overwhelming—with so many beautiful beaches, hikes, restaurants and activities to choose from, the options seem endless. But if you only have a day to spare and a tight budget on Oʻahu's Windward Side, don't worry! With $40 in your pocket, you can still have an adventure-packed day that will take you around the town's best spots.
6 a.m. Hike Lanikai Pillbox Trail at sunrise
(free)
There's no better way to start to the day than witnessing a sunrise in Hawaiʻi. Lanikai Pillbox is one of Oʻahu's most spectacular sites to capture sunrise, as it overlooks Lanikai Beach and Nā Mokulua, the two islets off the coast. And the best part? It only takes about 30 minutes to hike to the top. Plan accordingly as parking is limited to the residential Lanikai neighborhood. Be sure to be respectful of homeowners' property when claiming a spot. The entrance to the hike is on 265 Kaelepulu Dr.
7:30 a.m. Order a bagel for breakfast at Empty Elle Bagels
($7.50)
Grabbing a breakfast after a sunrise hike is a must. Empty Elle Bagels is an ideal spot to recharge. The lemon tart bagel for $7.50 is a local favorite. The poppy seed bagel is slathered in Big Island lemon butter, black Kula raspberry jam from Maui and a twist of fresh lemon. These refreshing flavors will help fuel the rest of your packed day. 143 Hekili St., Kailua, emptyellebagels.com.
9 a.m. Grab a beach read at
Little Free Library on Kapaʻa Street (free)
Before heading to the beach, take a walk down Kapaʻa Street and grab a book from the Little Free Library. Just across the street from Kalama Beach Park is where you'll find the teal book stand. The tiny library is a part of the Little Free Library, the world's largest book sharing movement. Its convenient location near the beach makes this pit stop well worth it. With a variety of books to choose from, there's bound to be one that piques every bookworm's interests. Be sure to return your book to the library after the beach! 150 Kapaʻa St., Kailua.
9
:15
a.m. Relax at Kalama Beach
Park (free)
Now that you have a book, it's finally time to relax on the beach. Oʻahu's east side beaches are renowned for their soft white sand and crystal blue water. While Kailua Beach Park is one of the most-well known beaches in the area, just a few minutes down the road is the less crowded (and just as beautiful) Kalama Beach Park. Here, you can enjoy all of the best parts of Kailua Beach, but without the crowds. 248 N. Kalāheo Ave., Kailua
12:30 p.m.
Check out
Kailua Town
's new
murals (free)
Kailua has only gotten more colorful and vibrant over time, thanks to local artists who literally paint the town. Take a walk around and you'll find two beautiful murals recently painted by Native Hawaiian artist Sara Saffery. In addition to larger-than-life building murals, visitors to Kailua should keep an eye out for painted traffic boxes. These are decorated by various local painters, including Patrick Ching and Bethany Georges, whose illustrations are part of the StreetARTinHawaiʻi project. Saffery's murals are located on either side of HIC Kailua building at 348 Hahani St., Kailua. Traffic boxes are located around Kailua Town.
2 p.m. Take a sampling tour at M
ā
noa Chocolate Factory
(
$15
)
Mānoa Chocolate is internationally known for its locally sourced and island produced chocolate. For $15, visitors can tour the company and see how they produce some of the best chocolate on the island. During the tour, a knowledgeable guide explains the company's sustainable chocolate-making process. After learning about the production of chocolate, guests can taste fresh cacao fruit, cacao nibs and sample 16 types of chocolate. 333 Uluniu St., Suite 203, Kailua, (808) 263-6292, manoachocolate.com.
4
p.m. Bike through Kawainui Marsh Trail
(
$1
6/hour bike rental)
Visitors should cruise through town the Kailua way. For $16, rent a bike for an hour from Pedego Electric Bikes and take a ride down to Kawainui Marsh. This scenic trail, originally constructed for flood control, passes through the largest remaining wetland in the state. The area is home to native birds including the endangered ʻaʻeo, a native stilt, and koloa maoli, a native duck. The trail also provides stunning views of the Koʻolau Mountains and the notorious Olomana Ridge. It takes about 10 minutes to ride from Pedego Electric Bikes to Kawaiui Marsh. Once at the marsh, the down-and-back path takes about 20 minutes to complete. 319 Hahani St., Kailua, (808) 261-2453, pedegoelectricbikes.com.
5
:15
p.m. Visit Nick Kuchar Art & Design Co.
(free)
Opened in 2020, local artist Nick Kuchar's brick-and-mortar store is located in the heart of Kailua Town. The shop showcases Kuchar's signature retro style with surf merchandise and island-inspired artwork. The space is thoughtfully decorated to make you feel like you're walking in one of Kuchar's prints. Take a look at the artist's illustrations of Oʻahu's Windward Side—they make for great souvenirs! (That's put you over $40, though.) 629 Kailua Road, Suite 120, Kailua, (808) 744-0777, nickkuchar.com, @nickkuchar
6 p.m. Get a sweet treat at
Sage Creamery at the
Kailua Farmers Market
($5)
Just around the corner from Nick Kuchar's store is the weekly Kailua Farmers Market. You can find everything from crepes to summer rolls, all while listening to live music. For an evening treat, try a scoop of ice cream from Sage Creamery. The handmade ice cream comes in a variety of creative flavors, such as mango cheescake ($5). It's a delicious way to end a day in Kailua. The Kailua Farmers' Market is open from 4 to 7 p.m. on Thursdays at 609 Kailua Road, Kailua, sagecreamery.com.