How to Spend a Day in Waikīkī, Oʻahu with $40
You'll be surprised to know there's a lot to do in this bustling city—even on a budget.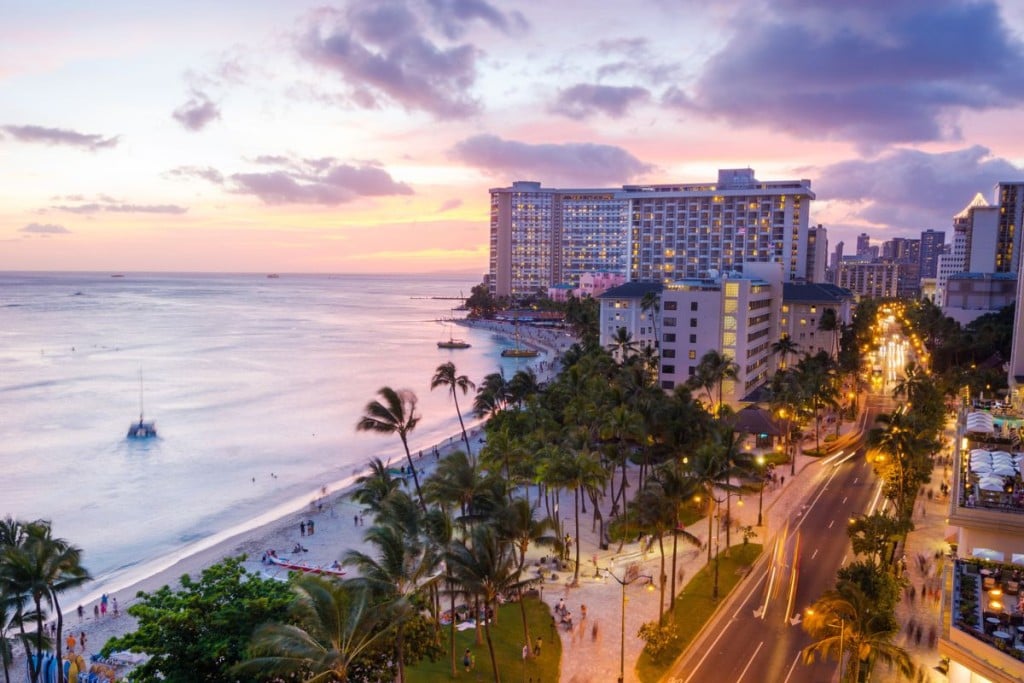 A trip to Oʻahu isn't complete without at least one visit to exciting Waikīkī, where you can have iconic Hawaiʻi vacation experiences all within a budget.
6 a.m. Hike Diamond Head at dawn ($5)
Google Waikīkī and you're guaranteed to find Lēʻahi (aka Diamond Head) in the background. This National Natural Landmark offers a hiking trail with stunning views of Honolulu from the top of a 300,000-year-old volcanic crater. Due to the small parking lot at the Diamond Head State Monument, you can park at nearby Kapiʻolani Community College and pay the $5 walk-in entry fee at the kiosk; however, there is no charge for parking or entrance for residents. On your way up to the start of the hike, you can also stop at a scenic lookout as a bonus photo op!
The hike takes approximately two hours to complete. The last entrance to the hike trail is permitted at 4 p.m. Learn more at dlnr.hawaii.gov.
8:30 a.m. Grab breakfast at Leonard's Bakery ($1.70)
Treat yourself to an iconic malasada from Leonard's Bakery. Recently awarded as Best Bakery on Oʻahu and Best Malasada (All Islands) in our 2022 Readers' Choice Awards, the sugary, fluffy donut is exactly what you'll be craving after a long hike.
933 Kapahulu Ave., Honolulu, (808) 737-5591, leonardshawaii.com, @leonardsbakeryhawaii.
9 a.m. Snorkel at Waikīkī Beach (Rental $14/day)
Waikīkī Beach is home to a vibrant ecosystem of coral reef and marine life. Explore the ocean by snorkeling at Queen's Beach, a designated Marine Life Conservation District. Rent snorkel gear for $14 with Hawaiʻi Beach Time—the company delivers your daily rental to your hotel the night before your scheduled use and picks it up in the evening when you are finished. Before snorkeling, use reef-safe sunscreen and keep in mind that touching any marine life is very harmful to the survival of the ecosystem. Don't forget to take a photo with the statue of Duke Kahanamoku while you're in the area!
For more information, visit hawaiibeachtime.com, (808) 585-1474.
11 a.m. Rent a Biki at Biki Stop on Kalākaua and Uluniu ($4.75 for one ride)
Travelers on a budget should definitely take advantage of Honolulu's bike-share system while exploring Waikīkī. Rent a bike at any of the 100 bike stops in Waikīkī and Honolulu, and make your way to the Royal Hawaiian Center (Biki Station 321). Each ride has a 30-minute limit, but you won't be needing it for too long when commuting around the Waikīkī area. To rent the bike, simply pay at the Biki Stop and return the bike to any nearby Biki Stop that is most convenient for you.
For more information, visit gobiki.org.
12:00 p.m. Make a Lei at Royal Hawaiian Center (free)
Make your very own fresh flower lei in a free class offered by the Royal Hawaiian Center. In the class, you'll learn how to make a lei, some history of Hawaiʻi and a few Hawaiian words. By the end, you can take home a fresh flower lei and show off your craftsmanship while walking around Waikīkī. The Royal Hawaiian Center also offers classes that teach hula, ʻukulele and lauhala weaving. All classes are limited to the first 24 guests who arrive, so be sure to arrive early to secure a spot.
All classes are one hour long, but the times and days they are offered vary for each activity. For more information, visit royalhawaiiancenter.com/events.
1: 30 p.m. Biki to Musubi Café Iyasume ($4.75) for a Snack ($4.46)
Hop on another Biki and head to Musubi Café (Biki Station 329, Koa & Uluiu) for a quick snack. This popular Japanese joint serves up musubi (Japanese rice ball wrapped in seaweed and stuffed with various fillings) for an affordable price. Any musubi lover needs to try the eatery's SPAM musubi variations like Egg SPAM for just $2.50. Every musubi is handmade with premium rice and delicious fillings. It's only $1.98 for the seaweed filling.
Musubi Café Iyasume is located in the Pacific Monarch Hotel (2427 Kūhiō Ave., Honolulu). For more information, visit iyasumehawaii.com.
2:30 p.m. Have a picnic at Kapiʻolani Regional Park (free)
Kapiʻolani Regional Park is the perfect place for a picnic and is just a 20-minute walk from Musubi Café. Named after Queen Kapiʻolani, King David Kalākaua's wife, this park has served the community as a public recreational space since 1913. Relax and enjoy your musubi with a picturesque view of Honolulu and Diamond Head.
Public parking and restrooms available at Kapiʻolani Regional Park.
4 p.m. Lounge at Duke Paoa Kahanamoku Lagoon (free)
Cool off from the afternoon heat at the Duke Paoa Kahanamoku Lagoon located right next to Hilton Hawaiian Village Waikīkī Beach Resort. Named after the iconic swimmer and surfer Duke Kahanamoku, this 5-acre saltwater lagoon is a calm area that offers a different experience than the neighboring Waikīkī Beach. Catch some sun and swim around at this relaxing spot.
Beach equipment and experiences available to purchase at the Duke Kahanamoku Lagoon. For more information, visit waikikibeachactivities.com.
5:30 p.m. Catch a show at the Royal Grove (free)
Head back to Royal Hawaiian Center to experience cultural entertainment. The center offers free performances that showcase musical artists and hula performers. Throughout the week there is a rotating to schedule, so you'll will certainly catch an entertaining show.
For more information, visit royalhawaiiancenter.com
7 p.m. Order dinner at Marugame ($9.25)
Recently voted as one of the Best Cheap Eats on Oʻahu in our 2022 Readers' Choice Awards, this restaurant specializes in fresh, handmade udon noodles. The nikutame udon ($9.25) is a customer favorite and will put you at an impressive $40 at the end of your day.
2310 Kūhiō Ave., Suite 124, Honolulu, (808) 931-6000, marugameudon.com.
8 p.m. Watch Waikīkī's firework show (free)
There's no better way to finish a night in paradise than a beachside firework display. After a two-year hiatus, the firework show, presented by Hilton Hawaiian Village Waikīkī, recently resumed its spectacular tradition. Grab a seat at the beach or anywhere on the strip and celebrate a day well-spent in Waikīkī.
From June to September, the fireworks show will begin at 8 p.m. Starting this fall, the show will begin at 7:45 p.m. The fireworks show has a four minute run time.