Find Local-Style Poke Bowls at this Hidden Gem in Waikīkī
Poke Fix brings a strong local palate to the build-your-own poke bowl circuit on Oʻahu.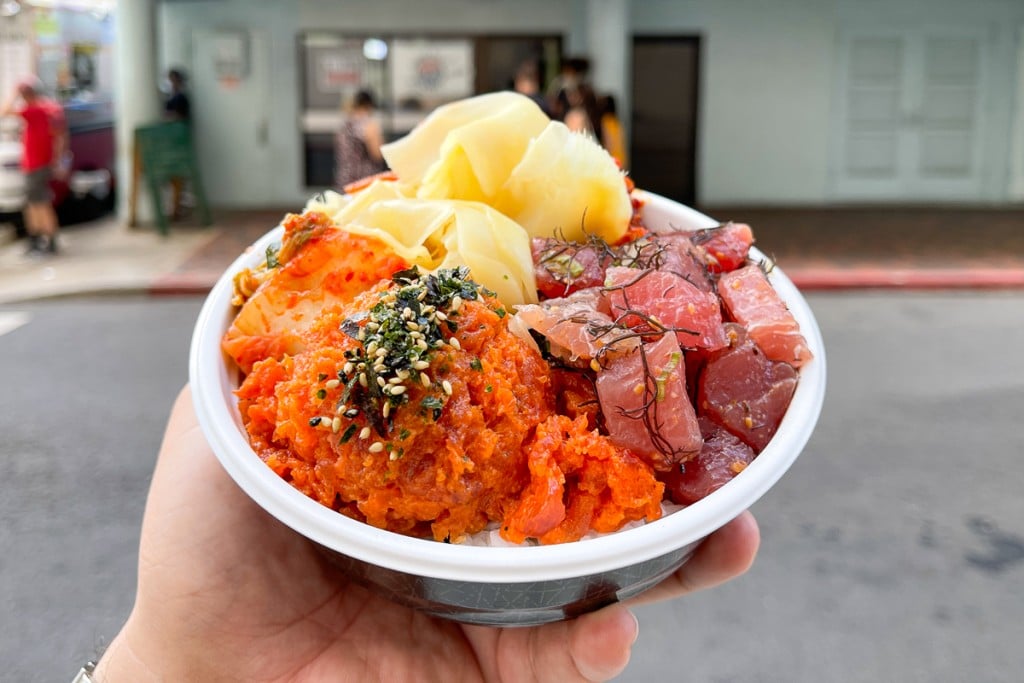 When I hear about another poke shop opening in Waikīkī, I get a bit tense.
Is pineapple among the topping choices? Sweet corn? Perhaps the bigger crime is putting an accent over the "e."
The trauma caused by the plethora of flashy mainland poke chains runs deep.
Poke Fix, a tiny counter tucked away off Seaside Avenue, is a breath of fresh air. Led by the palate of owner Scott Akashi, the shop's offerings appeal to locals with the added freedom to build your bowl with toppings and sides. All bowls start with lightly vinegared sushi rice or greens ($1 extra) as a base. Next, you pick the poke, $12 for one choice or $15 for two. Any poke made with fresh 'ahi or hamachi gets a $2 surcharge. Then they pile on up to three sides, most included in your bowl's price, while premium choices like taegu carry extra charges.
Poke choices include Hawaiian-style, shoyu, spicy and spicy mayo 'ahi, spicy garlic shrimp, spicy salmon, and shoyu furikake salmon. You'll also find a couple of different choices like jellyfish and the signature ginger onion hamachi, but due to high demand and low supply, Akashi is waiting for prices to stabilize before adding the latter back to the menu.
During a hosted tasting, I built my bowl with sushi rice, Hawaiian-style and spicy 'ahi, kim chee, pickled ginger and taegu. With two poke choices and all of the premiums, it would total a whopping $20. Pricey indeed, but that's how it goes with fresh seafood and hefty portions. Then there's the taste, especially in the Hawaiian-style whose pink cubes are seasoned with crisp limu (seaweed), mild onions, rock salt and the unmistakable aroma of inamona, or kukui nut oil. Well-balanced and begging to be paired with a Heineken, this is legit. The (mayo-free) spicy 'ahi uses the nakaochi—or meat scraped from the bones and packs a mild dose of heat.
I try bites from my colleagues' bowls, including the shoyu 'ahi and spicy garlic shrimp, and they too are worthy of repeat visits.
Of nearly a dozen sides, my top pick is the taegu, Korean-style codfish banchan marinated in a sweet gochujang-vinegar sauce. It's sweeter than others but plays well with the saltier poke and seasoned sushi rice. My other choices (kim chee and pickled ginger) help to contrast the poke with pops of crunch and zing.
Akashi was a partner at the former Poke For The People Express on Kīna'u Street, so he knows a thing or two about mixing poke and eating like a local boy. When that shop closed in 2020, he vowed to never make poke again. But never say never, because after a short stint making sushi in Kapolei, the chance to make poke again presented itself. In late 2021, he opened Poke Fix with the goal of making simple, small-batch poke with fresh fish and ingredients. Akashi wants visitors trying it for the first time to understand why poke isn't a fish salad or sushi bowl—poke is soul food.
In the small space, there's only enough room for two drink chillers, a small stand for snacks and the poke case. The poke is prepared in a kitchen located upstairs so you'll see Akashi running in and out with bins of rice or poke to replenish the counter. The no-nonsense aesthetics assure poke fiends that the focus is locked on the food and not the brand or its image on social media.
I will admit though, building yourself a mean poke bowl is a beautiful sight.
Open daily from 11 a.m. to 6 p.m., 334 Seaside Ave. #108, Waikīkī, pokefixhawaii.com, @pokefixhawaii

This story was originally published in our sister publication, Frolic Hawaiʻi.