Inside the $30 million renovation of Hilo's Grand Naniloa Hotel
It's officially a DoubleTree by Hilton and its theme is all about celebrating hula.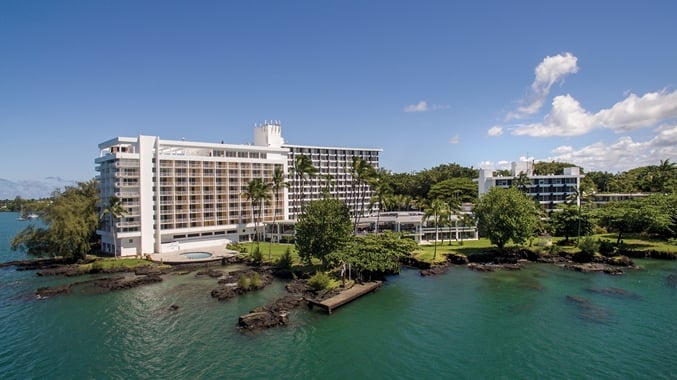 A historic Hilo Bay property, two miles from the Hilo airport, has been renovated in partnership with Hilton Hotels and Resorts and officially open for business.
The Grand Naniloa Hotel Hilo debuts as a DoubleTree by Hilton, a first for Hawaii Island.
The 70-acre oceanfront hotel on the Waiakea Peninsula, formerly the Hilo Naniloa Hotel, includes:
320 refurbished guest rooms and suites
two restaurants
a rotating exhibition gallery space
20,000-square-foot indoor-outdoor entertainment venue named after Hawaiian musician Willie K., the largest showroom on Hawaii Island
wedding gazebo and ballroom (maximum 400 people)
a new porte-cochere
fitness center
Hilo's only 9-hole golf course
24-hour complimentary business center
The total renovation price tag? $30 million.
Those sweeping views of Hilo Bay and Mauna Kea as far as the eye can see, though? Priceless.
The renovation also has an overarching cultural theme. Hilo, where the annual Merrie Monarch Festival is held, is the hula capital of the world and the Grand Naniloa's activities, interior design and artwork reflects that.
Hula and lei-making classes are set up for a regular education schedule starting next year. Photographer Kim Taylor Reece's portraits of hula dancers and Hawaii performers are highlighted throughout the lobby and rooms. The photography alone is valued at $4 million.
In Fall 2013, the Hilo Naniloa Hotel faced monetary hardship when it fell behind on payments and was closing in on an inevitable bankruptcy. It was purchased thereafter by Ed Bushor, current owner, developer and CEO of Tower Development, who oversaw the three-year-long renovation. The Grand Naniloa will continue to be managed by Aqua-Aston Hospitality.
It's already booking some heavy star power, Bushor told the Hawaii Tribune-Herald. (If you see Dwayne "The Rock" Johnson or his "Jumanji" co-stars Jack Black and Kevin Hart sharing a Hilo adventure on social media soon, it's because theyʻre staying at the Grand Naniloa.)
Future plans include building a canoe on-site for the property, maintaining its golf course across the street, increasing its employee base to 100 and redeveloping Banyan Drive with an event center, one theoretically large enough to host the Merrie Monarch Festival itself.
"As our first hotel on the Big Island of Hawaii, this stunning property is sure to deliver the 'wow' its guests are traveling to find while also providing the warm chocolate chip cookie welcome," Dianna Vaughan, senior vice president and global head of DoubleTree by Hilton, said in a statement, "and award-winning service that our guests expect when staying at any DoubleTree by Hilton around the world."
Maybe in due time they can customize that signature chocolate chip cookie with some macadamia nuts just for Hilo.
---
Grand Naniloa Hotel Hilo, 93 Banyan Drive, Hilo, Hawaii Island, (808) 969-3333, doubletree3.hilton.com.